Douglas XB-19 Video - Picture
Douglas XB-19 Aircraft Information
Douglas XB-19
XB-19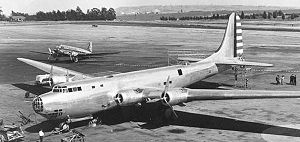 Role: Heavy bomber
Manufacturer: Douglas Aircraft
First flight: 27 June 1941
Retired: Scrapped in 1949
Status: Experimental
Primary user: United States Army Air Corps
Number built: 1

The Douglas XB-19 was the largest bomber aircraft built for the United States Army Air Corps until 1946. It was originally given the designation XBLR-2 (XBLR- denoting Experimental Bomber, Long Range).
Design and development
The purpose of the XB-19 project was to test the flight characteristics and design techniques associated with giant bombers. Douglas Aircraft Company strongly wanted to cancel the project, because it was extremely expensive. Despite advances in technology that made the XB-19 obsolete before it was even completed, the Army Air Corps felt that the prototype would be useful for testing. Its construction took so long that competition for the contracts to make the XB-35 and XB-36 occurred two months before its first flight.
The plane finally flew on June 27, 1941, more than three years after the construction contract was awarded. In 1943, the original Wright R-3350 engines were replaced with Allison V-3420-11 V engines. After completion of testing, the XB-19 served as a cargo carrier until it was scrapped in 1949.
Survivors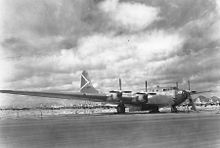 Picture - XB-19A at Davis-Monthan Air Force Base before scrapping.
The newly formed U.S. Air Force had begun plans to save the B-19 for eventual display, but in 1949 the Air Force did not yet have a program in place to save historic aircraft, and the Air Force Museum had not yet been constructed. As a result, the B-19 was scrapped, but two of its enormous main tires were saved. One was put on display at the Hill Aerospace Museum at Hill Air Force Base in Ogden,Utah and the other has been on display at the National Museum of the United States Air Force in Dayton, Ohio, in the "Early Years" gallery for many years. This tire is not to be confused with the tire and landing gear of the Consolidated Vultee XB-36 found in the museum's "Cold War" gallery.
Specifications (XB-19A)
General characteristics
Crew: 18
Length: 132 ft 2 in (40.2 m)
Wingspan: 212 ft 0 in (64.6 m)
Height: 42 ft 9 in (13.0 m)
Wing area: 4,492 ft² (417 m²)
Empty weight: 140,230 lb (63,500 kg)
Loaded weight: 158,930 lb (72,000 kg)
Max takeoff weight: 164,000 lb (74,400 kg)
Powerplant: 4x— Allison V-3420-11 V24 engines, 2,600 hp (1,940 kW) each

Performance
Maximum speed: 265 mph (230 kn, 426 km/h)
Cruise speed: 165 mph (143 kn, 266 km/h)
Range: 4,200 mi (3,600 nmi, 6,800 km)
Ferry range: 7,750 mi (6,730 nmi, 12,500 km)
Service ceiling: 39,000 ft (12,000 m)
Rate of climb: 650 ft/min (3.3 m/s)
Wing loading: 35 lb/ft² (170 kg/m²)
Power/mass: 0.065 hp/lb (110 W/kg)

Armament
Guns:
5 x— .50 in (12.7 mm) machine guns
6 x— .30 in (7.62 mm) machine guns
2 x— 37 mm (1.42 in) cannon
Bombs: 18,700 lb (8,480 kg)

Comparable aircraft
Boeing XB-15
Boeing Y1B-20
Convair B-36

Douglas XB-19 Pictures
More aircraft.
Source: WikiPedia