Douglas YOA-5 Video - Picture
Douglas YOA-5 Aircraft Information
Douglas YOA-5
YOA-5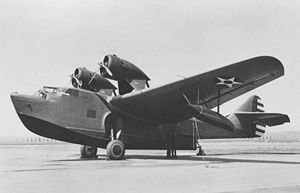 Role: Seaplane bomber
Manufacturer: Douglas Aircraft Company
First flight: 1935
Introduced: 1935
Retired: 1943
Status: Prototype
Primary user: United States Army Air Corps
Number built: 1
Developed from: Douglas XP3D

The Douglas YOA-5 was an Amphibious aircraft designed for the United States Army Air Corps. Although a prototype was built, it did not enter production.
Design and development
In November 1932, the U.S. Army ordered the development of an amphibious reconnaissance aircraft/bomber, intended to act as navigation leaders and rescue aircraft for formations of conventional bombers. The resultant aircraft, which was ordered under the bomber designation YB-11, was designed in parallel with the similar but larger Douglas XP3D patrol flying boat for the United States Navy. It was a high winged monoplane with two Wright R-1820 Cyclone radial engines mounted in individual nacelles above the wing, resembling an enlarged version of the Douglas Dolphin.
Prior to it being completed, it was first redesignated as an observation aircraft YO-44 and then the YOA-5 'observation amphibian model 5'. It first flew during January 1935, and was delivered to the army during February that year. The concept for which it was designed proved impracticable, and no further production ensued, but the YOA-5 was used to set two world distance records for amphibians, being finally scrapped in December 1943.
Operators
United States
United States Army Air Corps

Specifications (YB-11)
General characteristics
Length: 69 ft 9 in (21.3 m)
Wingspan: 89 ft 9 in (27.4 m)
Height: 22 ft 0 in (6.7 m)
Wing area: 1,101 ft² (102.3 m²)
Empty weight: 14,038 lb (6,368 kg)
Loaded weight: 20,000 lb (9,000 kg)
Powerplant: 2x— Wright R-1820-45 "Cyclone" radials, 800 hp (600 kW) each

Performance
Maximum speed: 169 mph (147 knots, 272 km/h)
Cruise speed: 152 mph (132 knots, 245 km/h)
Stall speed: 75 mph (65 knots, 120 km/h)
Range: mi (nm, km)
Service ceiling: 18,900 ft (5,760 m)
Rate of climb: 770 ft/min (3.9 m/s)
Wing loading: 18 lb/ft² (89 kg/m²)
Power/mass: 0.080 hp/lb (130 W/kg)

Armament
Guns: 3x— .30 in (7.62 mm) machine guns

Bibliography
Francillon, René. McDonnell Douglas Aircraft since 1920. London:Putnam, 1979. ISBN 0-370-00050-1.

Douglas YOA-5 Pictures
More aircraft.
Source: WikiPedia