Edmund Allenby, 1st Viscount Allenby - Picture
Edmund Allenby, 1st Viscount Allenby Information
Edmund Allenby, 1st Viscount Allenby
Nickname: Bloody Bull
Place of birth: Brackenhurst, Nottinghamshire, England
Place of death: London, England
Allegiance: United Kingdom
Service/branch: British Army
Years of service: 1880 - 1925
Rank: Field Marshal
Battles/wars: Second Boer War
First World War
Awards: Knight Grand Cross of the Order of the Bath
Knight Grand Cross of the Order of St Michael and St George
Knight Grand Cross of the Royal Victorian Order

Field Marshal Edmund Henry Hynman Allenby, 1st Viscount Allenby GCB, GCMG, GCVO (23 April 1861-14 May 1936) was a British soldier and administrator most famous for his role during the First World War, in which he led the Egyptian Expeditionary Force in the conquest of Palestine and Syria in 1917 and 1918.
Allenby, nicknamed the "Bloody Bull", was characterized by Archibald Wavell, a British field marshal during the Second World War who had served under Allenby, as an intelligent, caring man and a consummate professional soldier. T. E. Lawrence ("Lawrence of Arabia"), whose efforts with the Arab Revolt were greatly aided by Allenby, thought similarly of him: "(He was) physically large and confident, and morally so great that the comprehension of our littleness came slow to him". Allenby was arguably one of the most successful British commanders of the war, utilising strategies he developed from his experiences in the Boer War and on the Western Front towards his Palestinian Campaigns of 1917-18. His management of the Battle of Megiddo in particular, with its brilliant use of aeroplanes, infantry, and mobile cavalry, is considered by many to be a precursor to the Blitzkrieg tactics so widely employed by Germany during the Second World War.
Early years and active service
Born in Brackenhurst, Nottinghamshire, Allenby was educated at Haileybury College. He had no great desire to be a soldier, and tried to enter the Indian Civil Service, failing the entry exam twice. In 1880, he sat the exam for the Royal Military College, Sandhurst and came fifth out of one-hundred and ten applicants. After ten months at Sandhurst, he passed out twelfth and was commissioned into the 6th (Inniskilling) Dragoons in 1881.
In 1882, he joined his regiment in South Africa, and served in the Bechuanaland Expedition of 1884-1885 on patrol duties, and then in Zululand in 1888. In 1889, as a captain, he was made the adjutant of the regiment, responsible for the turnout, discipline and routine of the unit and soon gained a reputation for strictness. He returned to Britain in 1890 with his unit, which was posted to Brighton, during which time the regiment was confined to training and other routine duties. In 1893, Allenby's time as adjutant came to an end, and in 1894 he sat - and failed - the entry exam for the Staff College in Camberley. Not deterred, he sat the exam again the next year and passed in twenty-first place, being the only cavalryman to enter the college by competition and the first officer from his regiment ever to do so. On the same day, Captain Douglas Haig of the 7th Hussars also entered the Staff College, albeit not by taking an exam, thus beginning a rivalry between the two that was to run until the First World War. Different in character, Haig and Allenby both worked hard at Staff College, although the latter was more popular with fellow officers, even being made Master of the Draghounds. Whereas Haig had few interests outside military affairs, Allenby had already developed a passion for poetry, ornithology, travel and botany. His Staff College assessment read as follows:
"This officer has sufficiently good abilities and much practical common sense. In all his work the practical bearing of the subject dealt with is always kept in view; and so long as the subject or situation falls within his knowledge, it is rapidly and thoroughly dealt with. In matters with which he is not so conversant he is not very good at working into details. He has energy, good judgement and rapid decision, and is a clear thinker and writer. He is active and a good soldier, and has the power of exerting influence on others and getting good work out of them."
Before leaving Staff College in 1897, he was promoted to Major and had also married Miss Mabel Chapman, the daughter of a Wiltshire landowner. In 1898, Allenby joined the 3rd Cavalry Brigade, then serving in Ireland as the Brigade-Major.
Boer War
At the outbreak of the Second Boer War, Allenby was returned to his regiment, and the Inniskillings were embarked at Queenstown before landing at Cape Town, South Africa, on 11 December 1899 during the 'Black Week' in which the British Army suffered reverses at Colenso, Magersfontein and Stormberg. Allenby was made second in command of the Inniskillings and sent to Naauwpoort Junction to join Major-General John French's Cavalry Division. In defending the northern frontier of the Cape, French's division employed harassing tactics and threatened the flanks and rear of the Boers whilst not committing his force to a large scale operation. During this time Allenby gained a reputation for being a bold commander, having been given command of a squadron of cavalry, a role which suited Allenby more than second in command of the regiment. In one demonstration near Colesberg on 14 January 1900, Allenby commanded two squadrons, two companies of mounted infantry and a section of artillery in penetrating Boer lines, shelling a bridge and avoiding an attempt by the enemy to cut his force off. Having suffered no casualties, Allenby's force returned having taken several prisoners. In February 1900, the Cavalry Division executed a daring outflanking manoeuvre at the Modder River, in which Allenby's squadron took part. This led to the relief of Kimberley, which had been besieged by the Boers since the war's outset. At Kimberley, Allenby resumed his acquaintance with Cecil Rhodes, who entertained him to dinner and sent several supplies to his squadron. Later in the month, Allenby's squadron partook in the encirclement and capture of Piet Cronje's force east of Kimberley at Paardeberg. In March 1900, Allenby's squadron led the final charge on Bloemfontein and was successful in seizing a number of kopjes to the south of the city. A month later, the commander of the Inniskillings was invalided home, and Allenby given temporary command of the regiment, during which it mostly undertook convoy duty. Johannesburg was occupied on 31 May, and in June, during the advance on Pretoria, Allenby engaged a party of Boers at Kalkheuvel Pass after the Cavalry Division was ambushed. After the capture of Pretoria, and during Field Marshal Lord Roberts' push eastwards, the Inniskillings were active around the town of Middelburg in which a thinly held line was maintained for more than three weeks against an active enemy. Subsequently, Allenby led the Inniskillings in the advance on Barberton and engaged the Boers at Lake Chrissie, during which the Cavalry Division was continually engaged by the Boers in the Eastern Transvaal. The Cavalry Division was broken up into several smaller columns, and Allenby received the command of one of these in January 1901.
The column period of the war lasted for eighteen months and took place across the Transvaal, the Orange Free State, Natal and the Cape Colony - an area equal to Germany, France and Holland combined. The tactics of mobile riflemen excelled due to the lack of railways, metalled roads and the vastness of the area of operations. Ultimately, Allenby's column never suffered a reverse or lost a convoy during this period of the war - a fate that befell most column commanders at least once up to the end of the war. Allenby was daring and vigorous in pursuit of the enemy, no doubt helped by his considerable physical fitness. The column under his command varied, although it usually consisted of two regiments, a battery of horse artillery, a long-range gun and half a battalion of infantry. This force was usually engaged in wearisome tasks entailing hard marching, outpost work during the evening and little prospect of seeing the enemy. In early 1901, the column operated alongside others under the command of French in the Eastern Transvaal in operations against Louis Botha. In the spring, the column operated near the Swaziland border, in which heavy rain ensured that movement by men and horses was difficult, testing the resolve of the column commander and his men alike. During the weeks approaching summer, the column headed north to operate near Middelburg and then spent many months operating in Western Transvaal around the Magaliesburg hill range. His letters home to his wife began to include notable criticisms of superior officers and generals with 'no more brains or backbone than a bran doll'. Allenby's column was promised a rest but soon found itself in Natal and then by October, operating around Zululand. Allenby asked Lord Kitchener, commanding in South Africa, to rest his weary column, and was duly promised a fortnight's rest. However, Allenby's column was called to assist another British Army column that had suffered a considerable reverse at Bakenlaagte, and it spent the remainder of 1901 in Eastern Transvaal.
Towards the end of 1901, Allenby went down with influenza and spent ten days' leave in Durban. Having been engaged in continual warfare in the field for two years, without holiday or accommodation, he was showing considerable signs of strain, and was joined in South Africa by his wife. She arrived in May 1902, after Allenby's column was engaged in combat in the Transvaal and north of the Orange River Colony. On 31 May 1902, the Peace of Vereeniging was declared, formally ending the war. Allenby had showed himself to be gallant, dedicated, hard-working and resourceful in command who earned the plaudits of both Roberts and Kitchener. Along with other notable column commanders, Haig, Herbert Plumer and Julian Byng, Allenby was marked for future promotion, ending the war as a Colonel.
Interwar years
He returned to Britain in 1902, being placed in command of the 5th Royal Irish Lancers and was stationed in England until 1905. Promoted to Brigadier-General, Allenby moved to Colchester to assume command of the 4th Cavalry Brigade. In 1909, aged 48, he was promoted again to the rank of Major-General - due to his extensive cavalry experience, was appointed Inspector-General of Cavalry in 1910, with headquarters at Horse Guards, London. Allenby became Inspector-General at a difficult time - the Boer War and Russo-Japanese War had assisted the growth of two differing outlooks regarding the role of cavalry in modern war. Whilst one side favoured shock action and had faith in the effectiveness of the sword and lance, the opposite contended that the cavalry's future lay in serving as mounted infantry. Allenby chose to steer a middle path, in which the importance of firepower was emphasised through the introduction of the machine gun and the training of cavalrymen in infantry tactics, whilst the alternative of relying on shock action where necessary was kept open. Having studied the geography of Northern France, and attended the manoeuvres of the French cavalry, Allenby highlighted the importance of the cavalry in retreat, recognising its ability to provide cover for the withdrawing infantry. With mounting responsibilities, the amiable element in Allenby's character publicly waned, ensuring that he was disliked by many subordinate officers and the cavalry's rank and file. His inspections were brisk and his manner abrupt. Furthermore, Allenby's pedantry for presentation was keenly felt by those cavalrymen under inspection. These somewhat repellent traits and Allenby's physical stature led others to refer to him as "The Bull".
First World War
Western Front
During the First World War he initially served on the Western Front. At the outbreak of war a British Expeditionary Force (BEF) was sent to France, consisting of four infantry divisions and one cavalry division, the latter commanded by Allenby, who distinguished himself when his unit covered the retreat after the Battle of Mons. As the BEF was expanded in size to two Armies, he was rewarded by being made commander of the Cavalry Corps. In 1915 he commanded V Corps during the Second Battle of Ypres and in October he took charge of the British Third Army. However at the Battle of Arras in the spring of 1917, his forces failed to exploit a breakthrough and he was replaced by Julian Byng on 9 June. A significant reason for his removal from command and transfer was his continuing feud with Field Marshal Haig over tactical matters. Shortly after his arrival in Egypt, he learned that his son, Michael, had been killed on the Western Front by German artillery.
Egypt and Palestine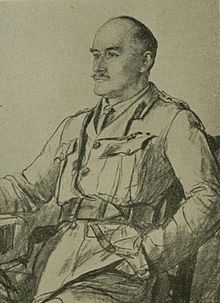 Picture - Drawing of Allenby from journal "The War" c. 1917
Allenby was sent to Egypt to be made commander-in-chief of the Egyptian Expeditionary Force (EEF) on 27 June 1917, replacing Sir Archibald Murray. Allenby quickly won the respect of his men by making frequent visits to front line troops (something which Murray, who generally ran his campaigns by remote control from Cairo, rarely did during his tenure with the EEF) and moving GHQ from comfortable Cairo to Rafah, much nearer the front lines at Gaza. His usual installation of discipline and organisation, organising the heretofore disparate forces of the EEF into three corps - the XX and XXI Corps, both of infantry, and the Desert Mounted Corps, made up of mostly Australian Light Horse (mounted infantry). One of Allenby's first moves was to support the efforts of T. E. Lawrence amongst the Arabs with £200,000 a month. Many of Allenby's men said after the war that they were willing to tolerate his strictness and rigidity because he gave the impression that he was in control of the situation, a feeling which Murray never inspired in his soldiers.
Having reorganised his regular forces Allenby won the Third Battle of Gaza (31 October - 7 November 1917) by surprising the defenders with an attack at Beersheba.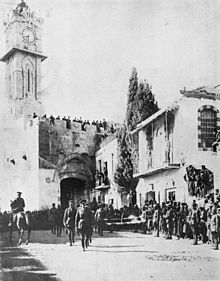 Picture - The victorious General Allenby dismounted, enters Jerusalem on foot out of respect for the Holy City, December 11, 1917
His force pushed on towards Jerusalem, the Ottomans were beaten at Junction Station (November 13-15) and Jerusalem was captured on 9 December 1917.
Honouring Jerusalem on foot
Although he was a supreme master of cavalry warfare, before entering Jerusalem, Allenby dismounted and together with his officers, entered the city on foot through the Jaffa Gate out of his great respect for the status of Jerusalem as the Holy City important to Judaism, Christianity and Islam (see his proclamation of martial law below). He subsequently stated in his official report:
"...I entered the city officially at noon, 11 December, with a few of my staff, the commanders of the French and Italian detachments, the heads of the political missions, and the Military Attaches of France, Italy, and America... The procession was all afoot, and at Jaffa gate I was received by the guards representing England, Scotland, Ireland, Wales, Australia, New Zealand, India, France and Italy. The population received me well..."
"...I entered the city officially at noon, 11 December, with a few of my staff, the commanders of the French and Italian detachments, the heads of the political missions, and the Military Attaches of France, Italy, and America... The procession was all afoot, and at Jaffa gate I was received by the guards representing England, Scotland, Ireland, Wales, Australia, New Zealand, India, France and Italy. The population received me well..."
Middle East victory
The German offensive on the Western Front meant that Allenby was without reinforcements and after his forces failed to capture Amman in March and April 1918 he halted the offensive. New troops from the Empire (specifically Australia, New Zealand, India and South Africa) led to the resumption of operations in August 1918. Following an extended series of deceptive moves the Ottoman line was broken at the Battle of Megiddo (19-21 September 1918) and the Allied cavalry passed through and blocked the Turkish retreat. The EEF then advanced at an impressive rate, (as high as 60 miles in 55 hours for cavalry, and infantry slogging 20 miles a day) encountering minimal resistance, Damascus fell on 1 October, Homs on 16 October and Aleppo on 25 October. Turkey capitulated on 30 October 1918.
Promotions
Allenby was made a Field Marshal in 1919, and on 7 October of that year was created Viscount Allenby, of Megiddo and of Felixstowe in the County of Suffolk. He remained in the Middle East as High Commissioner for Egypt and the Sudan until 1925, and he was instrumental in the creation of sovereign Egypt.
Allenby during these years seems to have undertaken a number of visits within Great Britain to undertake military and civic duties. For example, there is an extant speech of his reported at the dedication of a Cross of Sacrifice at the Hamilton Road Cemetery, Deal, Kent. This depicts Allenby as a deeply religious man who could not forget the suffering and deaths of the soldiers that fought under him and others in the Great War.
On 7 May 1927, he was invited to lay the foundation stone of St Andrew's Church, Jerusalem - a Church of Scotland building constructed in memory of the Scottish soldiers who fought and died under his command in the region during World War I.
He retired in 1925, and died very suddenly, from a ruptured cerebral aneurysm, on 14 May 1936, in London. His ashes were buried in Westminster Abbey.
Jerusalem proclamation
Sir Edmund Allenby's official proclamation of martial law following the fall of Jerusalem, 9 December 1917:
"To the Inhabitants of Jerusalem the Blessed and the People Dwelling in Its Vicinity:
The defeat inflicted upon the Turks by the troops under my command has resulted in the occupation of your city by my forces. I, therefore, here now proclaim it to be under martial law, under which form of administration it will remain so long as military considerations make necessary.
However, lest any of you be alarmed by reason of your experience at the hands of the enemy who has retired, I hereby inform you that it is my desire that every person pursue his lawful business without fear of interruption.
Furthermore, since your city is regarded with affection by the adherents of three of the great religions of mankind and its soil has been consecrated by the prayers and pilgrimages of multitudes of devout people of these three religions for many centuries, therefore, do I make it known to you that every sacred building, monument, holy spot, shrine, traditional site, endowment, pious bequest, or customary place of prayer of whatsoever form of the three religions will be maintained and protected according to the existing customs and beliefs of those to whose faith they are sacred.
Guardians have been established at Bethlehem and on Rachel's Tomb. The tomb at Hebron has been placed under exclusive Moslem control.
The hereditary custodians at the gates of the Holy Sepulchre have been requested to take up their accustomed duties in remembrance of the magnanimous act of the Caliph Omar, who protected that church."

(Source: Source Records of the Great War, Vol. V, ed. Charles Francis Horne, National Alumni 1923)
Legacy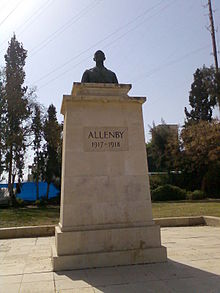 Picture - Allenby's Monument in Beersheba
Allenby, British Columbia, Canada, a copper mining ghost town in the Similkameen District near the town of Princeton, was named in his honour, with the nearby Allenby Lake was named after the town. There is a road in Aldershot, Hampshire, England named after him. Allenby Gardens, a suburb of Adelaide, South Australia was also named in his honour.
Allenby supposedly once said that people would have to visit a war museum to learn of him, but that T E Lawrence would be remembered and become a household name. This quote was used by Robert Bolt in the Lawrence of Arabia film.
In Israel
Both Tel-Aviv and Haifa have a main street named for General Allenby, and one of the main bridges over the River Jordan, between the kingdom of Jordan and Israel is the Allenby Bridge. In Jerusalem, one of the main British Army camps throughout the mandatory period was known as "Allenby Camp", and though no longer used by the IDF, the location is still known by this name; it has some political significance as being the site earmarked for erecting a US Embassy building in Jerusalem, if and when political and diplomatic conditions make moving the embassy from its present Tel-Aviv location possible. Altogether, present-day Israelis and Palestinians, even if not always knowing all the details of Allenby's biography, are very familiar with his name.
Tel-Aviv, in 1917 a fledgling town founded just a few years before, suffered greatly from the Ottoman authorities suspecting its inhabitants of pro-British tendencies (not entirely without reason) and evicting them en masse prior to the arrival of Allenby's troops. Some were forced to trudge as far as Damascus. Following the British victory they were able to return to their town and regarded General Allenby as literally their saviour, naming for him what was Tel-Aviv's main street and the focus of economic and political life until the late 1940s.
In popular culture
Publicity surrounding Allenby's exploits in the Middle East was at its highest in Britain in the immediate aftermath of the First World War.
Lowell Thomas, the enterprising American journalist who helped make T. E. Lawrence a household name throughout the world in the 1920s, wrote of Allenby in a very complimentary manner in his book With Lawrence in Arabia and promoted him along with Lawrence in his documentary film With Allenby in Palestine and Lawrence in Arabia, covering the Middle Eastern campaign. Thomas had interviewed Allenby several times during the course of the war, and it was in fact Allenby who suggested Thomas use Lawrence as a subject.
In the film Lawrence of Arabia (1962), which depicts the Arab Revolt during World War I, Allenby is given a major part and is portrayed by Jack Hawkins in one of his best-known roles. The portrayal of him is, however, rather negative (largely due to the screenwriter's anti-war sentiments). He is depicted as being an officer interested only in manipulating Lawrence for practical military reasons, which was admittedly true to some extent, though in real life Lawrence and Allenby thought very highly of each other and remained in correspondence for years after the war. Lowell Thomas in particular was critical of the film's portrayal of Allenby, saying that Hawkins lacked the "presence" and strength of Allenby. Allenby's descendents were so upset over his portrayal that they issued a formal complaint against Columbia Pictures for the depiction of their ancestor.
Prior to the film, Allenby was a supporting character fulfilling a very similar role in Terence Rattigan's controversial play Ross (1960), where Allenby was portrayed by John Williams in the original run and from which large portions of the subsequent film script were taken.
Allenby was also played by Australian actor Anthony Hawkins in The Lighthorsemen (1987), and John Vine in The Adventures of Young Indiana Jones: Daredevils in the Desert (1992).
First World War
Battle of Jerusalem (1917)
Second Boer War
Cavalry
British Mandate of Palestine
Allenby Street Tel Aviv, Israel
Army Manoeuvres of 1912

Further reading
How Jerusalem Was Won. Being the Record of Allenby's Campaign in Palestine (London: Constable, 1919)
Allenby's Final Triumph by W. T. Massey (London: Constable, 1920)
Allenby of Armageddon. A Record of the Career and Campaigns of Field-Marshal Viscount Allenby by Raymond Savage (London: Hodder & Stoughton, 1925)
Allenby: A Study in Greatness by A. P. Wavell (London: Harrap, 1940)
Allenby in Egypt by A. P. Wavell (London: Harrap, 1943)
Allenby by Brian Gardner (London: Cassell, 1965)
Imperial Warrior. The Life and Times of Field Marshal Viscount Allenby 1861-1936 by Lawrence James (London: Weidenfeld & Nicolson, 1993)

More aircraft.
Source: WikiPedia