Embraer EMB 120 Brasilia Video - Picture
Embraer EMB 120 Brasilia Aircraft Information
Embraer EMB 120 Brasilia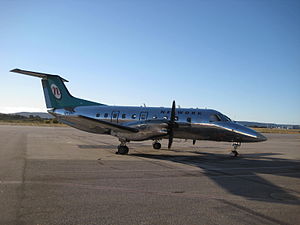 Picture - Network Aviation EMB-120 ER
Role: Regional airliner
Manufacturer: Embraer
First flight: July 27, 1983
Introduction: October, 1985
Status: Active
Primary users: SkyWest Airlines Brazilian Air Force
Produced: 1983-2001; built individually as of 2007
Number built: 354

The Embraer EMB 120 Brasilia is a twin-turboprop commuter airliner, produced by Embraer of Brazil.
Design and development
After the success of the EMB-110 Bandeirante, Embraer began the development of their first transport category airliner in 1974. Originally called the Araguaia, the name was changed to Brasilia in 1979 at the official launching of the project. The design retained the T-tail and supercritical wing of the EMB-121 Xingu, but with the capacity for 30 seats. Originally designed to utilise the new 1500SHP Pratt & Whitney Canada PW115 Turboprop, this was later upgraded to the 1892 ESHP PW118.
The Brasilia attracted immediate interest from many regional airlines, particularly in the USA. The size, speed and ceiling allowed faster and more direct services around the US and Europe, comparared to similar aircraft. The first aircraft entered service with Atlantic Southeast Airlines in October 1985. The basic EMB-120RT was upgraded to the extended range (1,575 km) EMB-120 ER, with older aircraft retrofitted via a Service Bulletin.
Operational history
Most of the EMB 120s were sold in the United States and other destinations in the Western Hemisphere. Some European airlines such as Régional in France, Atlant-Soyuz Airlines in Russia, DAT in Belgium, and DLT in Germany also purchased EMB-120s. Serial production ended in 2001. As of 2007, it is still available for one-off orders, as it shares much of the production equipment with the ERJ-145 family, which is still produced. The Angolan Air Force, for example, received a new EMB 120 in 2007.
SkyWest Airlines currently operates the largest fleet of EMB 120s under the United Express and Delta Connection brand. Great Lakes Airlines currently operates six EMB 120s in its fleet.
Variants
EMB 120
Basic production version.
EMB 120ER
Extended range and increased capacity version. All EMB-120ER S/Ns may be converted into the model EMB-120FC or into the model EMB-120QC.
EMB 120FC
Full cargo version.
EMB 120QC
Quick change cargo version.
EMB 120RT
Transport version. All EMB-120RT S/Ns may be converted into the model EMB-120ER.
VC-97
VIP transport version for the Brazilian Air Force.
Operators
Civil operators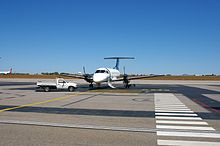 Picture - Airnorth Brasilia at Darwin Airport
As of August 2010, 195 EMB 120 aircraft are in airline service around the world. Current operators include:
Angola
Air 26 (8)
Diexim Expresso (4)

Australia
Airnorth (4)
Network Aviation (7)
Skippers Aviation (6)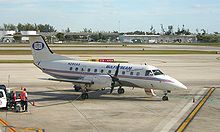 Picture - A Gulfstream International Airlines EMB 120 at Fort Lauderdale-Hollywood International Airport
Brazil
Meta Linhas Aéreas (2)
Passaredo Transportes Aéreos (5)

Hungary
Budapest Aircraft Service (4)

Mozambique
LAM Mozambique Airlines

Nigeria
Associated Aviation (4)

South Africa
Naturelink Charter (11)
African Airlines Investments (4)

Russia
Atlant-Soyuz Airlines (4)
Region Avia Airlines (4)

Spain
Swiftair (10) (All cargo version)

Turkey
Orbit Express Airlines (1)

United States
Ameriflight (7)
Charter Air Transport (6)
Everts Air (3)
Great Lakes Aviation (6)
SkyWest Airlines (50)

Some other 20 companies also operate the aircraft.
Military Operators
Angola
People's Air and Air Defence Force of Angola

Brazil
Brazilian Air Force 17 in service

Uruguay
Uruguayan Air Force

Specifications (EMB 120)
Data from Jane's All The World's Aircraft 1988-89
General characteristics
Crew: Two pilots and one flight attendant
Capacity: 30 passengers
Length: 20.00 m (65 ft 7½ in)
Wingspan: 19.78 m (64 ft 10¾ in)
Height: 6.35 m (20 ft 10 in)
Wing area: 39.4 m² (424 ft²)
Airfoil: NACA 23018 (modified) at root, NACA 23012 at tip
Aspect ratio: 9.9:1
Empty weight: 7,070 kg (15,586 lb)
Max takeoff weight: 11,500 kg (25,353 lb)
Powerplant: 2 x— Pratt & Whitney Canada PW118/118A/118B turboprops, 1,340 kW (1,800 shp) each
Maximum Landing Weight: 11,250 kg (24,802 lb)

Performance
Maximum speed: 608 km/h (328 knots, 378 mph) at 20,000 ft (6,100 m)
Cruise speed: 552 km/h (298 knots, 343 mph)
Stall speed: 162 km/h (87 knots, 100 mph) (CAS),(flaps down)
Range: 1,750 km (945 nmi, 1,088 mi) (30 passengers, reserves for 100 nmi divert and 45 min hold)
Service ceiling: 9,085 m (29,800 ft)
Take-off Run: 1,420 m (4,660 ft) minimum

Avionics
Collins 5-screen Electronic Flight Instrument System
Dual autopilots

Accidents
Brazilian Air Force on July 8, 1988 an Embraer EMB 120RT Brasx­lia registration FAB-2001 crashed during and engine-out landing at Sx£o José dos Campos. Five of the 9 occupants died.
Atlantic Southeast Airlines Flight 2311, crashed in Brunswick, Georgia on April 5, 1991. The crash claimed the lives of all twenty-three people on board, including former U.S. Senator John Tower of Texas and astronaut Sonny Carter. This was due to propeller control failure.
Continental Express Flight 2574, broke up in flight on September 11, 1991, killing all of the passengers and crew members. The media stated that initially people speculated that a bomb had destroyed the aircraft; the NTSB discovered that missing screws on the horizontal stabilizer led to the crash.
Atlantic Southeast Airlines Flight 529, crashed in a field near Carrollton, Georgia on August 21, 1995. Of the twenty-nine people on board, ten were killed. This was due to failure of a propeller blade and subsequent severe engine vibration and failure.
Comair Flight 3272 crashed in Monroe, Michigan on January 9, 1997. All of the passengers and crew died. The probable cause was in-flight icing.
Rico Linhas Aéreas flight 4823 on August 30, 2002, operated by the Embraer EMB 120ER Brasx­lia registration PT-WRQ, en route from Cruzeiro do Sul and Tarauacx¡ to Rio Branco crashed on approach to Rio Branco during a rainstorm, 1,5km short of the runway. Of the 31 passengers and crew aboard, 23 died.
Rico Linhas Aéreas flight 4815 operated by the Embraer EMB 120ER Brasx­lia registration PT-WRO, en route from Sx£o Paulo de Olivenx§a and Tefé to Manaus crashed in the forest at about 18 nm from Manaus on May 14, 2004. All 33 passengers and crew died.
Airnorth VH-ANB took off approximately 10.10am (ACST) on March 22, 2010, from Darwin International Airport on a routine simulated engine-failure training exercise known as a V1 cut when it apparently banked sharply to the left and crashed into the nearby bushland at RAAF Base Darwin. The two on-board pilots were killed instantly.
On September 14, 2011, an Angolan Air Force Embrear 120ER crashed and broke on to two pieces while attempting to take off from Albano Machado Airport killing 30 of the 36 onboard

Related development
Embraer EMB 110
Embraer EMB 121 Xingu

Comparable aircraft
Saab 340
ATR 42
CASA CN-235
De Havilland Canada Dash 8
Dornier 328
Beechcraft 1900

Taylor, John W.R. Jane's All the World's Aircraft 1988-89. Coulsdon, UK:Jane's Information Group, 1988. ISBN 0-7106-0867-5.

Embraer EMB 120 Brasilia Pictures
More airplane videos.
Source: WikiPedia