Mil Mi-38 Video - First flight
Mil Mi-38 Video - At MAKS 2007
Mil Mi-38 Aircraft Information
Mil Mi-38
Mi-38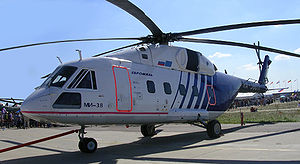 Picture - Mi-38 in MAKS Airshow 2005
Role: medium transport helicopter
Manufacturer: Mil Moscow Helicopter Plant
First flight: 22 December 2003
Number built: 2

The Mil Mi-38 is a transport helicopter designed by Mil Moscow Helicopter Plant. Originally intended as a replacement for the Mil Mi-8 and the Mi-17, it is being marketed in both military and civil versions. It flew for the first time on 22 December 2003.
Design and development
The manufacturer plans to provide the Mi-38 with a new Tranzas "glass cockpit" avionics system, modified main rotor blades. The helicopter is offered with a choice of either Klimov TV7-117V or Pratt & Whitney Canada PW127/TS tuboshaft engines. So far, only two airframes have been produced for testing, a third prototype is currently being assembled at the Kazan Helicopter Plant. The production is expected to begin in 2013.
The second prototype, powered by the PW127TS, made its first flight in December 2010.
Specifications (Mi-38)
Data from
General characteristics
Crew: 1(2) - one or two (for passenger transportation) pilots
Capacity: 32 passengers or 6,000 kg (13,200 lb) on internal/external hardpoints.
Length: 19.70 m (64 ft 8 in)
Rotor diameter: 21.10 m (69 ft 3 in)
Height: 5.13 m (16 ft 10 in)
Disc area: 349.5 m² (3,762 ft²)
Empty weight: 8,300 kg (18,300 lb)
Loaded weight: 14,200 kg (31,300 lb)
Max takeoff weight: 15,600 kg (34,400 lb)
Powerplant: 2x— Klimov TV7-117V or Pratt & Whitney Canada PW127/TS turboshaft, 1,864 kW (2,500 shp) each

Performance
Maximum speed: 300 km/h (186 mph)
Range: 1,300 km (811 miles)
Service ceiling: 6,500 m (21,320 ft)
Rate of climb: ? m/s (? ft/min)
Disc loading: 41 kg/m² (8.3 lb/ft²)
Power/mass: 260 W/kg (0.16 hp/lb)

Comparable aircraft
AgustaWestland EH101
Sikorsky S-92

Mil Mi-38 Pictures
Living Warbirds: The best warbirds DVD series.
Source: WikiPedia