Dornier 328 Video - Picture
Dornier 328 Aircraft Information
Dornier 328
Dornier 328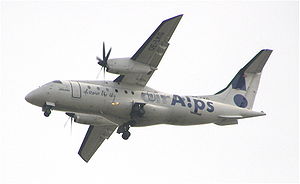 Picture - An Air Alps Dornier 328-110 landing at Fiumicino Airport, Rome
Role: Airliner
Manufacturer: Dornier, Fairchild-Dornier
First flight: 6 December 1991
Introduced: 1993
Primary users: Cirrus Airlines Air Alps Sun Air of Scandinavia SATENA
Developed into: Fairchild Dornier 328JET

Fairchild-Dornier
The Dornier 328 is a turboprop-powered commuter airliner. Initially produced by Dornier Luftfahrt GmbH, the firm was acquired in 1996 by Fairchild Aircraft. The resulting firm, named Fairchild-Dornier, manufactured the 328 family in Oberpfaffenhofen, Germany, conducted sales from San Antonio, Texas, United States, and supported the product line from both locations. 328 Support Services GmbH has held the type certificate for this aircraft since June 2006.
Design and development
The 328 (or Do 328) program was initially begun while Dornier was still owned by Deutsche Aerospace. The basic 328 first flew on 6 December 1991, and entered commercial service in October 1993. The 328's new fuselage allowed for comfortable 3-abreast seating, with the potential for a 4-abreast configuration. Combined with the supercritical wing developed from Dornier's Do 228, this gave the 328 excellent cruise and climb capabilities. However, the 328 entered a market crowded with other competing turboprop aircraft at the time, as well as increasing competition from new regional jets in the early 1990s.
In 2005, the Australian Maritime Safety Authority (AMSA) awarded a contract to AeroRescue for long-range Search and Rescue (SAR) capability around Australia. Five 328-100s were progressively commissioned from April 2006 to February 2007 and stationed around the Australian coastline to provide a 24 hour, 30 minute response capability. The aircraft were equipped with a comprehensive electronic sensor suite by Aerodata AG in Germany including; Israel Aerospace Industries ELTA EL/M 2022A Radar, FSI Star SAFire III Forward Looking Infra Red (FLIR), Direction Finder and an ARGON ST Infra Red/Ultra Violet scanner. The aircraft are also fitted with an Aeronautical Engineers Australia despatch system, allowing rescue stores to be dropped from the aircraft through a chute through the underwing emergency exit. These are progressively being upgraded with an in-flight opening cargo door to allow despatch of larger items, up to 20 man life rafts and boat dewatering pumps for open water rescues.
Variants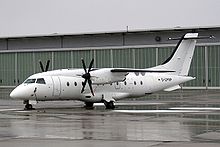 Picture - 328-100
328-100 - Initial 328.
328-110 - Standard 328 with greater range and weights
328-120 - 328 with improved STOL performance.
328-130 - 328 with progressive rudder authority reduction at higher airspeeds.
328JET - Turbofan-powered variant, formerly the 328-300.

Operators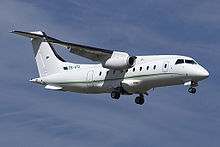 Picture - Tyrolean Jet Services 328Jet
In August 2010 a total of 166 remain in operation with 67 Dornier 328-100 aircraft in airline service. Major operators include: Cirrus Airlines (15), Air Alps (5), Sun Air of Scandinavia (6), ScotAirways (6), Satena (6), and South East Asian Airlines (5), Vision Airlines (4), Central Mountain Air (1). 9 other airlines operate smaller numbers of the type.
Australia
Australian Maritime Safety Authority

Botswana
Botswana Defence Force Air Wing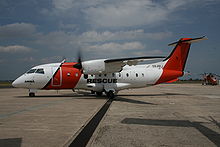 Picture - An AeroRescue Dornier 328-100 operated for the Australian Maritime Safety Authority
Specifications (Dornier 328-110)
General characteristics
Crew: Three (2 Pilots, 1 Flight Attendant)
Capacity: 30 to 33 (14 in First Class Config)passengers
Length: 21.11 m (69 ft 7 in)
Wingspan: 20.98 m (68 ft 10 in)
Height: 7.24 m (23 ft 9 in)
Wing area: 40 m² (431 ft²)
Empty weight: 8,920 kg (19,670 lb)
Useful load: 3,450 kg (7,606 lb)
Max takeoff weight: 13,990 kg (30,840 lb)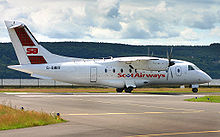 Picture - A ScotAirways Dornier 328-110 at Dundee Airport, Scotland
Performance
Maximum speed: 620 km/h (335 knots, 385 mph)
Range: 1,850 km (1,000 nm, 1,150 mi)
Service ceiling: 9,455 m (31,020 ft)

Avionics Honeywell PRIMUS 2000
Related development
Dornier Do 228
Fairchild Dornier 328JET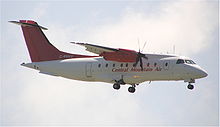 Picture - A Central Mountain Air Dornier 328-100 on approach to Vancouver International Airport
Comparable aircraft
Antonov An-24/Xian Y-7
ATR 42
de Havilland Canada DHC-8
Saab 340
Xian MA60
CASA CN-235

Swanborough, Gordon. "Dornier 328: A Daimler for Commuters". Air International, March 1992, Vol. 42 No. 3. pp. 123-128. ISSN 0306-5634.
Taylor, Michael J.H. Brassey's World Aircraft & Systems Directory 1999/2000. London:Brassey's, 1999. ISBN 1 85753 245 7.
Much of the content of this article comes from the equivalent German-language Wikipedia article (retrieved February 14, 2006).

Dornier 328 Pictures
More aircraft.
Source: WikiPedia