Fairchild Hiller FH-227 Video - Picture
Fairchild Hiller FH-227 Aircraft Information
Fairchild Hiller FH-227
F-27 / FH-227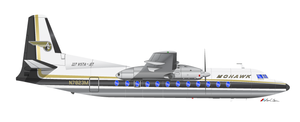 Picture - A Fairchild-Hiller FH-227B "The City of Glens Falls" of the defunct Mohawk Airlines, circa 1970
Role: Airliner
Manufacturer: Fairchild Hiller
First flight: November 24, 1955
Introduced: 1958
Status: Most retired
Number built: 128 (F-27) 78 (FH-227)
Developed from: Fokker F27

The Fairchild F-27 and Fairchild Hiller FH-227 were versions of the Fokker F27 Friendship twin-engined turboprop passenger aircraft manufactured under license by Fairchild Hiller in the United States. The Fairchild F-27 (written with a dash) was similar to the standard Fokker F27, while the FH-227 was an independently-developed stretched version.
Design and development
Probably the closest to being a true replacement for the fabled Douglas DC-3, the Fokker F27 Friendship, including the Fairchild-built F-27 and FH-227, was built in greater numbers than any other western turboprop airliner.
The Fokker F27 began life as a 1950 design study known as the P275, a 32 seater powered by two Rolls-Royce Dart turboprops. With the aid of Dutch government funding, the P275 evolved into the F27, which first flew on November 24, 1955. The first prototype was powered by Dart 507s and would have seated 28. To correct a slight tail-heaviness and to allow for more seats, the second prototype (which first flew in January 1957) had a 3-foot-longer (0.91 m) fuselage, which would allow seating for 32.
By this stage Fokker had signed an agreement that would see Fairchild build Friendships in the USA as the F-27. The first aircraft of either manufacturer to enter service was in fact a Fairchild-built F-27, with West Coast Airlines in September 1958.
Fairchild F-27s differed from the initial Fokker F27 Mk 100s in having basic seating for 40, a lengthened nose capable of housing a weather radar, and additional fuel capacity.
A most important difference between the Fairchild and the Fokker was that Fairchild incorporated a passenger loading airstair door into the rear of the aircraft, which was operated by the flight attendant for quick passenger loading and unloading. Fokker never built such a door and operators have spent hundreds of thousands of hours pushing loading steps up to and away from hundreds of Fokker airplanes over 50 years!
Developments were the F-27A with more powerful engines; and the F-27B Combi version.
Fairchild independently developed the stretched FH-227, which appeared almost two years earlier than Fokker's similar F27 Mk 500. The FH-227 featured a 1.83 m (6 ft 0 in) stretch over standard length F27/F-27s, taking standard seating to 52, with a larger cargo area between the cockpit and the passenger cabin.
Production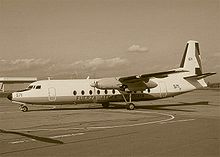 Picture - The FH-227D that crashed in the Andes in 1972 as Fuerza Aérea Uruguaya Flight 571
In addition to the 581 F27s built by Fokker, 128 F-27s and 78 FH-227s were built. In February 2010, only one Fairchild FH-227 aircraft remained in active service being used by the Myanmar Air Force (FH-227E serial number 501).
Notable accidents
On Friday 13 October 1972, Uruguayan Air Force Flight 571, an FH-227D carrying 45 people, crashed in the Andes mountains. The event became known as the Andes flight disaster, and was the subject matter upon which the 1974 book Alive: The Story of the Andes Survivors and the 1993 film Alive were based.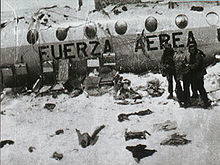 Picture - Three survivors of Flight 571 next to the wreck of the aircraft
On 24 January 1980, a Burma Air Force FH-227 crashed due to engine failure shortly after take-off, killing all but one of the 44 people on board. One person on the ground was injured.

On 9 December 1982, an Aeronor Chile F-27A was operating as Flight 304 on a scheduled domestic service from Santiago to La Serena, Chile. On final approach to La Serena's La Florida Airport the aircraft stalled and crashed, bursting into flames on impact. All 42 passengers and four crew on board died.

Specifications (FH-227E)
Data from Jane's All The World's Aircraft 1969-70
General characteristics
Crew: Two (pilot & co-pilot)
Capacity: 52 seats at 79 cm (31 in) pitch, or a maximum of 56
Payload: 11,200 lb (5,080 kg)
Length: 83 ft 8 in (25.50 m)
Wingspan: 95 ft 2 in (29.00 m)
Height: 27 ft 7 in (8.41 m)
Wing area: 754 ft² (70.0 m²)
Empty weight: 22,923 lb (10,398 kg)
Max takeoff weight: 43,500 lb (19,730 kg)
Powerplant: 2x— Rolls-Royce Dart RDa.7 Mk 532-7L turboprops, 2,300 ehp (1,715 kW) each

Performance
Never exceed speed: 288 knots (331 mph, 532 km/h)
Maximum speed: 256 kts (294 mph, 473 km/h)
Cruise speed: 235 knots (270 mph, 435 km/h)
Stall speed: 75.9 knots (87.3 mph, 140.5 km/h)
Range: 570 nm with maximum payload, 1,439 nm with max fuel (656 mi/1,655 mi, 1,055 km/2,660 km)
Service ceiling: 28,000 ft (8,540 m)
Rate of climb: 1,560 ft/min (7.9 m/s)

Related development
Fokker F27
Fokker 50

Comparable aircraft
ATR 42 and 72
Bombardier Dash 8
Fairchild-Dornier 328 family
Embraer EMB 120 Brasilia
Saab 2000 and 340

Taylor, John W.R.(ed.) Jane's All The World's Aircraft 1969-70. London: Jane's Yearbooks, 1969.

Fairchild Hiller FH-227 Pictures
More aircraft.
Source: WikiPedia