Fairchild T-46 Video - Picture
Fairchild T-46 Aircraft Information
Fairchild T-46
T-46 "Eaglet"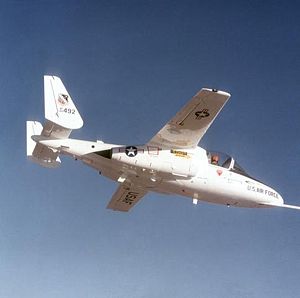 Picture - A T-46 out of Edwards AFB
Role: Jet trainer aircraft
Manufacturer: Fairchild Aircraft
First flight: October 15, 1985
Primary user: United States Air Force
Number built: 3

The Fairchild T-46 (nicknamed the "Eaglet") was an American light jet trainer aircraft of the 1980s. It was cancelled in 1986 with only three aircraft being produced.
Design and development
In order to validate the proposed aircraft's design, and to explore its flight handling characteristics, Fairchild Republic contracted with Ames Industries of Bohemia, New York to build a flyable 62% scale version. Burt Rutan's Rutan Aircraft Factory (RAF) in Mojave, California was contracted to perform the flight test evaluations, with test pilot Dick Rutan doing the flying. The scale version was known at RAF as the Model 73 NGT.
The plane was the winner of the US Air Force's competition to build the Next Generation Trainer (NGT) program to replace the Cessna T-37 Tweet. The aircraft first flew on October 15, 1985, but was cancelled a little more than a year later, for reasons that largely remain controversial. The T-46 was the last project of the Fairchild Republic Corporation, and after the program termination Fairchild had no more income. Without any new contracts and the NGT program cancelled, the company closed the Republic factory in Farmingdale, New York, bringing 60 years of Fairchild aircraft manufacturing to an end.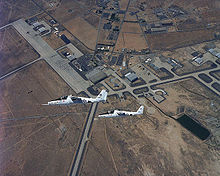 Picture - Two T-46 aircraft circling Edwards AFB
The aircraft itself featured a side by side configuration, a twin (or "H") tail (similar to the company's A-10), ejection seats, pressurization, and two turbofan engines. Had it gone into full production the NGT program called for over 600 aircraft being built up to 1993. There was potential for some overseas sales as well, such as in the light ground attack role in addition to its role as a trainer.
Operators
United States
United States Air Force

Aircraft of display
84-0492 can be seen at the Air Force Flight Test Center Museum at Edwards Air Force Base, California.
84-0493 under restoration at the National Museum of the United States Air Force
85-1596 can be seen at the AMARG Celebrity Row during the bustour from PIMA Air museum, Arizona

Specifications (T-46)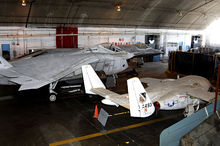 Picture - T-46, X-32 and YF-23 in the restoration area of the National Museum of the United States Air Force
General characteristics
Crew: two; trainer, student
Length: 19 ft 9 in (8.99 m)
Wingspan: 38 ft 7 in (11.78 m)
Height: 12 ft 8 in (3.86 m)
Wing area: 160.9 ft² (14.95 m²)
Empty weight: 5,172 lb (2,346 kg) or (2,351 kg (5,180 lb))
Max takeoff weight: 6,802 lb (3,085 kg) or (3,092 kg (6,820 lb))
Powerplant: 2x— Garrett F109-GA-100 turbofans, 1,326 lbf (5.90 kN) each
* Aspect ratio: 9.3
Internal fuel capacity: 1,258 lb (571 kg) or 572 kg (1,260 lb)

Performance
Maximum speed: 394 knots at 25,000 ft (7,600 m) (454 mph, 736 km/h)
Cruise speed: 330 knots at 45,000 ft (13,700 m) (380 mph, 616 km/h)
Range: 1,150 nm (1314 mi, 2,130 km)
Service ceiling: 46,500 ft (14,200 m)
Rate of climb: 4,467 ft/min (22.7 m/s)
Wing loading: 42.3 lb/ft² (207 kg/m²)
Thrust/weight: 0.39
Take-off distance: 1,102 ft (366 m)
Landing distance: 1,125 ft (343 m)

JPATS

Comparable aircraft
T-37 Tweet
T-6 Texan II

Fairchild T-46 Pictures
More aircraft.
Source: WikiPedia