Fairchild VZ-5 Video - Picture
Fairchild VZ-5 Aircraft Information
Fairchild VZ-5
Fairchild VZ-5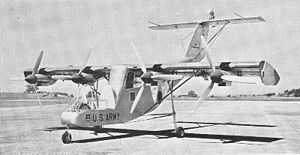 Role: VTOL research aircraft
Manufacturer: Fairchild Aircraft
First flight: 1959
Primary user: United States Army
Number built: 1

The Fairchild VZ-5 (or Model M-224-1) was a 1950s American experimental VTOL research aircraft built by Fairchild Aircraft for the United States Army.
Development
Built for the United States Army with the designation VZ-5 was one of a series of experimental aircraft designed to investigate various aspects and solutions for VTOL aircraft. The VZ-5 was an all-metal high-wing monoplane with a fixed tri-cycle undercarriage. The fuselage had an open cockpit for one pilot and a rear-mounted high-tailplane. The unusual aspect of the aircraft was that it had one General Electric turboshaft in the rear fuselage driving four propellers, two each mounted in nacelles on the leading edge of each wing. It also had two small four-bladed tail-rotors mounted above the tailplane for control. The wing had conventional trailing-edge flaps and ailerons but it also had a section of the wing that could be deflected to act as a full-span flap. For a vertical take-off two-thirds of the wing chord acted as a flap in the slipstream of the four propellers.
The VZ-5 was first flown tethered on 18 November 1959 but only had limited testing before the project was abandoned. Also see Deflected slipstream for information on the VTOL technology employed with the VZ-5.
Operators
United States
United States Army

Specifications (VZ-5)
General characteristics
Crew: One
Length: 33 ft 8 in (10.26 m)
Wingspan: 32 ft 9 in (9.98 m)
Height: 16 ft 10 in (5.13 m)
Wing area: 191 ft² (17.74 m²)
Empty weight: 3,382 lb (1,534 kg)
Gross weight: 3,976 (for VTOL) lb (1,803 (for VTOL) kg)
Powerplant: 1 x— General Electric YT58-GE-2 turboshaft, 1,032 hp (764 kW)

Performance
Maximum speed: 184 (estimate) mph (296 (estimate) km/h)

Comparable aircraft
Ryan VZ-3 Vertiplane

John Andrade, U.S.Military Aircraft Designations and Serials since 1909, Midland Counties Publications, 1979, ISBN 0-904597-22-9 (Page 171)
The Illustrated Encyclopedia of Aircraft (Part Work 1982-1985), 1985, Orbis Publishing

Fairchild VZ-5 Pictures
More aircraft.
Source: WikiPedia