Fairey Delta 1 Video - Picture
Fairey Delta 1 Video - RC Model
Fairey Delta 1 Aircraft Information
Fairey Delta 1
Fairey Delta 1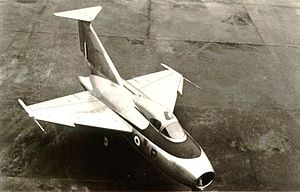 Picture - Fairey Delta 1
Role: research aircraft
National origin: United Kingdom
Manufacturer: Fairey Aviation Company
First flight: 10 March 1951
Retired: 1953
Number built: 1

The Fairey Delta 1 or FD1 was a British research aircraft produced by the Fairey Aviation Company for investigation of delta wing flight characteristics and control at transonic speeds. In testing, the FD1 exhibited unfavourable handling and stability leading to cancellation of two further airframes.
Design and development
Originally conceived as a vertical takeoff (VTO) fighter, the proposed fighter was intended to be launched from an inclined ramp. Already in the early design stage at Fairey, the Ministry of Supply (MoS) decided to have the aircraft built as a more conventional jet-powered research vehicle to specification E.10/47. The design was a mid-wing tail-less delta monoplane, with a circular cross-section fuselage and engine air-inlet at the extreme front. The engine was a Rolls-Royce Derwent 8. Although designed as a transonic aircraft, the Delta 1 had a short-coupled, "portly" appearance, completely at odds with Fairey's next design, the sleek and elegant Delta 2. Three aircraft were ordered with the name "Fairey Delta" applied to the project; subsequently, the name was changed to Fairey Delta 1.
Testing
The sole FD1 to be completed was built at Fairey's Stockport factory and taken to their test facility at Manchester's Ringway Airport for assembly. Starting on 12 May 1950 it made several high-speed taxi runs there before being dismantled and transported by road to the A&AEE at RAF Boscombe Down. After further taxi tests, the aircraft (serial number VX350) made its maiden flight on 10 March 1951, flown by Fairey test pilot Group Captain R. Gordon Slade. The FD1 acquired a small horizontal delta wing on the top of the tail-fin which was intended to stop the "serious pitching as it gathered speed." Continued testing pointed to serious stability problems that were characterized as "dangerous." The additional tail surface limited the top speed to a pedestrian 345 mph (555 km/h).
After a landing accident in September 1951, the FD1 was modified with the removal of the leading edge slats as well as the removal of the streamlined housings for the anti-spin parachutes that were mounted at the wingtips. The large control surfaces made the FD 1 difficult to control or even fly with precision although a rapid roll rate was achieved. With limited flying after the test program was re-launched in May 1953, and no sign of the resolution of considerable design deficiencies, the FD1 was soon relegated to non-flying status. Only one FD1 was built, with the second (VX357) and third (VX364) airframes being cancelled before they entered production.
Cancellation
The Fairey Delta was a proof-of-concept experimental aircraft that was destined to never achieve its design goals, and it ignobly ended up as a target in the Shoeburyness, Essex weapons range in 1953. Its lasting claim to fame was as the first British-designed delta wing.
Specifications (Fairey Delta 1)
Data from Jane's
General characteristics
Crew: 1
Length: 26 ft 3 in (8 m)
Wingspan: 19 ft 6.5 in (5.9 m)
Height: 19 ft 6.5 in (5.9 m)
Loaded weight: 6,800 lb (3,084 kg)
Powerplant: 1x— Rolls-Royce Derwent 8 turbojet, 3,600 lb (1,633 kg)

Performance
Maximum speed: 545 knots (628 mph) (1,011 km/h)

Related development
Fairey Delta 2

Comparable aircraft
Avro 707C
Boulton Paul P.111A
Convair XF-92A

Bibliography
Sturtivant, Ray. British Research and Development Aircraft. Somerset, UK: Haynes Publishing Group, 1990. ISBN 0-85429-697-2
Taylor, H. A. Fairey Aircraft since 1915. London: Putnam, 1974. ISBN 0-370-00065-X.
Taylor, John W.R. Jane's Pocket Book of Research and Experimental Aircraft. London: Macdonald and Jane's Publishers Ltd, 1976. ISBN 0356-08409-4.
Twiss, Peter. Faster than the Sun. London: Grub Street Publishing, 2000. ISBN 1-902304-43-8.
Winchester, Jim. X-Planes and Prototypes. London: Amber Books Ltd., 2005. ISBN 1-904687-40-7.

Fairey Delta 1 Pictures
More aircraft.
Source: WikiPedia