Fairey Delta 2 Video - Aircraft overview
Fairey Delta 2 Video - In flight
Fairey Delta 2 Aircraft Information
Fairey Delta 2
Fairey Delta 2

Picture - World speed record holder WG774
Role: high-speed research aircraft
National origin: United Kingdom
Manufacturer: Fairey Aviation Company
Designed by: Robert Lickley
First flight: 6 October 1954
Introduced: Experimental
Retired: 1966 (WG777), 1973 (WG774)
Status: On Public Display
Primary user: Royal Aircraft Establishment
Number built: 2

The Fairey Delta 2 or FD2 (internal designation Type V within Fairey) was a British supersonic research aircraft produced by the Fairey Aviation Company in response to a specification from the Ministry of Supply for investigation into flight and control at transonic and supersonic speeds.
Design and development
The design was a mid-wing tailless delta monoplane, with a circular cross-section fuselage and engine air-inlets blended into the wing roots. The engine was a Rolls-Royce Avon RA.14R with an afterburner. The Delta 2 had a very long tapering nose which obscured forward vision during landing, take-off and movement on the ground. To compensate, the nose section and cockpit drooped 10°, in a similar way to that used later on Concorde. Two aircraft were built: Serial numbers WG774 and WG777.
The FD2 was used as the basis for Fairey's submissions to the Ministry for advanced all weather interceptor designs leading to the Fairey Delta 3 for the F.155 specification, but it never got past the drawing board stage.
Testing
The first FD2 was aircraft WG774 which made its maiden flight on 6 October 1954, flown by Fairey test pilot Peter Twiss. On 17 November 1954, WG774 suffered engine failure on its 14th flight when internal pressure build-up collapsed the fuselage collector tank at 30,000 ft (9,100 m), 30 mi (50 km) from Boscombe Down. Fairey pilot Peter Twiss, ex-Fleet Air Arm, managed to glide to a dead-stick landing at the airfield. Only the nose gear had deployed, and the aircraft sustained damage that sidelined it for eight months. Twiss, who was shaken up by the experience but otherwise uninjured, received the Queen's Commendation for Valuable Service in the Air.
The FD2 test programmme did not resume until August 1955. On 10 March 1956 the aircraft broke the World Air Speed Record, raising it to 1,132 mph (1,811 km/h), an increase of some 300 mph (480 km/h) over the record set in August 1955 by an North American F-100 Super Sabre. It thus became the first aircraft to exceed 1,000 mph (1,600 km/h) in level flight. This record stood until December 1957 when it was surpassed by a McDonnell JF-101A Voodoo of the USAF.
BAC 221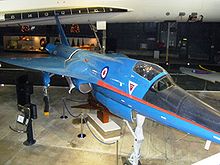 Picture - BAC 221 at the Fleet Air Arm Museum
The first Delta 2, WG774, was later rebuilt by British Aircraft Corporation (BAC), who had absorbed Fairey, in 1960 as the ogee-ogive wing form aircraft BAC 221. This was for aerodynamic research as part of the Concorde development programme. It featured a new wing, engine inlet configuration, a Rolls-Royce Avon RA.28, modified vertical stabiliser and a lengthened undercarriage to mimic Concorde's attitude on the ground. It first flew in this form on 1 May 1964. It was used from 1964 until 1973.
Survivors
WG774, in BAC 221 form, is now on display alongside the British Concorde prototype at the Fleet Air Arm Museum at Yeovilton.
WG777, is preserved at the Royal Air Force Museum at RAF Cosford, alongside many other supersonic research aircraft.

Operators
United Kingdom
Royal Aircraft Establishment

Specifications (Fairey Delta 2)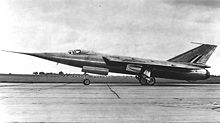 Picture - WG774 with the original polished-metal finish. It later received yellow "go faster" stripes, followed by a purple and yellow scheme, before conversion to the BAC 221.
Data from
General characteristics
Crew: 1
Length: 51 ft 7½ in (15.74 m)
Wingspan: 26 ft 10 in (8.18 m)
Height: 11 ft 0 in (3.35 m)
Wing area: 360 ft² (33.44 m²)
Empty weight: 11,000 lb (4990 kg)
Gross weight: 13,884 lb (6298 kg)
Powerplant: 1 x— Rolls-Royce Avon 200, 10,000 lbf (44.59 kN)

Performance
Maximum speed: >1300 mph (>2092 km/h)
Range: 830 miles (1336 km)

Flight airspeed record
Peter Twiss

Related development
Fairey Delta 1

Comparable aircraft
Dassault Mirage
English Electric P1A
Bristol 188
Avro 707C

Bibliography
Taylor, H. A. Fairey Aircraft since 1915. London: Putnam, 1974. ISBN 0-370-00065-X.
Taylor, John W. R. Jane's All The World's Aircraft 1965-66. London:Sampsom Low, Marston, 1965.
The Illustrated Encyclopedia of Aircraft (Part Work 1982-1985), 1985, Orbis Publishing
Twiss, Peter. Faster than the Sun. London: Grub Street Publishing, 2000. ISBN 1-902304-43-8.
Winchester, Jim. Concept Aircraft: Prototypes, X-Planes and Experimental Aircraft. Rochester, Kent, UK: Grange books plc, 2005. ISBN 1-84013-809-2.

Fairey Delta 2 Pictures
More aircraft.
Source: WikiPedia