Fairey Seal Video - Picture
Fairey Seal Aircraft Information
Fairey Seal
Fairey Seal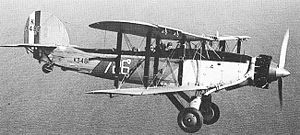 Role: spotter-reconnaissance
Manufacturer: Fairey Aviation
First flight: 1930
Introduced: 1933
Primary users: Fleet Air Arm Royal Air Force

The Fairey Seal was a British carrier-borne spotter-reconnaissance aircraft, operated in the 1930s. The Seal was derived - like the Gordon - from the IIIF. To enable the Fairey Seal to be launched by catapult from warships, it was able to be equipped with floats.
Service life and operations
The Seal was designed and built by Fairey Aviation. It first flew in 1930 and entered squadron service with the Fleet Air Arm (FAA) in 1933. Ninety-one aircraft were produced.
The FAA started to replace it with the Swordfish Mk1 from 1936. By 1938 all FAA torpedo squadrons had entirely re-equipped with the Swordfish. It was removed from front-line service by 1938, but remained in secondary and support roles. By the outbreak of the Second World War, only four remained in service. The type was retired fully by 1943. The type was last used in India as an instructional airframe from the Royal Navy Photographic Unit.
The RAF also operated the Seal as a target tug. 12 aircraft were part of the RAF's No 10 Bombing and Gunnery School until 1940. A further four aircraft were used by 273 Squadron in Ceylon. These aircraft were used on coastal patrols, some as floatplanes. By May 1942, the type had been retired from RAF service.
Variants
Fairey IIIF Mk VI : The first prototype was converted from a Fairey IIIF MK IIIB.
Fairey Seal : Three-seat spotter-reconnaissance aircraft for the Royal Navy.

Survivors
There are no known survivors of this type in existence.
Specifications (type)
General characteristics
Crew: 2 or 3
Length: 36 ft 9 in (11.2 m)
Wingspan: 45 ft 9 in (13.94 m)
Height: 14 ft 1 in (4.32 m)
Empty weight: 3,500 lb (1,588 kg)
Max takeoff weight: 5,904 lb (2,679 kg)
Powerplant: 1x— Armstrong Siddeley Panther IIA radial piston engine, 605 hp (450 kW)

Performance
Maximum speed: 145 mph @ 3,000 ft (233 km/h @ 915 m)
Range: 600 nmi (966 km)
Service ceiling: 22,145 ft (6,705 m)

Armament
Guns

1 fixed forward .303 in (7.7 mm) Vickers machine gun
1 rear .303 in (7.7 mm) Lewis Gun

Bombs

500 lb (230 kg) or stores carried on lower wing

Operators
Argentina
Chile
Latvia
Peru
United Kingdom

Related development
Fairey IIIF
Fairey Gordon

Comparable aircraft
Blackburn Baffin
Vickers Vildebeest
Fairey Swordfish

Sturtivant, R. & Burrow, M (1995), Fleet Air Arm Aircraft 1939 to 1945, Published by Air Britain (Historians) Ltd, 1995 ISBN 0-85130-232-7

Thetford, Owen (1978), "British Naval Aircraft Since 1912", Published by Putnam and Company Ltd, 1978 ISBN 0-370-30021-1

Vicary, Adrian (1984), "Naval Wings", Published by Patrick Stephens Ltd, 1984 ISBN 0-85059-660-2

Fairey Seal Pictures
More aircraft.
Source: WikiPedia