Fairey Swordfish Video - Picture
Fairey Swordfish Aircraft Information
Fairey Swordfish
Fairey Swordfish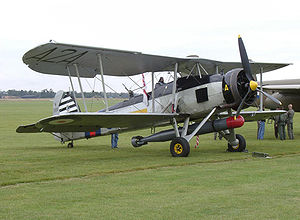 Role: Torpedo-bomber
Manufacturer: Fairey Aviation
Designed by: Marcel Lobelle
First flight: 17 April 1934
Introduced: 1936
Retired: 21 May 1945
Primary users: Royal Navy Royal Air Force Royal Canadian Air Force Royal Netherlands Navy
Number built: 2,391 (692 by Fairey and 1,699 by Blackburn)

The Fairey Swordfish was a torpedo bomber built by the Fairey Aviation Company and used by the Fleet Air Arm of the Royal Navy during the Second World War. Affectionately known as the "Stringbag" by its crews, it was outdated by 1939, but achieved some spectacular successes during the war, notably the sinking of one and damaging two battleships of the Regia Marina (the Italian Navy) in the Battle of Taranto and the famous crippling of the Bismarck. It was operated primarily as a fleet attack aircraft; however, during its later years, it was also used as an anti-submarine and training craft. Designed in the 1930s, the Swordfish outlived several types intended to replace it, and remained in front line service through the end of the war in Europe.
Design and development
The Swordfish was based on a Fairey Private Venture (PV) design; a proposed solution to the Air Ministry requirements for a spotter-reconnaissance plane - spotter referring to observing the fall of a warship's gunfire. A subsequent Air Ministry Specification S.15/33, added the torpedo bomber role. The "Torpedo-Spotter-Reconnaissance" prototype TSR II (the PV was the TSR I) first flew on 17 April 1934. It was a large biplane with a metal frame covered in fabric, and utilized folding wings as a space-saving feature for aircraft carrier use. An order was placed in 1935 and the aircraft entered service in 1936 with the Fleet Air Arm (then part of the RAF), replacing the Seal in the torpedo bomber role.
By 1939 the Fleet Air Arm (now under Royal Navy control) had 13 squadrons equipped with the Swordfish Mark I. There were also three flights of Swordfish equipped with floats, for use off catapult-equipped warships. One - from HMS Warspite - spotted fall of shot (i.e., radioed gunnery corrections back to the ship) during the Second Battle of Narvik in 1940 and subsequently sank the U-boat U-64.
Swordfish flew from merchant aircraft carriers ("MAC ships"), 20 civilian cargo or tanker ships modified to carry three or four aircraft each, on anti-submarine duties with convoys. Three of these ships were Dutch manned, flying Swordfish from 860 (Dutch) Naval Air Squadron. The rest were manned by pilots and aircrew from 836 Naval Air Squadron, at one time the largest squadron with 91 aircraft.
Almost 2,400 had been built, 692 by Fairey and 1,699 in Sherburn by the Blackburn Aircraft Company, which were sometimes dubbed the "Blackfish". The most numerous version was the Mark II, of which 1,080 were made.
Operational history
The primary weapon was the aerial torpedo, but the low speed of the biplane and the need for a long straight approach made it difficult to deliver against well-defended targets. Swordfish torpedo doctrine called for an approach at 5,000 ft (1,500 m) followed by a dive to torpedo release altitude of 18 ft (5.5 m). Maximum range of the early Mark XII torpedo was 1,500 yd (1400 m). The torpedo traveled 200 yd (180 m) forward from release to water impact, and required another 300 yd (270 m) to stabilise at preset depth and arm itself. Ideal release distance was 1,000 yd (900 m) from target if the Swordfish survived to that distance. Swordfish - flying from the British aircraft carrier HMS Illustrious - made a very significant strike on 11 November 1940 against the Italian navy during the Battle of Taranto, Italy, sinking or disabling three Italian battleships and a cruiser lying at anchor. In the aftermath, Taranto was visited by the Japanese naval attache from Berlin, who later briefed the staff who planned the attack on Pearl Harbor. Swordfish also flew anti-shipping sorties from Malta.
In May 1941, a Swordfish strike from HMS Ark Royal was vital in damaging the German battleship Bismarck, preventing it from escaping back to France. The low speed of the attacking aircraft may have acted in their favour, as the planes were too slow for the fire-control predictors of the German gunners, whose shells exploded so far in front of the aircraft that the threat of shrapnel damage was greatly diminished. The Swordfish also flew so low that most of the Bismarck's flak weapons were unable to depress enough to hit them. The Swordfish aircraft scored two hits, one which did little damage but another that disabled Bismarck's rudder, making the warship unmanueverable and sealing its fate. The Bismarck was destroyed less than 13 hours later.
The problems with the aircraft were starkly demonstrated in February 1942 when a strike on German battlecruisers during the Channel Dash resulted in the loss of all attacking aircraft. With the development of new torpedo attack aircraft, the Swordfish was soon redeployed successfully in an anti-submarine role, armed with depth-charges or eight "60 lb" (27 kg) RP-3 rockets and flying from the smaller escort carriers or even Merchant Aircraft Carriers (MAC) when equipped for rocket-assisted takeoff (RATO). Its low stall speed and inherently tough design made it ideal for operation from the MAC carriers in the often severe mid Atlantic weather. Indeed, its takeoff and landing speeds were so low that it did not require the carrier to be steaming into the wind, unlike most carrier-based aircraft. On occasion, when the wind was right, Swordfish were flown from a carrier at anchor.
Swordfish-equipped units accounted for 14 U-boats destroyed. The Swordfish was meant to be replaced by the Albacore, also a biplane, but actually outlived its intended successor. It was, finally, however, succeeded by the Fairey Barracuda monoplane torpedo bomber.
The last of 2,392 Swordfish aircraft was delivered in August 1944 and operational sorties continued in to January 1945 with anti-shipping operations off Norway (FAA Squadrons 835 and 813), where the Swordfish's manouvreability was essential. The last operational squadron was disbanded on 21 May 1945, after the fall of Germany; and the last training squadron was disbanded in the summer of 1946.
Origin of the Stringbag nickname
The Swordfish received the Stringbag nickname not because of its construction, but because of the seemingly endless variety of stores and equipment that the aircraft was cleared to carry. Crews likened the aircraft to a housewife's string shopping bag which was common at the time and, which due to its having no fixed shape, could adjust to hold any shape or number of packages. Like the shopping bag, the crews felt that the Swordfish could carry anything.
Variants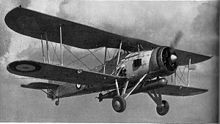 Picture - Fairey Swordfish in pre-war Fleet Air Arm markings
Swordfish I
First production series.
Swordfish I
Version equipped with floats, for use from catapult-equipped warships.
Swordfish II
Version with metal lower wings to enable the mounting of rockets, introduced in 1943.
Swordfish III
Version with added large centrimetric radar unit, introduced in 1943.
Swordfish IV
Last serial built version (production ended in 1944) with an enclosed cabin for use by the RCAF
Operators
Australia
Royal Australian Air Force
Three aircraft were used by No. 25 Squadron RAAF in 1942.

Canada
Royal Canadian Air Force

Italy
Regia Aeronautica

Swordfish 4A was first to fall into Italian hands in the aftermath of the Battle of Taranto, in poor condition. Swordfish K8422 of HMS Eagle was shot down and captured during a raid on Maritza airfield, Rhodes 4 September 1940. Evaluated at Guidonia Test Centre and kept serviceable until mid-1941 with spare parts coming from captured Swordfish K8422 (4H). Swordfish P4127 (coded 4F) of 820 squadron on HMS Ark Royal, involved in bombing raid on Cagliari, Sardinia. Hit by ground fire, it force-landed on the enemy airfield at Elmas on 2 August 1940. The crew were taken POW and the aircraft captured intact. Caproni repaired it locally and fitted it with an Alfa Romeo 125 engine. It was taken to the Stabilimento Costruzioni Aeronautiche in Guidonia on 27 February 1941. It was still listed as being there 6 April 1942.
Netherlands
Royal Netherlands Navy - Dutch Naval Aviation Service
No. 860 Squadron

Spain
Swordfish W5843 of 813 squadron at North Front, Gibraltar, lost its bearings during an anti-submarine sweep and force landed between Ras el Farea and Pota Pescadores, in Spanish Morocco, on 30 April 1942. The crew were all interned. The final fate of the aircraft is not known.
Swordfish P4073 of 700 squadron of HMS Malaya ran out of fuel whilst shadowing the German battlecruiser Scharnhorst on 8 March 1942. Aircraft and crew were interned in Spain. The Swordfish was put on the strength of the Spanish airforce as HR6-1 in 6 December 1943 with 54 Escuadrilla, Puerto de le Cruz, Tenerife, Canary Islands. Retired March 1945 at Las Palmas, Gran Canaria.
United Kingdom
Royal Air Force
No. 8 Squadron RAF
No. 119 Squadron RAF
No. 202 Squadron RAF
No. 209 Squadron RAF
No. 273 Squadron RAF
No. 613 Squadron RAF
No. 3 Anti-Aircraft Co-operation Unit (No. 3 AACU), Malta and Gibralter
No. 4 Anti-Aircraft Co-operation Unit (No. 4 AACU), Singapore
9 (Pilot) Advanced Flying Unit
Royal Navy Fleet Air Arm (prior to May 1939 part of RAF)
700 Squadron
705 Squadron (float-equipped aircraft from the battlecruisers Repulse and Renown)
810 Squadron
811 Squadron
812 Squadron
814 Squadron
815 Squadron
816 Squadron
817 Squadron-transferred to South Africa in 1945
818 Squadron
819 Squadron
820 Squadron
821 Squadron
822 Squadron
823 Squadron
824 Squadron
825 Squadron
836 Squadron
838 Squadron

Surviving Aircraft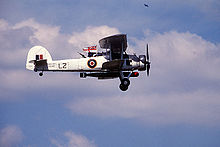 Picture - Swordfish LS326
This is an incomplete list.
Swordfish Mk.I W5856, Swordfish Mk.II LS326, Swordfish Mk.III NF389

These three aircraft form part of the Royal Navy Historic Flight; W5856 and LS326 are in flying condition, NF389 is being restored to airworthy condition by the Flight.
Swordfish Mk.III, NF370

Displayed at the Imperial War Museum Duxford.
Swordfish Mk.II, "NS122"

This aircraft is at the Canada Aviation and Space Museum. Note that "NS122" is a fictitious identity.
Swordfish Mk. IV, HS469

Originally a Mk.II, but converted to a MkIV, this aircraft is on display at the Shearwater Aviation Museum. It was restored to airworthy condition and flew once, in 1992.
Swordfish HS491

This is part of the collection of the Malta Aviation Museum and is currently awaiting restoration.
Swordfish Mk.III, construction number F/B 3527A

This aircraft is in flying condition and is registered as C-GEVS. It is operated by Vintage Wings, based in Gatineau, Quebec, Canada
Specifications (Swordfish I)
Data from Fairey Aircraft since 1915
General characteristics
Crew: Three (pilot, observer, and radio operator/rear gunner)
Length: 35 ft 8 in (10.87 m)
Wingspan: 45 ft 6 in (13.87 m)
Height: 12 ft 4 in (3.76 m)
Wing area: 607 ft² (56.4 m²)
Empty weight: 4,195 lb (1,900 kg)
Loaded weight: 7,720 lb (3,500 kg)
Powerplant: 1x— Bristol Pegasus IIIM.3 radial engine, 690 hp (510 kW)

Performance
Maximum speed: 139 mph (224 km/h, 121 knots) at 4,750 ft (1,450 m)
Range: 546 mi (879 km, 475 nmi) normal fuel carrying torpedo
Endurance: 5.7 hr
Service ceiling: 19,250 ft (5,870 m)
Climb to 5,000 ft (1,520 m): 10 min

Armament
Guns: ** 1 x— fixed, forward-firing .303 in (7.7 mm) Vickers machine gun in engine cowling
1 x— .303 in (7.7 mm) Lewis or Vickers K machine gun in rear cockpit
Rockets: 8 x— "60 lb" RP-3 rocket projectiles (Mk.II and later)
Bombs: 1 x— 1,670 lb (760 kg) torpedo or 1,500 lb (700 kg) mine under fuselage or 1,500 lb bombs under fuselage and wings

Eugene Esmonde

Related development
Fairey Albacore

Comparable aircraft
Fieseler Fi 167

Bibliography
Brown, Eric, CBE, DCS, AFC, RN.; Green William and Swanborough, Gordon. "Fairey Swordfish". Wings of the Navy, Flying Allied Carrier Aircraft of World War Two. London: Jane's Publishing Company, 1980, pp. 7-20. ISBN 0-7106-0002-X.
Campbell, John. Naval Weapons of World War II. Annapolis, MD: Naval Institute Press, 1985. ISBN 0-87021-459-4.
Harrison, W.A. Fairey Swordfish and Albacore. Wiltshire, UK: The Crowood Press, 2002. ISBN 1-86126-512-3.
Harrison, W.A. Fairey Swordfish in Action (Aircraft Number 175). Carrollton, TX: Squadron/Signal Publications, Inc., 2001. ISBN 0-89747-421-X.
Harrison, W.A. Swordfish at War. Shepperton, Surrey: Ian Allan Publishing Ltd., 1987. ISBN 0-7110-1676-3.
Harrison, W.A. Swordfish Special. Shepperton, Surrey: Ian Allan Publishing Ltd., 1977. ISBN 0-7110-0742-X.
Kilbracken, Lord, Bring Back My Stringbag: A Swordfish Pilot At War. London: Pan Books Ltd, 1980. ISBN 0-330-26172-X. First published by Peter Davies Ltd, 1979.
Lamb, Charles. To War in a Stringbag. London: Cassell & Co., 2001. ISBN 0-304-35841-X.
Lowry, Thomas P. and John Wellham.The Attack on Taranto: Blueprint for Pearl Harbor. London: Stackpole Books, 2000. ISBN 0-81172-661-4.
Stott, Ian G. The Fairey Swordfish Mks. I-IV (Aircraft in Profile 212). Windsor, Berkshire: Profile Publications, 1971. No ISBN.
Soules, Frank W. Royal Navy, 10 Fairey Swordfish operational flights from Gibraltar
Sturtivant, Ray. The Swordfish Story. London: Cassell & Co., 1993 (2nd Revised edition 2000). ISBN 0-304-35711-1.
Taylor, H.A, Fairey Aircraft since 1915. London: Putnam & Company Ltd., 1974. ISBN 0-370-00065-X.
Thetford, Owen. British Naval Aircraft Since 1912. London: Putnam, Fourth edition, 1978. ISBN 0 370 30021 1.
Thetford, Owen. British Naval Aircraft Since 1912. London: Putnam Aeronautical Books, 1994. ISBN 0-85177-861-5.
Thomas, Andrew. "Light Blue 'Stringbags': The Fairey Swordfish in RAF Service". Air Enthusiast, No. 78, November/December 1998, pp. 73-77. Stamford, UK: Key Publishing. ISSN 0143-5450.
Wragg, David. The Escort Carrier in World War II. Barnsley, UK: Pen & Sword Books, 2005. ISBN 1-84415-220-0.
Wragg, David. Stringbag: The Fairey Swordfish at War. Barnsley, UK: Pen and Sword Books, 2005. ISBN 1-84415-130-1.
Wragg, David. Swordfish: The Story of the Taranto Raid. London: Weidenfeld and Nicolson, 2003. ISBN 0-29784-667-1.

Fairey Swordfish Pictures
More aircraft.
Source: WikiPedia