Farman F.220 Video - Picture
Farman F.220 Aircraft Information
Farman F.220
F.220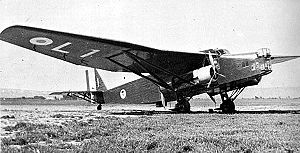 Role: Heavy bomber
National origin: France
Manufacturer: Farman Aviation Works
First flight: 26 May 1932
Produced: 1935-1938
Number built: 70

The Farman F.220 and its derivatives were thick-sectioned, high-winged, monoplanes from Farman Aviation Works. Based on the configuration proven by the F.211, design started in August 1925 and the first flight of the prototype was on May 26, 1932. The definitive F.222 variant was the biggest bomber to serve in France between the world wars. One variant was designed as an airliner.
Development
After testing the sole F.220 prototype, Farman made a number of changes to the design, including a new tail fin, fully enclosing the nose and ventral gunners' positions, and changing from V-engines to radials. The first example of this version, dubbed the F.221 flew in May 1933, and was followed by ten production examples delivered to the Armee de l'Air from June 1936. These machines featured hand-operated turrets for the three gunners' stations. Meanwhile, the prototype F.220 was sold to Air France, where christened Le Centaur, it flew as a mail plane on the South Atlantic route. This led to a batch of four similar aircraft being built for the airline.
The F.222 variant began to enter service with Armee de l'Air in the spring of 1937. Unlike its predecessor, this plane featured a retractable undercarriage. Twenty-four aircraft were produced with redesigned front fuselages and dihedral added to the outer wing. During World War II these planes were used in leaflet raids over Germany and then night bombing raids during May and June 1940. These resulted in three losses.
The Farman F.222 was involved in a notable operation carried out by French fighter pilot James Denis. On June 20, 1940, realising that the Battle of France was lost, Denis borrowed a Farman F.222 from an airbase near Saint-Jean-d'Angély. He flew to Britain with twenty of his friends, and joined the Free French Air Force, in which service he subsequently became an ace, shooting down nine German aircraft .
The F.223 (redesignated NC.223 when Farman was absorbed into SNCAC) incorporated significant changes, including a twin tail and a considerably refined fuselage. The first prototype was ordered as a long range mail plane and in October 1937 established a record by flying 621 miles with a 22,046 lb payload. The Ministere d l'Air ordered a production run of 8 of the NC223.3 variation which was commenced in 1939. A variant NC 223.4 Jules Verne was the first Allied bomber to raid Berlin, on the night of 7 June 1940.
The first NC 223.3 bombers were delivered on May 1940 and participated in night bombing attacks on Germany before being transferred to North Africa in June 1940. The bombers were subsequently relegated to transport roles, seeing service with both the Vichy regime and the Free French.
The F.224 was a dedicated civil variant able to seat 40 passengers. Six machines were produced for Air France, but were ultimately rejected by the airline. The aircraft went on to serve in the Armée de l'Air instead.
Variants
F.220.01 - prototype with Hispano-Suiza 12Lbr engines (1 built)
F.220B - mailplane (converted from F.220)
F.220-0 - production version of the F.220B (4 built)
F.221 - revised version with enclosed gunners' positions (10 built, plus one F.221.01 prototype)
F.222 - definitive production version
F.222.1 - revised version with retractable undercarriage and turrets (11 built, plus F.222.01 prototype converted from the F.221.01)
F.222.2 - F.222.1 with redesigned nose (24 built)
F.2220 - airliner prototype for Air France as Ville de Dalzar (1 built)
F.223 - version with twin tail and revised aerodynamics, 1,100 hp (820 kW) Hispano-Suiza HS14Aa08/09 engines
NC.223.1 - prototype, built as mailplane Laurent Guerrero (1 built)
NC.223.01 - bomber prototype with Hispano-Suiza 12Xirs engines (1 built)
NC.223.2 - bomber version with Gnome et Rhx´ne 14N engines (not built)
NC.223.3 - bomber version with 910 hp (679 kW) Hispano-Suiza 12Y-29 engines (8 built)
NC.223.4 - mailplane version (3 built: Camille Fammarion, Jules Verne, and Le Verrier)
F.224 - 40-seat airliner with Gnome-Rhx´ne Mistral Major engines for Air France but rejected (6 built)
F.224TT - F.224s converted to troop transports for the Air Force.

Operators
France
Armee de l'Air
Air France

Specifications (F.222)
Data from
General characteristics
Crew: five or six
Length: 21.5m (70 ft 4 in)
Wingspan: 36.2m (118 ft 1 in)
Height: 5.2m (17 ft)
Wing area: 188 m2 (2,023.6 ft2)
Empty weight: 10,488 kg (23,122 lb)
Loaded weight: 18,700 kg (41,226 lb)
Powerplant: 4x— Gnome-Rhx´ne 14N radial engines, 708 kW (950 hp) each

Performance
Maximum speed: 320 km/h (199 mph) at 3,960 m (13,000 ft)
Cruise speed: 280 km/h (174 mph) at 3960 m (13,000 ft)
Range: 1,995 km (1,245 miles)
Service ceiling: 8460 m (26,245 ft)
Rate of climb: 473 m/min (1,552 ft/min)

Armament
Guns: three 7.5mm MAC 1934 manually aimed in nose turret, dorsal and ventral positions
Bombs: 4190 kg (9,240 lb) (F.222/2)

Bibliography
Taylor, Michael J. H. (1989). Jane's Encyclopedia of Aviation. London: Studio Editions. p. 379.
World Aircraft Information Files. London: Bright Star Publishing. File 894 Sheet 16.
Ketley, Barry, French Aces of WWII, Osprey Publishing, p. 45
William Green, War Planes of the Second World War, Volume 8, 1967

Farman F.220 Pictures and Farman F.220 for Sale.
Living Warbirds: The best warbirds DVD series.
Source: WikiPedia