Farman F.60 Goliath Video - Historical video
Farman F.60 Goliath Video - Historical video
Farman F.60 Goliath Aircraft Information
Farman F.60 Goliath
F.60 Goliath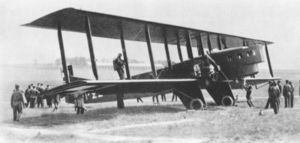 Picture - The passenger transport Goliath
Role: Airliner
Manufacturer: Farman Aviation Works
First flight: January 1919
Introduction: February 1919
Number built: approx. 60

The Farman F.60 Goliath was an airliner produced by the Farman Aviation Works from 1919. It was instrumental in the creation of early airlines and commercial routes in Europe after World War I.
Design and development
The Goliath was initially designed in 1918 as a heavy bomber capable of carrying 1000 kg of bombs with a range of 1500 km. It was a conventional fixed-undercarriage biplane of wooden construction with canvas covering, powered by two Salmson Z.9 engines. It had a simple and robust, yet light structure. The wings were rectangular with a constant profile. Hollow wooden main wing spars were used for the first time.
It was undergoing initial testing when World War I came to an end and Farman realized there would be no orders for his design. Nonetheless he was quick to understand that the big, box-like, fuselage of the Goliath could be easily modified to convert the aircraft into an airliner. Commercial aviation was beginning to appear and was in need of purpose-built aircraft. With the new passenger cabin arrangement, the Goliath could carry up to 12 or 14 passengers. It had large windows to give the passengers a view of the surroundings. The Salmson engines could be replaced by other types (Renault, Lorraine) if a customer desired it. Approximately sixty F.60 Goliath were built. Between 1927 and 1929, eight Goliaths with various engines were built under licence in Czechoslovakia, four by Avia and four by Letov.
Variants
FF.60
Designation of the first three prototype.
F.60
Civil passenger transport version, powered by two 260-hp (194-kW) Salmson CM.9 radial piston engines.
F.60bis
This designation was given to transport version, powered by two 300 hp (224 kW) Salmson 9Az engines.
F.60 Bn.2
Three-seat night bomber evolved from the F.60 Goliath. It was equipped with two 260 hp Salmson 9Zm engines, and 210 were delivered to French naval and army aviation.
F.60 Torp
Torpedo-bomber floatplane, powered by two Gnome-Rhone Jupiter radial piston engines.
F.60M
Blunt-nose version of 1924, powered by two 310 hp (231 kW) Renault 12Fy engines.
F.61
An F.60 equipped with two 300 hp (224 kW) Renault 12Fe engines, which gave it better performance. Only two were built.
F.62 BN.4
Export version for the Soviet Union, powered by two 450 hp (336 kW) Lorraine-Dietrich V-12 engines.
F.63 BN.4
Similar to the F.62 BN.4 export version, powered by two 450 hp (336 kW) Gnome-Rhone Jupiter radial piston engines.
F.65
This version was built for the French Navy, it could be fitted with interchangeable float or landing gear.
F.66 BN.3
One Jupiter-powered aircraft was built, intended to be exported to Romania.
F.68 BN.4
Thirty-two Jupiter-powered bomber aircraft exported to Poland.
F.4X
One special Goliath aircraft, powered by four Salmson radial piston engines in tandem pairs.
F.140 Super Goliath
Super-heavy bomber prototype, powered by four 500 hp (373 kW) Farman engines in tandem pairs.
Operational history
Farman was quick to press the Goliath into service and made several publicity flights. On February 8, 1919, the Goliath flew 12 passengers from Toussus-le-Noble to Kenley, near Croydon. As British authorities were refusing to give a commercial airliner permission to overfly British territory, Lucien Bossoutrot and his passengers were all ex-military pilots who wore uniforms and mission orders for the circumstance. The flight went well and lasted 2 hours and 30 minutes. The pilot and passengers were well received in England, the return flight being made on February 9 and lasting 2 hours and 10 minutes.
Other flights were made to publicize the Goliath. On April 3, 1919, 14 passengers were flown to an altitude of 6200 m (20,341 ft). Later, on August 11, 1919, An F.60 flew 8 passengers and a ton of supplies on a raid from Paris to Casablanca and Dakar, flying more than 4500 km.
Airlines, which were appearing very quickly all over Europe, were quick to acquire the F.60. In 1920, the Compagnie des Grands Express Aériens (CGEA) began scheduling regular flights between Le Bourget and Croydon. The Compagnie des Messageries Aériennes (CMA) soon followed suit. The Société Générale de Transports Aérien (SGTA) opened a Paris-Brussels route in July 1920, flown by the Goliath. In May 1921, this route was extended to Amsterdam. Belgian airline SNETA also opened a Brussels-London route in April 1921.
Accidents and incidents
In August 1924, Goliath F-ADDT Languedoc of Air Union was on a scheduled international passenger flight from Paris to Croydon when the port engine failed. A forced landing was made at Golden Green, Kent. One person amongst the pilot and five passengers on board was injured. The aircraft was dismantled to allow removal. It was later repaired and returned to service.
Operators
Civilian operators
Colombia
Compax±x­a Colombiana de Navegacix³n Aérea (C.C.N.A.)

France
Farman Airlines (Société Générale des Transports Aériens, SGTA)
Compagnie des Grands Express Aériens (CGEA)
Compagnie des Messageries Aériennes (CMA)
Air Union

Belgium
Société Nationale pour l'Etude des Transports Aériens (SNETA)

Czechoslovakia
Československé stx¡tnx­ aerolinie (ČSA)
Československx¡ leteckx¡ společnost (ČLS)

Military operators
France
French Air Force
French Navy

Czechoslovakia
Czechoslovak Air Force

Italy Japan Poland Soviet Union
Soviet Air Force

Spain
Spanish Air Force

Specifications (F.60)
Data from Histoire Mondiale des Avions de Ligne, by Alain Pelletier
General characteristics
Crew: 2
Capacity: 12-14 passengers
Length: 14.33 m (47 ft)
Wingspan: 26.50 m (86 ft 11 in)
Height: 5.00 m (16 ft 5 in)
Wing area: 161 m² (1730 ft²)
Empty weight: 2500 kg (5,510 lb)
Loaded weight: 4770 kg (10,510 lb)
Useful load: 3000 kg (6,610 lb)
Powerplant: 2x— Salmson Z.9 water-cooled radial engines, 312 kW (424 hp) or 260 hp (190 kW) each

Performance
Maximum speed: 140 km/h (87 mph)
Cruise speed: 120 km/h (75 mph)
Range: 400 km (250 mi)
Service ceiling: 4000 m (13,100 ft)

Farman F.60 Goliath Pictures and Farman F.60 Goliath for Sale.
Living Warbirds: The best warbirds DVD series.
Source: WikiPedia