Farman III Video - Ultralight Farman III - First flight
Farman III Aircraft Information
Farman III
Farman III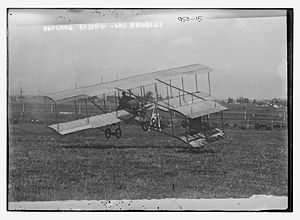 Picture - Louis Paulhan in his Farman III at Dominguez Field, Los Angeles 1910
Role: Pusher biplane
National origin: France
Manufacturer: Farman
Designed by: Henry Farman
First flight: 1909

The Farman III was an early 1900s French pusher biplane designed and built by Henry Farman (1874-1958).
Design and development
Henry Farman's first aircraft had been bought from the Voisin brothers in 1907. Soon after the first flight Farman started to modify and improve the design of the aircraft which was known as either the Farman I or Voisin-Farman I. During 1908 Farman re-covered the aircraft with a rubberized fabric and it was re-designated the Farman I-bis. Also in 1908 the Voisin brothers built him another aircraft the Farman II, the design was not successful and was abandoned.
Farman started his own aircraft construction business in 1909 with his brother Maurice Farman and using his experience with the Farman I designed and built the Farman III. The Farman III was a biplane with a single forward elevator and originally had a cellular tailplane and ailerons on all four wings. It first flew in April 1909 powered by a 50hp (37kW) Vivinus 4-cylinder inline engine. Farman soon introduced an open tailplane with trailing rudders and an extended-span upper wing and a lighweight four-wheel landing gear. Farman also replaced the engine with the new 50hp (37kW) Gnome rotary engine.
The Farman III is considered to be a decisive aircraft in the history of aviation, due to a carefully thought out design it was one of the first aircraft to introduce the concept of flyability with its use of ailerons and a wheeled landing gear. He had borrowed the idea of wheels instead of skids from the Wright brothers. The Wright brothers adopted the superior Farman aileron design. Almost all later aircraft employed ailerons and wheels.
In 1909 he established two world distance records with flights of 180 km (111.8 miles) in just under 3 hours 5 minutes at Rheims on August 27 and 232 km (145 miles) in 4 hours 17 minutes and 53 seconds at Mourmelon on November 3.
Specifications (1909 standard type)
Data from
General characteristics
Crew: 1
Length: 12 m (39 ft 4½ in)
Wingspan: 10 m (33 ft 9¾ in)
Height: 3.5 m (11 ft 6 in)
Wing area: 40 m² (430.56 ft²)
Gross weight: 550 kg (1213 lb)
Powerplant: 1 x— Gnome 7-cylinder rotary engine, 37 kW (50 hp)

Performance
Maximum speed: 60 km/h (37 mph)

Comparable aircraft Bristol Boxkite
Bibliography
Taylor, Michael J. H. (1989). Jane's Encyclopedia of Aviation. London: Studio Editions.
The Illustrated Encyclopedia of Aircraft (Part Work 1982-1985). Orbis Publishing.

Farman III Pictures and Farman III for Sale.
Living Warbirds: The best warbirds DVD series.
Source: WikiPedia