Fiat CR.25 Video - Picture
Fiat CR.25 Aircraft Information
Fiat CR.25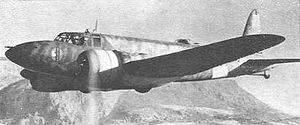 Picture - Fiat CR.25 over the Alps c. 1941
Role: Fighter Bomber aircraft
Manufacturer: Fiat
Primary user: Regia Aeronautica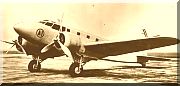 The Fiat CR.25 was an Italian twin-engine reconnaissance-bomber fighter aircraft which served in small numbers for the Regia Aeronautica during World War II.
40 CR.25s were ordered after the operative failure of the apparently more promising Breda Ba.88 bomber. Later, it was decided to use the CR.25 as a reconnaissance plane, with a total of 10 aircraft entering service. It was used during the war by the 173 Squadriglia Ricognizione Strategica Terrestre (Strategic Land Reconnaissance Squadron), operating from Sicily. Despite the positive reports from the pilots, and a proposal by Fiat to resume production, no further aircraft were produced.
It was also used for transport of senior air force officers from Rome to Berlin.
Variants
CR.25 : Twin-engined reconnaissance bomber aircraft.
CR.25bis : Strategic reconnaissance aircraft, long-range escort fighter aircraft.
CR.25D : The 10th production aircraft was designated CR.25D. Only one was built for the Italian air attaché in Berlin.
CR.25quater : Prototype.

Operators
Italy
Specifications (CR.25)
General characteristics
Crew: 2 or 3 (a third member was needed for bombing missions)
Length: 13.56 m (44 ft 6 in)
Wingspan: 16 m (52 ft 6 in)
Height: 3.30 m (10 ft 10 in)
Wing area: 39.20 m² (421.39 ft²)
Empty weight: 4,475 kg (9,845 lb)
Loaded weight: 6,625 kg (14,575 lb)
Powerplant: 2 x— Fiat A.74 RC-38 radial engines, 627 kW (840 hp) each

Performance
Maximum speed: 450 km/h (241 kn, 278 mph)
Range: 1,500 km (810 nmi, 925 mi)
Service ceiling: 7,950 m (26,076 ft)

Armament
Guns: 3 x— 12.7 mm (.5 in) Breda-SAFAT machine guns
Bombs: Up to 300 kg (660 lb)

Related development
Breda Ba.88

Comparable aircraft
Caproni Ca.310

Garello, GianCarlo. CR 25. Turin: La Bancarella Aeronautica, 1997.

Fiat CR.25 Pictures
More airplane videos.
Source: WikiPedia