Fiat G.212 Video - Picture
Fiat G.212 Aircraft Information
Fiat G.212
G.212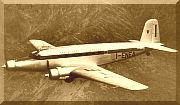 Role: Airliner
Manufacturer: Fiat
First flight: 1947
Introduced: 1947
Primary user: Aeronautica Militare
Produced: 1947-1950
Number built: 19
Developed from: Fiat G.12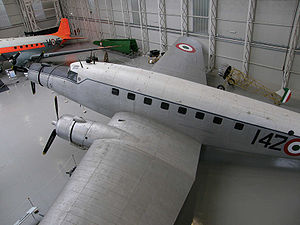 Picture - Fiat G.212 at the Italian Air Force Museum.
The Fiat G.212 was an Italian three-engine airliner of the 1940s. An enlarged development of Fiat's earlier G.12 transport, it was used in small numbers in commercial service and by the Aeronautica Militare.
Development and design
The first prototype of the G.212, the G.212CA military transport, flew on 19 January 1947. While very similar in configuration to the G.12, i.e. a low-wing all-metal cantilever monoplane with a retractable tailwheel undercarriage, the G.212 was longer, had a bigger wing and a wider fuselage. It was powered by three 642 kW (860 hp) Alfa Romeo 128 radial engines.
This was followed by two versions intended for civil use, the G.212CP airliner, with accommodation for 34 passengers, and the G.212TP freighter, both using the more powerful Pratt & Whitney R-1830 Twin Wasp engines.
Operational history
The G.212CP entered service with Avio Linee Italiane, who ordered six, in 1947,, being operated on routes within Europe. On 4 May 1949, a chartered Avio Linee Italiane G.212, carrying the Torino football first team squad back home from a match in Lisbon, crashed into a hill at Superga, near Turin, killing all 31 aboard, including 18 players.
New G.212s were also purchased by the Egyptian airline SAIDE, who received three aircraft in 1948, and the French airline Cie Air Transport. Four of the Avio Linee Italiane aircraft were sold to Ali Flotte Riunite, one of which was sold again to the Kuwaiti airline Arabian Desert Airlines.
As well as the G.212CA prototype, the Aeronautica Militare acquired six G.212CPs, two of which were converted to flying classrooms for training purposes as G.212AV (Aulo Volante). One of these aircraft is preserved at the Italian Air Force Museum at Vigna di Valle, near Rome.
Operators
Civil
Egypt
SAIDE

France
Cie Air Transport

Italy
Ali Flotte Riunite
Avio Linee Italiane

Kuwait
Arabian Desert Airlines

Military
Italy
Aeronautica Militare

Specifications (G.212CP)
Data from Post War Propliners : Fiat G.12 and G.212
General characteristics
Crew: 3 (2 pilots, radio operator)
Capacity: 34 passengers
Length: 23.06 m (75 ft 7½ in)
Wingspan: 29.34 m (96 ft 3 in)
Height: 8.14 m (26 ft 8⅜ in)
Wing area: 116.6 m² (1,255 ft²)
Empty weight: 11,223 kg (24,691 lb)
Loaded weight: 17,436 kg (38,360 lb)
Powerplant: 3x— Pratt & Whitney Twin Wasp R-1830-S1C3-G 14-cylinder two-row air-cooled radial engine, 794 kW (1,065 hp) each

Performance
Maximum speed: 375 km/h (203 kn, 233 mph)
Cruise speed: 300 km/h (162 kn, 186 mph)
Range: 3,001 km (1,621 nmi, 1,864 mi)
Service ceiling: 7,500 m (24,606 ft)
Wing loading: 150 kg/m² (30.6 lb/ft²)
Power/mass: 0.14 kW/kg (0.083 hp/lb)

Related development
Fiat G.12

Bibliography
Donald, David, ed. The Encyclopedia of World Aircraft. Aerospace Publishing. 1997. ISBN 1-85605-375-X.
Stroud, John. "Post War Propliners: Fiat G.12 and G.212". Aeroplane Monthly, Volume 23 No. 1, January 1994, pp. 64-68. London: IPC.

Fiat G.212 Pictures
More airplane videos.
Source: WikiPedia