Fiat G.5 Aircraft Information
Fiat G.5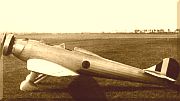 Role: Two-seat aerobatic tourer or trainer
National origin: Italy
Manufacturer: Fiat
First flight: 1933

The Fiat G.5 was an Italian two-seat aerobatic tourer or trainer designed and built by Fiat Aviazione in small numbers.
Development
Designed originally as a two-seat light aerobatic trainer the G.5 was a low-wing cantilever monoplane powered by a 135 hp (101 kW) Fiat A.70 radial piston engines. It had a fixed tailwheel landing gear and tandem open cockpits for the instructor and pupil. The type was built in small numbers and was followed by a prototype G.5/2 with an inverted inline 140 hp (104 kW) Fiat A.60. A small number was also built of the final variant G.5bis which had a larger output 200 hp (149 kW) Fiat A.70 engine. Some aircraft were later modified to single-seat configuration.
Variants
G.5
Production variant with 135hp (101kW) Fiat A.70 radial engine.
G.5/2
Prototype with a 140hp (104kW) Fiat A.60 inline engine.
G.5bis
Improved variant with a 200hp (149kW) Fiat A.70 radial engine.
Specifications (G.5bis)
Data from
General characteristics
Crew: 2
Length: 7.93 m (26 ft 0 in)
Wingspan: 10.46 m (34 ft 4 in)
Height: 2.44 m (8 ft 0 in)
Wing area: 17.18 m (184.9 sq ft)
Empty weight: 630 kg (1,389 lb)
Max takeoff weight: 850 kg (1,874 lb)
Powerplant: 1 x— Fiat A.70 7-cylinder radial piston engine, 150 kW (200 hp)

Performance
Maximum speed: 265 km/h (165 mph; 143 kn)
Range: 635 km (395 mi; 343 nmi)
Service ceiling: 7,000 m (22,966 ft)

Bibliography
The Illustrated Encyclopedia of Aircraft (Part Work 1982-1985). Orbis Publishing.

Fiat G.5 Pictures
More airplane videos.
Source: WikiPedia