Fiat G.8 Aircraft Information
Fiat G.8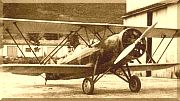 Role: Utility aircraft
Manufacturer: Fiat
Designed by: Giuseppe Gabrielli
First flight: 24 February 1934
Primary user: Regia Aeronautica
Number built: 61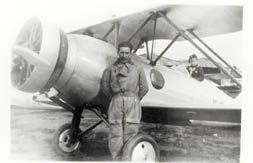 Picture -
The Fiat G.8 was a military utility aircraft produced in Italy in the mid-1930s. Its design and production were undertaken at the CMASA works in Pisa which became part of Fiat in 1930, hence the type is sometimes referred to as the CMASA G.8 or Fiat-CMASA G.8. It was a conventional biplane design with staggered wings of unequal span braced by struts arranged in a Warren truss. The pilot and a single passenger (or instructor) sat in tandem open cockpits, and the aircraft was fitted with fixed tailskid undercarriage with divided main units.
Sixty of these aircraft were purchased by the Regia Aeronautica and used for liaison and training duties.
Specifications
Data from
General characteristics
Crew: 1, pilot
Capacity: 1 passenger
Length: 7.00 m (23 ft 0 in)
Wingspan: 8.76 m (28 ft 9 in)
Height: 2.50 m (8 ft 2 in)
Wing area: 18.9 m² (203 ft²)
Empty weight: 560 kg (1,230 lb)
Gross weight: 840 kg (1,850 lb)
Powerplant: 1 x— Fiat A.54, 99 kW (135 hp)

Performance
Maximum speed: 212 km/h (132 mph)
Range: 925 km (575 miles)
Service ceiling: 5,200 m (17,100 ft)

Taylor, Michael J. H. (1989). Jane's Encyclopedia of Aviation. London: Studio Editions. pp. 389.
". http://www.airwar.ru/enc/other1/g8.html.
"Aerei Italiani - Scheda Tecnica - Cmasa G.8". aerei-italiani.net. http://www.aerei-italiani.net/SchedeT/aereocmasag8.htm.

Fiat G.8 Pictures
More airplane videos.
Source: WikiPedia