Focke-Wulf F 19 Video - Picture
Focke-Wulf F 19 Aircraft Information
Focke-Wulf F 19
F 19 Ente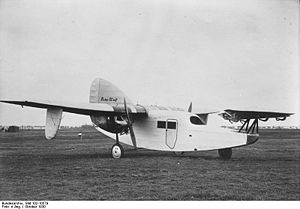 Role: Civil utility aircraft
Manufacturer: Focke-Wulf
First flight: 2 September 1927
Number built: 2
Developed into: Focke-Wulf Fw 42

The Focke-Wulf F 19 Ente (German: "Duck") was a light aircraft of unusual design built in Germany in the late 1920s. It was a high-wing monoplane with a canard layout and fixed tricycle undercarriage. The pilot sat in an open cockpit, while an enclosed cabin was provided for the passengers. The canard was mounted on short struts above the nose of the aircraft, ahead of the cockpit, and the twin engines were housed in nacelles carried in struts under the wings.
The F 19 design was set so that the front stabilizer would stall some moments before the back main wing, which in theory made the Ente virtually stall proof.
The first example flew on 2 September 1927, but crashed on 29 September during a demonstration of single-engine flight. Focke-Wulf co-founder Georg Wulf had been at the controls, and was killed in the crash, the cause of which was found to have been a control rod that snapped during the display. Nevertheless, a second aircraft was built, which flew in late 1930. This was used for a promotional tour of Europe the following year that took it to Denmark, Sweden, the Netherlands, Belgium, and the UK. Afterwards, it was put on display at the Deutsche Luftfahrtsammlung, where it was destroyed in an Allied air raid in 1944.
Specifications
General characteristics
Crew: One pilot
Capacity: 3 passengers
Length: 10.53 m (34 ft 7 in)
Wingspan: 10.00 m (32 ft 9 in)
Height: 4.15 m (13 ft 7 in)
Wing area: 29.5 m² (318 ft²)
Empty weight: 1,175 kg (2,590 lb)
Gross weight: 1,650 kg (3,638 lb)
Powerplant: 2 x— Siemens Sh 14, 82 kW (110 hp) each

Performance
Maximum speed: 142 km/h (88 mph)
Service ceiling: 3,000 m (9,840 ft)

Taylor, Michael J. H. (1989). Jane's Encyclopedia of Aviation. London: Studio Editions. pp. 395.
World Aircraft Information Files. London: Bright Star Publishing. pp. File 894 Sheet 29.
Heinze, Edwin P. A. (2 January 1931). "The Focke-Wulf "Ente"". Flight: 4-7. http://www.flightglobal.com/PDFArchive/View/1931/1931%20-%200004.html. Retrieved 2008-03-24.

Focke-Wulf F 19 Pictures
More aircraft.
Source: WikiPedia