Focke-Wulf Fw 159 Video - Picture
Focke-Wulf Fw 159 Aircraft Information
Focke-Wulf Fw 159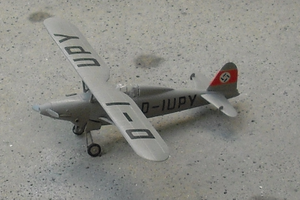 Role: Fighter
National origin: German
Manufacturer: Focke-Wulf
First flight: 1935
Number built: 2

The Focke-Wulf Fw 159 was an experimental German fighter of the 1930s that never reached production. The Focke-Wulf company designed the aircraft as one of the four entries for the Rx¼stungsflugzeug IV ("Armed Aircraft IV") 1934 fighter competition. Its parasol wing configuration was based on the company's successful trainer product, the Focke-Wulf Fw 56 Stx¶sser and it used a Junkers Jumo 210 engine. The plane had a rearwards-retracting main undercarriage, retracting completely into the lower fuselage, and an enclosed cockpit, although the undercarriage mechanism was very complicated, fragile and proved endlessly troublesome.
The first prototype - Fw-159 V-1 - was ready in the spring of 1935, but was destroyed when it crash-landed, following the failure of the main undercarriage to deploy properly.
The second prototype - V-2 - had reinforced undercarriage. The general flight characteristics were good, but the rate of climb and rate of turn were unsatisfactory, and the aircraft suffered greater drag than its competitors in the contest (which were the Arado Ar 80, Heinkel He 112 and Messerschmitt Bf 109). The competition was won by the Bf 109.
Specifications (V2)
Data from Hitler's Luftwaffe
General characteristics
Crew: 1
Length: 9.77 m (32 ft 9½ in)
Wingspan: 12.40 m (40 ft 8 in)
Height: 3.75 m (12 ft 3½ in)
Empty weight: 1,875 kg (4,134 lb)
Loaded weight: 2,250 kg (4,960 lb)
Powerplant: 1x— Junkers Jumo 210Da inverted V-12 liquid cooled, 507 kW (680 hp)

Performance
Maximum speed: 385 km/h (208 kn, 239 mph)
Range: 650 km (351 nmi, 404 mi)

Wood, Tony; Gunston, Bill (1977). Hitler's Luftwaffe. London: Salamander. ISBN 0-86101-005-1.

"Focke-Wulf Fw 159". Airwar 1946. http://www.xs4all.nl/~tozu/me109/family/fw159.htm.
"Focke-Wulf Fw 159". History of war. http://www.historyofwar.org/articles/weapons_fw_159.html.

Living Warbirds: The best warbirds DVD series.
Source: WikiPedia