Focke-Wulf Fw 58 Video - Picture
Focke-Wulf Fw 58 Aircraft Information
Focke-Wulf Fw 58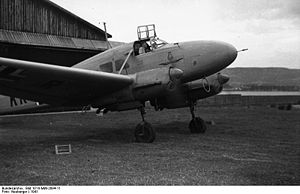 Role: Trainer, Transport, Air Ambulance
Manufacturer: Focke-Wulf
First flight: 1935
Introduced: 1937
Primary user: Luftwaffe

The Focke-Wulf Fw 58 Weihe ("Harrier") was a German aircraft, built to fill a request of the Luftwaffe for a multi-role aircraft to be used as advanced trainer for pilots, gunners and radio operators.
Design and development
The Fw 58 is a low-wing monoplane with two piston engines mounted in nacelles on the wing leading edges. The crew sat in an enclosed canopy. Aft of the flight deck, the fuselage is open to form a moveable machine gun station. The tailwheel undercarriage is retractable.
Operational history
The Fw 58 was widely used for training Luftwaffe personnel. It was also used as VIP transport, ambulance, feeder airliner, photo reconnaissance, and weather research aircraft. It was built under license in Bulgaria and Brazil. It was also operated by several countries such as the Netherlands, Hungary, Romania, Croatia and Turkey.
Variants
Fw 58 V1
First prototype.
Fw 58 V2
Second protoype.
Fw 58 V3
Third prototype.
Fw 58 V4
Fourth prototype.
Fw 58B
Fw 58B-1
Fw 58B-2
This version had a glazed nose, and was armed with a 7.92 mm (0.312 in) MG 15 machine gun.
Fw 58C
Fw 58W
Twin-floatplane version.
Specifications (Fw 58)
General characteristics
Crew: 4
Length: 14 m (45ft 11 in)
Wingspan: 21 m (68 ft 10 in)
Height: 4.3 m (14 ft 1 in)
Wing area: 47 m² (506 ft²)
Empty weight: 1,900 kg (4,200 lb)
Loaded weight: 2,810 kg (6,200 lb)
Powerplant: 2x— Argus As 10 air-cooled inverted V8 piston engines, 180 kW (240 hp) each

Performance
Maximum speed: 256 km/h (159 mph)
Range: 676 km (420 mi)
Wing loading: 59.8 kg/m² (12.3 lb/ft²)

Armament
2 x— 7.92 mm (.312 in) MG 15 machine guns

Living Warbirds: The best warbirds DVD series.
Source: WikiPedia