Fokker 70 Video - Picture
Fokker 70 Aircraft Information
Fokker 70
Fokker 70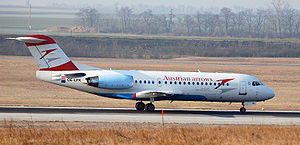 Picture - Austrian Arrows Fokker 70
Role: Airliner
National origin: Netherlands
Manufacturer: Fokker
First flight: 4 April 1994
Introduced: October 1994 with Ford Motor Company
Primary users: KLM Cityhopper Austrian Arrows Carpatair Régional
Number built: 47 (+1 prototype)
Developed from: Fokker 100

The Fokker 70 is a 70-seat, twin-engine jet airliner produced by Fokker as a smaller version of the 100-seat Fokker 100 jetliner. With its first flight in 1994, 47 aircraft, plus one prototype, have been manufactured and most are still in active service with airlines around the world, especially European airlines.
Design and development
The Fokker company of the Netherlands started to develop the airliner in November 1992 with an aim to replace its aging Fokker F28 airliner, with a more modern and fuel efficient aircraft. The Fokker 70's first flight occurred on April 4, 1993, at the company's base at Woensdrecht in southern Netherlands, and had a duration of three hours. Following its first flight, the Fokker 70 was flown to Granada and Spain, where many hours were realised in order to obtain the certification at the end of 1994. The first production aircraft first flew in July 1994. Certification was granted on October 14, 1994, while the first delivery of a Fokker 70 to a customer, Ford Motor Company (in an "Executive Jet" configuration), occurred later in the same month. The launch customer of this aircraft by the airline, was now defunct Indonesian airline, Sempati Air.
The development of the Fokker 70 was based on the need of some airlines for which the Fokker 50 or ATR 42 were too small and Boeing 737 or MD-80 too large for their needs. The development consisted in cutting various sections of the fuselage of the Fokker 100, removing 4.62 metres (15.2 ft) of the plane's total length but keeping wings and tail. With these specifications, total capacity is 80 passengers, 70 inches (180 cm) the U.S. due more so to meet "scope clause" requirement than to any Federal Aviation Administration (FAA) certification.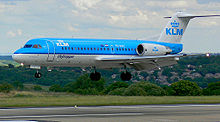 Picture - KLM Fokker 70 at Leeds Bradford International Airport, UK
The Fokker 70 is powered by two Rolls-Royce Tay 620 turbofans placed at the back of the fuselage with 61.6 kN (13,849 lb) of thrust. The weight varies from 22,673 kilograms (49,990 lb) when empty to 41,730 kilograms (92,000 lb) at maximum takeoff weight (MTOW). An air brake on the 70's tail section - similar to that found on the BAe 146 - which allows it to conform with the 5.5° glide slope at London City Airport. Its avionics suite is similar to the Fokker 100.
Most Fokker 70 aircraft were delivered for service in Europe, but in 1995 two aircraft were delivered to America West Express as part of an effort to try to introduce the Fokker 70 to the United States. Although the earlier Fokker 100 did moderately well in the United States with orders from American Airlines and USAir (now US Airways), only two aircraft were delivered for service in the United States. Fokker's March 1996 bankruptcy ended any hopes of further production for the U.S. market; the two America West Express aircraft became an expensive subfleet and were sent to Europe in 1997, ending the very short tenure of Fokker 70 operation in the United States.
The last Fokker 70 was delivered in April 1997, when the production line closed following Fokker's bankruptcy the previous year. Over the 70's short production life, 47 were built. Although official production of the Fokker 70 is completed, Rekkof ("Fokker" spelt backwards) has, since 1999, tried to negotiate the re-opening of both the Fokker 100 and Fokker 70 lines.
Operators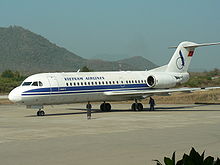 Picture - One of Vietnam Airlines's two Fokker 70s on the ground at Luang Prabang International Airport, Laos.
As of November 2009 48 aircraft are still in operational use with airlines.
Austrian Arrows (9)
KLM Cityhopper (26)
Malév (5)
Carpatair (3)
Vietnam Airlines (2)

Other users:
Dutch Government (1)
Casa Air Service (1)
Ford Motor Company (2)
Republic of Kenya (1)
Republic of the Philippines (1)
Sempati Air (defunct) and Silkair (2) past operators of Fokker 70

Specifications
Data from
General characteristics
Capacity: 79 passengers
Length: 30.91 m (101 ft 5 in)
Wingspan: 28.08 m (92 ft 2 in)
Height: 8.51 m (27 ft 11 in)
Wing area: 93.5 m (1,006 sq ft)
Empty weight: 22,673 kg (49,985 lb)
Max takeoff weight: 36,740 kg (80,998 lb) , optional MTOW of 38,100 kg, 39,915 kg and 41,730 kg
Powerplant: 2 x— Rolls-Royce Tay Mk.620 turbofans, 61.6 kN (13,800 lbf) thrust each

Performance
Maximum speed: Mach 0.77
Cruising speed: 835 km/h (519 mph; 451 kn)
Range: 2,010 km (1,249 mi; 1,085 nmi) or 3,410km (1,840 nmi) for high gross weight version with extra fuel tanks
Service ceiling: 10,668 m (35,000 ft)

Related development
Fokker F28
Fokker 100

Comparable aircraft
BAe 146
Bombardier CRJ700
Embraer E-Jets
Fairchild Dornier 728 family

Fokker 70 Pictures
More aircraft.
Source: WikiPedia