Fokker D.XVII Video - Picture
Fokker D.XVII Aircraft Information
Fokker D.XVII
D.XVII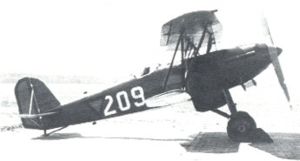 Picture - Fokker D.XVII
Role: Fighter/Trainer aircraft
Manufacturer: Fokker
First flight: 1932
Retired: 1940
Primary user: Royal Netherlands Air Force

Fokker D.XVII, was a Dutch biplane created by Fokker. On 18 January 1935, it broke a high-altitude record, flown by Luitenant René Wittert van Hoogland. Although many pilots noted it was a nice plane, it suffered several setbacks and numerous problems resulting in many accidents, most of them during take-off or landing when the plane flipped over.
In May 1939, the aircraft was considered obsolete and used as fight pilot training for the LVA Flying School.
The D.XVII saw very limited combat during the Battle of the Netherlands, and when the Dutch surrendered to the Germans, the remaining aircraft were burned.
Specifications (D.XVII)
General characteristics
Length: 7.25 m (23 ft 9 in)
Wingspan: 9.60 m (31 ft 6 in)
Height: 3.00 m (9 ft 10 in)
Wing area: 20.00 m˛ (215.28 sq ft)
Empty weight: 1,070 kg (2,359 lb)
Loaded weight: 1,530 kg (3,373 lb)
Powerplant: 1x— Rolls Royce Kestrel IIS 12-cylinder, liquid-cooled, (595 hp)

Performance
Maximum speed: 356 km/h (221 mph)
Range: 849 km (528 mi)
Service ceiling: 8,750 m (28,707 ft)

Fokker D.XVII Pictures
More aircraft.
Source: WikiPedia