Fokker E.III Video - Picture
Fokker E.III Aircraft Information
Fokker E.III
Fokker E.III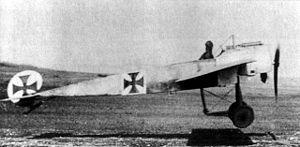 Picture - Fokker E.III taking off
Role: Fighter
Manufacturer: Fokker-Flugzeugwerke
Designed by: Anthony Fokker
First flight: 1915
Introduced: December 1915
Primary user: Luftstreitkrx¤fte
Produced: 1915-1916
Number built: 249
Variants: Fokker E.I - Fokker E.II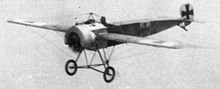 Picture - Captured E.III 210/16 in flight at Upavon, Wiltshire in 1916.
The Fokker E.III was the main variant of the Eindecker (monoplane) fighter aircraft of World War I. It entered service on the Western Front in December 1915 and was also supplied to Austria-Hungary and Turkey.
Design and development
The E.III was basically an E.II fitted with larger, newly designed wings that had a slightly narrower chord of 1.80 meter (70-7/8 in), compared to 1.88 meter (74 in) on the earlier Eindeckers, going back to Fokker's original M.5 monoplane aircraft. The E.III retained the same 75 kW (100 hp) Oberursel U.I engine, and therefore also used the larger diameter "horseshoe" pattern cowling that also mandated the inclusion of the E.II's soffit-like extensions to the sides of the upper nose sheet metalwork, but had a larger 81 l (21.5 gal) drum-shaped main fuel tank just behind the cockpit, which increased the Eindecker's endurance to about 2½ hours; an hour more than the E.II. Most E.IIIs were armed with a single 7.92 mm (.312 in) Spandau LMG 08 machine gun with 500 rounds of ammunition; however, after the failure of the twin-gun Fokker E.IV as a viable successor, some E.IIIs were fitted with twin guns.
Fokker production figures state that 249 E.IIIs were manufactured; however, a number of the 49 E.IIs were upgraded to E.III standard when they were returned to Fokker's Schwerin factory for repairs.
Operational history
The E.III was the first type to arrive in sufficient numbers to form small specialist fighter units, Kampfeinsitzer Kommandos (KEK) in early 1916. Previously, Eindeckers had been allocated singly, just as the E.I and E.II had been, to the front-line Feldflieger Abteilungen that carried out reconnaissance duties. On 10 August 1916, the first German Jagdstaffeln (single-seat fighter squadrons) were formed, initially equipped with various early fighter types, including a few E.IIIs, which were by then outmoded and being replaced by more modern fighters. Standardisation in the Jagdstaffeln (and any real success) had to wait for the availability in numbers of the Albatros D.I and Albatros D.II in early 1917.
Turkish E.IIIs were based at Beersheba in Palestine while others operated in Mesopotamia during the Siege of Kut-al-Amara.
Surviving aircraft and modern reproductions
The only known surviving original Eindecker, bearing IdFlieg serial number 210/16, has been in the London Science Museum's possession in the United Kingdom since its capture in World War I. It is currently on display fully assembled, but with its fabric covering removed to illustrate its internal construction. [1]
The Fokker-Team-Schx¶rndorf historical aviation organization in Germany is currently (2009-2010) in the process of building what could be the most authentic reproductions of the E.III ever attempted. Since sometime earlier in the first decade of the 21st century, Achim Engels and his group have been building what will be a trio of fully authentic E.III reproductions, with two for eventual museum display, and one to be retained by Engels' organization for flight, most likely with a World War I-vintage rotary engine in the manner of the original.[2]
Operators
Austria-Hungary
Kaiserliche und Kx¶nigliche Luftfahrtruppen
Kaiserliche und Kx¶nigliche Kriegsmarine

German Empire
Luftstreitkrx¤fte
Kaiserliche Marine

Ottoman Empire
Ottoman Air Force was supplied with 22 E.III aircraft.

Specifications (E.III)
Data from
General characteristics
Crew: one, pilot
Length: 7.30 m (23 ft 11 in)
Wingspan: 10.04 m (32 ft 11 in)
Height: 2.49 m (8 ft 2 in)
Loaded weight: 349 kg (770 lb)
Powerplant: 1x— Oberursel U.I 9-cylinder air-cooled rotary engine, 75 kW (100 hp)

Performance
Maximum speed: 150 km/h (93 mph)
Range: 360 km (220 mi)
Service ceiling: 3,600 m (11,810 ft)
Endurance : 2 hr 45 min

Armament
1 x— 7.92 mm (0.312 in) LMG 08/15 machine gun

Airdrome Eindecker E-III - replica of the E.III

Related development
Fokker E.II
Fokker E.IV

Comparable aircraft
Morane-Saulnier Type N

Winchester, Jim (2006). Fighter - The World's Finest Combat Aircraft - 1913 to the Present Day. barnes & Noble Publishing, Inc. and Parragon Publishing. ISBN 0-7607-7957-0.

Fokker E.III Pictures
More aircraft.
Source: WikiPedia