Fokker F.XII Video - Picture
Fokker F.XII Aircraft Information
Fokker F.XII
Fokker F.XII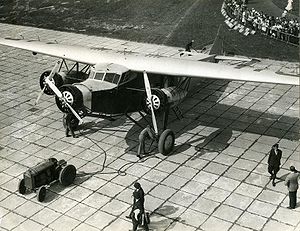 Role: Passenger transport
Manufacturer: Fokker
First flight: 1930
Retired: 1947
Produced: 11

The Fokker F.XII was a three engined high-winged monoplane airliner produced in the 1930s by the Dutch aircraft manufacturer Fokker. Two aircraft were built under license by Danish Orlogsvx¦rftet. The first was powered by 347 kW (465 hp) Bristol Jupiter VI radial engines and the second, an improved model, the F.XIIM, was about 20 km/h (12 mph) faster than the Dutch-built F.XIIs.
Operators
Denmark
Det Danske Luftfartselskab

Dutch East Indies
Koninklijke Nederlandsch-Indische Luchtvaart Maatschappij (KNILM)

Netherlands
Koninklijke Luchtvaart Maatschappij (KLM)

Sweden
AB Aerotransport

United Kingdom
Crilly Airways

Specifications
General characteristics
Crew: 4
Capacity: up to 18 passengers
Length: 17.80 m ()
Wingspan: 23.02 m ()
Height: 4.75 m ()
Empty weight: 4,350 kg (9,590 lb)
Loaded weight: 7,250 kg (15,984 lb)
Powerplant: 3x— Pratt & Whitney Wasp C radial, 317 kW (425 hp) each

Performance
Cruise speed: 205 km/h (127 mph)

Fokker F.XII Pictures
More aircraft.
Source: WikiPedia