Fokker F.XVIII Video - Picture
Fokker F.XVIII Aircraft Information
Fokker F.XVIII
F.XVIII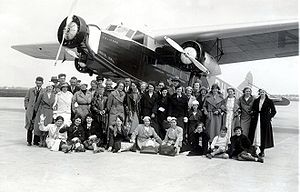 Role: Airliner
Manufacturer: Fokker
First flight: 30 June 1932
Primary user: KLM
Number built: 5

The Fokker F.XVIII was an airliner produced in the Netherlands in the early 1930s, essentially a scaled-up version of the Fokker F.XII intended for long-distance flights. Like its predecessor, it was a conventional high-wing cantilever monoplane with fixed tailwheel undercarriage. Its cabin could seat 12 passengers, or four-to-six on seats convertible to sleeping berths. Used by KLM on its Amsterdam-Batavia route, the F.XVIII became celebrated in the Netherlands due to two especially noteworthy flights. In December 1933, one aircraft (registration PH-AIP, Pelikaan - "Pelican") was used to make a special Christmas mail flight to Batavia, completing the round trip in a flight time of 73 hours 34 minutes. The following Christmas, another F.XVIII (registration PH-AIS, Snip - "Snipe") made a similar flight to Curax§ao in 55 hour 58 minutes after having been specially re-engined for the journey.
In October 1936, the F.XVIIIs were withdrawn from the service to Batavia, replaced by the Douglas DC-2. KLM sold two to ÄŒSA who used them on its Prague-Vienna-Berlin route, and Pelikaan to Air Tropique, a front for the Spanish Nationalist government which used it as a transport during the Spanish Civil War. The two remaining aircraft, however, were retained by KLM for regional services in the Caribbean. One of these was the Snip, the other was PH-AIO, originally named Oehoe ("Owl"), but renamed Oriol ("Oriole") since the Owl was regarded as unlucky in the local culture. These machines remained in service until 1946, and the forward fuselage section of Snip is preserved at the Curax§ao Museum.
Operators
KLM (5 aircraft)
ÄŒSA (2 aircraft ex-KLM)

Specifications (Snip)
General characteristics
Crew: Two-four
Capacity: 12 passengers
Length: 18.50 m (60 ft 8 in)
Wingspan: 24.50 m (80 ft 4 in)
Wing area: 84.0 m² (904 ft²)
Empty weight: 4,620 kg (10,190 lb)
Gross weight: 7,850 kg (17,300 lb)
Powerplant: 3 x— Pratt & Whitney Wasp C, 313 kW (420 hp) each

Performance
Maximum speed: 240 km/h (150 mph)
Range: 1,820 km (1,130 miles)
Service ceiling: 4,800 m (15,750 ft)

Taylor, Michael J. H. (1989). Jane's Encyclopedia of Aviation. London: Studio Editions. pp. 407.
World Aircraft Information Files. London: Bright Star Publishing. pp. File 894 Sheet 38.
"The Fokker Type "F.XVIII"". Flight: 711-13. 29 July 1932. http://www.flightglobal.com/PDFArchive/View/1932/1932%20-%200767.html. Retrieved 2008-03-26.
"The Dutch Air Mail Record". Flight: 10-11. 4 January 1934. http://www.flightglobal.com/PDFArchive/View/1934/1934%20-%200006.html. Retrieved 2008-03-26.
"A Fine Flight". Flight: 8. 3 January 1935. http://www.flightglobal.com/PDFArchive/View/1935/1935%20-%200016.html. Retrieved 2008-03-26.

Fokker F.XVIII Pictures
More aircraft.
Source: WikiPedia