Fokker F27 Friendship Video - Picture
Fokker F27 Friendship Aircraft Information
Fokker F27 Friendship
F27 Friendship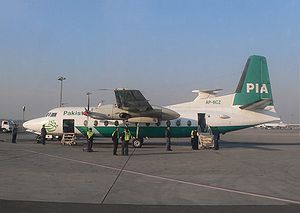 Picture - A PIA F27 at Allama Iqbal International Airport, Lahore in January, 2006
Role: Airliner
Manufacturer: Fokker
First flight: 1955
Number built: 586
Variants: Fairchild F-27/FH-227
Developed into: Fokker 50

The Fokker F27 Friendship is a turboprop airliner designed and built by the Dutch aircraft manufacturer Fokker.
Design and development
Design of the Fokker F27 started in the 1950s as a replacement to the successful Douglas DC-3 airliner. The manufacturer evaluated a number of different configurations before finally deciding on a high-wing twin Rolls-Royce Dart engine layout with a pressurised cabin for 28 passengers.
The first prototype, registered PH-NIV, first flew on November 24, 1955. The second prototype and initial production machines were 0.9 m (3 ft) longer, addressing the first aircraft's slightly tail-heavy handling and also providing space for four more passengers, bringing the total to 32. These aircraft also used the more powerful Dart Mk 528 engine.
Production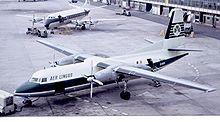 Picture - Aer Lingus was the first airline to operate the F27 Friendship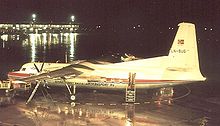 Picture - Braathens SAFE F27 Friendship in August 1964
The first production model, the F27-100, was delivered to Aer Lingus in November 1958. Other early Friendship customers included Braathens SAFE, Luxair, Ansett, Trans Australia Airlines and Turkish Airlines.
In 1956, Fokker signed a licensing deal with the US aircraft manufacturer Fairchild for the latter to construct the F27 in the USA. The first U.S.-built aircraft flew on April 12, 1958. Fairchild also independently developed a stretched version, called the FH-227. Most sales by Fairchild were made in the North American market.
At the end of the Fokker F27's production in 1987, 586 units had been built (plus another 207 F-27s and FH-227s in the USA by Fairchild), more than any other western European civil turboprop airliner.
Many aircraft have been modified from passenger service to cargo or express-package freighter roles and remain in service in 2009. The last major user of the F27 in the United States was Fedex Express, as cargo "feeder" aircraft. These were retired and replaced by ATR42 and ATR72 aircraft by the end of 2009, with the last of the aircraft being donated to Hickory Aviation Museum.
In the early 1980s, Fokker developed a successor to the Friendship, the Fokker 50. Although based on the F27-500 airframe, the Fokker 50 is virtually a new aircraft with Pratt & Whitney Canada engines and modern systems. Its general performance and passenger comfort were improved over the F27.
Variants

Picture - F27-300M Troopship
F27-100 - was the first production model; 44 passengers.
F27-200 - uses the Dart Mk 532 engine.
F27-300 Combiplane - Civil passenger/cargo aircraft.
F27-300M Troopship - Military transport version for Royal Netherlands Air Force.
F27-400 - "Combi" passenger/cargo aircraft, with two Rolls-Royce Dart 7 turboprop engines and large cargo door.
F27-400M - Military version for US Army with designation C-31A Troopship.
F27-500 - The most ubiquitous Fokker F27 model the -500, had a 1.5 m (4 ft 11 in) longer fuselage, a return to the Dart Mk 528 engine, and accommodation for up to 52 passengers. It first flew in November 1967.
F27-500M - Military version.
F27-500F - A version of the -500 for Australia with smaller front and rear doors.
F27-600 - Quick change cargo/passenger version of -200 with large cargo door.
F27-700 - A F27-100 with a large cargo door.
F27 200-MAR - Unarmed maritime reconnaissance version.
F27 Maritime Enforcer - Armed maritime reconnaissance version.
FH-227 - Fairchild Hiller stretched version.

Operators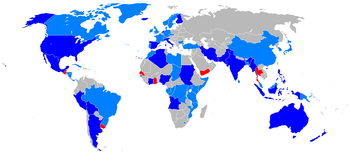 Picture - Map of F27 operators. Light blue indicates civilian use. Dark blue indicates civilian and military use. Red indicates military use.
Algeria
Angola
Argentina
Australia
Bangladesh
Biafra
Bolivia
Brazil
Cx´te d'Ivoire
Cuba
Denmark
England
Finland
Ghana
Guatemala
Honduras
India
Indonesia
Iran
Iceland
Italy
Luxembourg
Mexico
Myanmar
Netherlands
Norway
New Zealand
Nigeria
Pakistan
Panama
Peru
Philippines
Senegal
Spain
Sudan
Sweden
Thailand
Turkey
United States
Uruguay
Yemen

Notable accidents
TAA Fokker Friendship disaster - June 10, 1960 Mackay, Queensland, Australia: 29 fatalities - this is still the deadliest civilian Australian aircraft accident in history. The investigation was not able to determine a probable cause of this accident.

Pakistan International Airlines Flight 631 crashed on December 8, 1972 Multan, Pakistan: 26 fatalities.

On September 15, 1978, a Philippine Air Force F-27 crashed due to windshear. 15 of the 24 people on board were killed, as well as 17 people on the ground.

On May 26, 1980, a Nigerian Air Force F-27 crashed due to a thunderstorm, killing all 30 people on board. The aircraft was carrying a delegation of military and government officials on a diplomatic mission.

On August 4, 1984, a Biman Bangladesh Airlines flight from Chittagong crashed in the swamps near Shahjalal International Airport. All 45 passengers and 4 crew of the F27 died. The flight was piloted by Kaniz Fatema Roksana, the country's first female commercial pilot.

On December 8, 1987, the Alianza Lima air disaster in which a Naval F27 that was transporting the Alianza Lima football club crashed in Lima, Peru, killing the whole team.

On October 19, 1988, thirty-four died in a Vayudoot F27 crash near Guwahati, India.

November 11, 2002, a Laoag Air F27 crashed into Manila Bay, killing 20 people.

On February 20, 2003, a military F27 crashed in northwestern Pakistan killing Pakistan Air Force Chief, Air Chief Marshal Mushaf Ali Mir, his wife and 15 others.

Pakistan International Airlines Flight 688 carrying 45 people crashed 2-3 minutes after take off from Multan airport on July 10, 2006. There were no survivors. Engine fire was suspected as the cause of the crash.

On April 6, 2009, an Indonesian Air Force F27 crashed in Bandung, Indonesia killing all 24 occupants on board. The cause of the incident was said to be heavy rain. The plane reportedly crashed into a hangar during its landing procedure and killed all on board. The casualties include: 6 crews, an instructor and 17 special forces trainee personnel

Specifications (F27-500)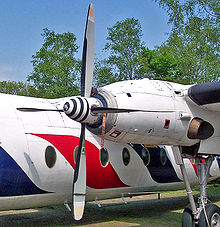 Picture - F27 Rolls Royce Dart
Data from
General characteristics
Crew: Two or three
Capacity: 52-56 passengers
Length: 25.06 m (82 ft 2½ in)
Wingspan: 29.00 m (95 ft 1¾ in)
Height: 8.72 m (28 ft 7¼ in)
Wing area: 70.0 m² (754 ft²)
Empty weight: 11,204 kg (24,650 lb)
Max takeoff weight: 19,773 kg (43,500 lb)
Powerplant: 2x— Rolls-Royce Dart Mk.532-7 turboprop engines, 1,678 kW (2,250 eshp) each

Performance
Cruise speed: 518 km/h (280 kn, 322 mph) at 20,000 ft (6,100 m)
Range: 1,826 km (986 nmi, 1,135 mi)
Rate of climb: 7.37 m/s (1,450 ft/min)

Related development
Fairchild Hiller FH-227
Fokker 50

Comparable aircraft
Antonov An-24
Hawker Siddeley HS 748

Fokker F27 Friendship Pictures
More aircraft.
Source: WikiPedia