Fokker S-11 Video - Picture
Fokker S-11 Aircraft Information
Fokker S-11
S11 Instructor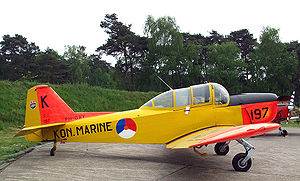 Role: Trainer
Manufacturer: Fokker
First flight: 18 December 1947

The Fokker S-11 Instructor is a single engine two seater propeller aircraft designed and manufactured by the former Dutch aircraft manufacturer Fokker.
History
One of the first activities undertaken by Fokker after World War II was the design of a new military aircraft for initial pilot training, the S-11 Instructor. An aircraft trader already placed orders for 100 of these aircraft in 1946, before construction had even begun. The first prototype flew at Schiphol on 18 December 1947. During testing in early 1948 it was found that some aerodynamic changes had to be made to improve the handling of the aircraft. Later that year demonstration flights for several air forces followed and eventually many S-11's were sold to the Royal Netherlands Air Force, Israeli Air Force, Italian Air Force, Brazilian Air Force, Paraguayan Air Force and Bolivian Air Force. Numerous S-11 instructors are still flying today. The Dutch organization Fokker Four dedicated to the preservation of the aircraft owns five S-11s and amongst other activities still performs with them on airshows. The S-11 was also produced in Brazil by a Fokker subsidiary, which also manufactured a tricycle-undercarriage variant as the S-12
Operators
Brazil
Brazilian Air Force operated 100 aircraft in the 1960s.

Bolivia
Bolivian Air Force operated 8 aircraft in the 1970s.

Israel
Israeli Air Force operated 41 aircraft from 1951 to 1957.

Italy
Aeronautica Militare

Netherlands
Royal Netherlands Air Force
Royal Netherlands Navy - Dutch Naval Aviation Service

Paraguay
Paraguayan Air Arm operated 8 aircraft from 1972 to 1978.

Specifications (S-11)
Data from Jane's All The World's Aircraft 1953-54.
General characteristics
Crew: two/three
Length: 8.18 m (26 ft 8 in)
Wingspan: 11.0 m (36 ft 1 in)
Height: 2.22 m (7 ft 5 in)
Wing area: 18.5 m² (199 ft²)
Empty weight: 810 kg (1,784 lb)
Loaded weight: 1,100 kg (2,426 lb)
Powerplant: 1x— Lycoming O-435A, 142 kW (190 hp)

Performance
Maximum speed: 209 km/h (113 knots, 130 mph)
Cruise speed: 164 km/h (89 knots, 102 mph)
Range: 628 km (339 nmi, 390 mi)
Service ceiling: 3,850 m (12,600 ft)
Climb to 1,000 m (3,300 ft): 5.6 min

Comparable aircraft
De Havilland Canada DHC-1 Chipmunk
Saab 91 Safir

Bridgeman, Leonard. Jane's All The World's Aircraft 1953-54. London: Jane's All The World's Aircraft Publishing Company, 1953.
Smith, Maurice A. "Fokker S.11 Instructor in the Air". Flight, 24 February 1949. pp. 218-221.

Fokker S-11 Pictures
More aircraft.
Source: WikiPedia