Fokker Super Universal Video - Picture
Fokker Super Universal Aircraft Information
Fokker Super Universal
Fokker Super Universal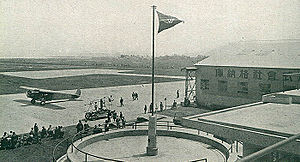 Picture - Super Universal/Nakajima Ki-6 operated by Japan Air Transportation Corporation
Role: Airliner
Manufacturer: Fokker-America, Canadian Vickers, Nakajima
First flight: March 1928
Number built: ca. 200
Developed from: Fokker Universal

The Fokker Super Universal was an airliner produced in the United States in the late 1920s, an enlarged and improved version of the Fokker Universal. It was subsequently also manufactured under licence in Canada and Japan.
Design and development
Like its forerunner, the Super Universal was a conventional, high-wing cantilever monoplane with a fully enclosed flight deck and cabin. Standard undercarriage consisted of fixed tailskid type with divided main units, but it was also available as a twin-pontoon seaplane. The Super Universal was received enthusiastically in the marketplace, selling better than any other of Fokker-America's designs (some 80 aircraft), and required the company to expand its factory space to keep up with demand. A further 15 aircraft were built by Canadian Vickers, and around 100 by Nakajima with some of these Japanese aircraft seeing military service as the Ki-6. The United States Navy also evaluated the Super Universal for military service, under the designation XJA-1, but decided not to purchase the type (the JA designation was later re-used for the Noorduyn Norseman).
A particularly noteworthy Super Universal was the Virginia, the first Super Universal from the production series, which was used by Richard E. Byrd on his Antarctic expedition of 1928. This aircraft was damaged after being turned over in a strong wind and was abandoned by Byrd, although he revisited it on a subsequent expedition to salvage the engine and other components. It was rediscovered by a New Zealand expedition in 1987.
In 1998, a Super Universal was restored to airworthy condition in Canada, and since 2005 was placed on display at the Western Canada Aviation Museum.
Operators
Civil
United States
Midcontinental Air Express
Standard Airlines
National Park Airways
Universal Airlines

Canada
Western Canada Airways

Japan
Japan Air Transport

Manchukuo
Manchukuo National Airways

Military
Canada
Royal Canadian Air Force

United States
United States Navy

Argentina
Armada Argentina

Specifications
Data from
General characteristics
Crew: two
Capacity: 6 passengers
Length: 36 ft 11 in (11.25 m)
Wingspan: 50 ft 8 in (15.44 m)
Height: 9 ft 1 in (2.77 m)
Wing area: 370 ft² (34.3 m²)
Empty weight: 3,250 lb (1,474 kg)
Gross weight: 5,550 lb (2,517 kg)
Powerplant: 1 x— Pratt & Whitney Wasp B, 450 hp (336 kW)

Performance
Maximum speed: 138 mph (222 km/h)
Range: 680 miles (1,100 km)
Service ceiling: 19,340 ft (5,900 m)
Rate of climb: 950 ft/min (4.8 m/s)

Taylor, Michael J. H. (1989). Jane's Encyclopedia of Aviation. London: Studio Editions. pp. 410.
World Aircraft Information Files. London: Bright Star Publishing. pp. File 894 Sheet 44.
Western Canada Aviation Museum

Fokker Super Universal Pictures
More aircraft.
Source: WikiPedia