Fokker XA-7 Video - Picture
Fokker XA-7 Aircraft Information
Fokker XA-7
XA-7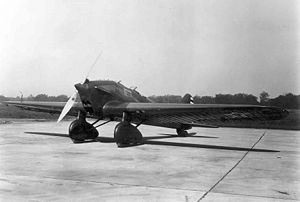 Picture - Atlantic-Fokker XA-7
Role: Attack
Manufacturer: Fokker-America
First flight: April 1931
Status: Prototype
Primary user: U.S. Army Air Corps
Number built: 1

The General Aviation / Fokker XA-7 was a prototype attack aircraft ordered in December 1929, and first flown in January 1931 by Fokker and then General Aviation Corporation after it bought Fokker-America in 1930, and entered in a competition held by the United States Army. However, the Curtiss A-8 won the competition, and A-7 development was not continued.
Design and development
The XA-7 was a two-seat low-wing all-metal monoplane design. It featured a thick cantilever wing, tunnel radiator and two closely spaced open cockpits.
Operational history
Despite some innovative features, the XA-7 did not proceed past flight test status. After testing, the sole prototype was scrapped.
Specifications (Fokker XA-7)
General characteristics
Crew: Two
Length: 31 ft (9.45 m)
Wingspan: 46 ft 9 in (14.25 m)
Height: 9 ft 5 in (2.87 m)
Wing area: 333 ft² (30.94 m²)
Empty weight: 3,866 lb (1,754 kg)
Max takeoff weight: 5,650 lb (2,563 kg)
Powerplant: 1x— Curtiss_V-1570 Conqueror V-12 liquid cooled, 600 hp (447 kW)

Performance
Maximum speed: 184 mph (296 km/h)
Stall speed: 61 mph (98 km/h)

Armament
5 x— .30 in (7.62 mm) machine guns
488 lb (221 kg) of bombs

Comparable aircraft
Curtiss XA-8

Bibliography
Wagner, Ray. American Combat Planes of the 20th Century, Third Enlarged Edition. New York: Doubleday, 1982. ISBN 978-0930083175.

Fokker XA-7 Pictures
More aircraft.
Source: WikiPedia