Fouga Magister Video - Engine start
Fouga Magister Aircraft Information
Fouga Magister
CM.170 Magister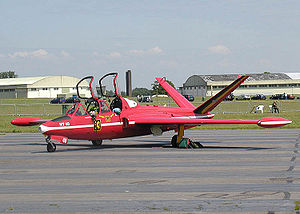 Picture - A Magister of Belgian Air Force
Role: Jet trainer
National origin: France
Manufacturer: Fouga
First flight: 23 July 1952
Introduced: 1956
Primary users: French Air Force Israeli Air Force Luftwaffe Finnish Air Force
Number built: 929 Total Air Fouga: 576 Heinkel-Messerschmitt: 194 IAI: 30 Valmet: 62
Variants: Fouga Zéphyr

The Fouga Magister (company designation CM.170) is a 1950s French two-seat jet trainer. The related CM.175 Zéphyr was a carrier-capable version for the French Navy.
Although it is often lauded as the first purpose built two-seat turbojet-powered trainer aircraft, similar claims are made for the Fokker S.14 Machtrainer whose first flight, production, and service entry were all about year earlier.. However, the Magister was much more successful than the Machtrainer, being produced in far greater numbers and being exported to many nations.
Design and development
In 1948, Fouga designed a jet-powered primary trainer called CM.130 for the French Air Force (Armée de l'Air, AdA) to replace piston-engined Morane-Saulnier MS.475 aircraft. When AdA found the aircraft lacking in power from the two Turbomeca Palas turbojets, Fouga enlarged the basic design and used the more powerful Turbomeca Marboré engine. The distinctive V-tail of the new CM.170 Magister originated on the CM.8 glider Fouga was using to experiment with jet engines. In December 1950, AdA ordered three prototypes, with the first aircraft flying on 23 July 1952. A pre-production batch of 10 were ordered in June 1953 followed by the first production order for 95 aircraft on 13 January 1954. Fouga built a new assembly plant at Toulouse-Blagnac to produce the aircraft. The aircraft entered service with AdA in 1956.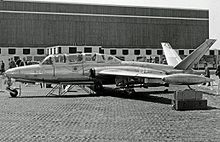 Picture - The first CM.170M development aircraft for the Aeronavale at the Paris Air Show in May 1957
Due to different industrial mergers, the aircraft has been known as the "Fouga CM.170 Magister", "Potez (Fouga) CM.170 Magister", Sud Aviation(Fouga) CM.170 Magister" and "Aérospatiale (Fouga) CM.170 Magister" depending on where and when they were built.
The French Navy's Aeronavale adopted a derivative of the Magister, the CM.175 Zéphyr, as a basic trainer for deck landing training and carrier operations. These were preceded by two "proof of concept" prototypes designated the CM.170M Magister, which made their first flights in 1956/57.
An improved version of the Magister designated the CM.173 Super Magister was produced from 1960. It used a more powerful Turbomeca Marboré IV engine. Production of the Magister stopped in France in 1962 but continued to be built in Finland up to 1967.
The development of the aircraft came to an end when the French Air Force selected the Alpha Jet as their new jet trainer.
Operational history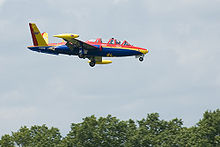 Picture - Fouga CM-170 Magister at Paris Air Show 2007
The first export customer was Germany who ordered 62 aircraft from Fouga and Flugzeug Union Sx¼d licence built a further 188 aircraft. In addition the CM.170 was built under license by Valmet in Finland, and Israel Aircraft Industries in Israel, with a total of 929 built. Of these 286 were completed under license.
Israel
The Israeli Air Force operated a licence manufactured version, the IAI Tzukit. While principaly a trainer, it was used in the 1967 Six Day War as a Close Support Aircraft, being used to attack targets on the Egyptian front during the first day of the war, when Israel's more capable combat aircraft were deployed on Operation Focus against Arab air bases. They were then deployed against Jordanian forces, including armour, on the West Bank. The Magister proved effective at the close-support mission albeit with heavy casualties, with six being lost.
Finland
In 1958-1959, Finland purchased 18 Fouga Magisters from France. At the same time they also obtained a manufacturing license. The Finnish aircraft manufacturer Valmet later built 62 Fouga aircraft between 1958-67. The French built aircraft carried the designations FM-1...-18 and the Finnish built FM-21...-82. The aircraft was a jet trainer in the Finnish Air Force between 1958-1988. Twenty-one Fouga Magisters were destroyed in accidents, six with fatal outcome. The usual Finnish Air Force nickname for the plane was Kukkopilli (Ocarina) because of the peculiar sound of the Turbomeca Marboré turbojet.
Belgium
The Belgian Air Force operated 50 Magisters as primary trainers. The aerobatic team The Red Devils also used them as display aircraft. A small number of Magisters remained in use until September 2007, as flight maintenance aircraft for senior officers. The Belgian Air Force was the last country that used Magisters for full duty.
Katanga
When Congo became independent from Belgium in 1960, the secessionist movement in the province of Katanga rebelled against the central government. Their minuscule air force was equipped with a few Fouga Magisters among other aircraft. ONUC, the UN operation to safeguard the survival of the Congolese state 1961-64, fielded one squadron of Swedish SAAB Tunnan and one of Ethiopian F-86, which consistently outperformed the Katangese Magisters in the air.
Ireland
The Irish Air Corps operated six Fouga Magisters, four of which equipped the Silver Swallows display team.
Brazil
The Brazilian Air Force used the Fouga Magister in Smoke Squadron from 1968 until 1975 were designated (T-24).
Variants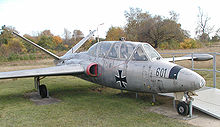 CM.170 Magister - three prototypes and ten pre-production aircraft.
CM.170M Magister - two prototypes for the French Aeronavale
CM.170-1 Magister - first production version with Turbomeca Marboré II engines, 761 were built including 188 in West Germany, 62 in Finland and 50 in Israel.
CM.170-2 Super Magister - uprated Marboré VI engines with 4.7 kN (1,055 lbf) thrust each, 137 built.
CM.171 Makalu - enlarged airframe, Turbomeca Gabizo engines with 10.8 kN (2,422 lbf) thrust each, the only prototype lost in an accident on March 20, 1957
CM.173 Super Magister - Marboré Super VI engines with 5.1 kN (1,143 lbf) thrust each and ejection seats, 1 prototype built.
CM.175 Zéphir - A shipboard trainer for the Aeronavale, with strengthened undercarriage, catapult attachments and arrestor hook. 30 built.
IAI Tzukit or AMIT Fouga - Israeli Air Force version, permanent weapon hardpoints under the wings for light attack capability
Fouga 90/90A - Development based on the CM.170 with Turbomeca Astafan engines with 7.6 kN (1,715 lbf) thrust each, reshaped canopy for better visibility, and upgraded avionics. 1 prototype built. Proposed version 90A was equipped with a 790 kp Turbomeca Astafan engine; both versions failed to attract orders.

Picture - Fouga Magister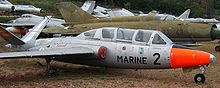 Picture - Fouga CM.175 Zéphyr
Operators
Algeria
Algerian Air Force (28 ex-German aircraft)

Austria
Austrian Air Force (18 aircraft)

Bangladesh
Bangladeshi Air Force (eight ex-German aircraft)

Belgium
Belgian Air Component (50 aircraft)

Biafra
Biafran Air Force (5 aircraft)

Brazil
Brazilian Air Force (seven aircraft)

Cambodia
Cambodian Air Force (four aircraft)

Cameroon
Cameroon Air Force (nine ex-French aircraft)

El Salvador
El Salvador Air Force (nine ex-Israel aircraft)

Finland
Finnish Air Force (80 aircraft (18 manufactured in France, 62 in Finland))

France
French Air Force (397 aircraft)
French Navy (32 aircraft)

Gabon
Gabonese Air Force (five ex-German aircraft)

Germany
Luftwaffe (250 aircraft (62 new and 188 licence production))
German Navy (15 aircraft)

Honduras
Honduran Air Force operates like 4 aircraft in service.

Ireland
Irish Air Corps (Seven CM170-2) (one aircraft)

Israel
Israeli Air Force (52 aircraft (16 new and 36 licence production, currently being replaced by the Beechcraft T-6 Texan II))

Lebanon
Lebanese Air Force (eight ex-German aircraft)-stored-

Libya
Libyan Arab Air Force (12 ex-French aircraft)

Morocco
Royal Moroccan Air Force (21 new, ex-French and ex-German aircraft)

Nicaragua
Nicaraguan Air Force

Rwanda
Rwandan Air Force (three ex-French aircraft)

Senegal
Senegalese Air Force (five ex-Brazilian aircraft)

Togo
Togolese Air Force (four ex-German aircraft)

Uganda
Ugandan Air Force (12 ex-Israel aircraft)

Katanga
(four aircraft)

Specifications (CM.170-1)
Data from Jane's All The World's Aircraft 1965-66
General characteristics
Crew: Two
Length: 10.06 m (33 ft 0 in)
Wingspan: 12.15 m (39 ft 10 in)
Height: 2.80 m (9 ft 2 in)
Wing area: 17.30 m² (186.1 ft²)
Empty weight: 2,150 kg (4,740 lb)
Loaded weight: 2,850 kg (6,280 lb)
Max takeoff weight: 3,200 kg (7,055 lb)
Powerplant: 2x— Turbomeca Marboré IIA turbojets, 3.92 kN (880 lbf) each

Performance
Maximum speed: 715 km/h (386 knots, 444 mph) at 9,000 m (30,000 ft)
Range: 925 km (500 nmi, 575 mi)
Service ceiling: 11,000 m (36,080 ft)
Rate of climb: 17 m/s (3,345 ft/min)
Wing loading: 165 kg/m² (34 lb/ft²)
Thrust/weight: 0.28

Armament
2x 7.5 mm or 7.62 mm machine guns, 200 rounds/gun
Up to 140 kg (310 lb) of weapons on two underwing hardpoints, including 50 kg (110 lb) bombs, unguided rockets, and Nord Aviation SS.11 anti-tank missiles.

Related development
Fouga Zéphyr

Comparable aircraft
Fokker S.14 Machtrainer
Fiat G.80
Cessna T-37
BAC Jet Provost
Soko G-2 Galeb
Morane-Saulnier MS.755 Fleuret
Morane-Saulnier MS-760
Aero L-29 Delfin
Aermacchi MB-326
PZL TS-11 Iskra

Kopenhagen, W., ed. Das groxŸe Flugzeug-Typenbuch. Stuttgart, Germany: Transpress, 1987. ISBN 3-344-00162-0.

Bibliography
Aloni, Shlomo. "Trainers in Combat:Valour and Sacrifice in the Six Day War". Air Enthusiast, No. 94, July/August 2001. Stamford, UK:Key Publishing. ISSN 0143-5450. pp. 42-55
Arys, Marc & Heerthum, Serge van. Fouga Magister : whistling Turtles in Belgian skies, 'Flash Aviation', 2007. ISBN 9071553248.
Taylor, John W. R. Jane's All The World's Aircraft 1965-66. London:Sampson Low & Marston Company, 1965.

Fouga Magister Pictures and Fouga Magister for Sale.
Living Warbirds: The best warbirds DVD series.
Source: WikiPedia