Frederick George Miles - Picture
Frederick George Miles Information
Frederick George Miles
Frederick George Miles (1903-1976) was an English aircraft designer and manufacturer.
Early life
Miles was born on 22 March 1903 in Worthing Sussex the oldest of four sons of Frederick, a laundry proprietor, and his wife Esther. He left school early in 1916 and started a motorcycle rental business. Miles soon became interested in aircraft and in 1922 he designed then built with some friends and his brother George a small biplane called the Gnat at the back of his father's laundry in Portslade. The aircraft was not flown but proved an interesting and inspiring project for the young Miles and his brother who had formed the Gnat Aero and Motor Company Limited. He was taught to fly by local pilot Cecil Pashley at Shoreham Airport and after gaining his licence he persuaded Pashley to enter into a partnership and start a flying school and joyriding business. The company soon expanded into aircraft repairs and then split into two separate companies in 1926; the Southern Aero Club and Southern Aircraft. One of the aircraft Miles acquired was an Avro Baby which he modified to turn it into an aerobatic sports aircraft which he called the Southern Martlet.
1930s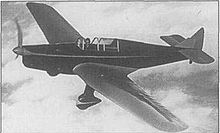 Picture - Charles Lindbergh's Miles Mohawk
In 1930 Miles intended to emigrate to South Africa to remove himself from a difficult situation when he fell in love with one of his pupils, but he returned after a year and then married the former pupil Maxine Freeman-Thomas a recent divorcee and always known as Blossom. Together they designed a single-seat biplane in 1932 (the Miles M1 Satyr), which was built for them by George Parnall & Co of Yate, Gloucestershire. Also in 1932 he met Charles Powis a motor engineer and owner of an aircraft business Phillips & Powis based at Woodley Aerodrome near Reading. Miles agreed to design a cheap but modern light monoplane which he called the Miles Hawk it was built by Phillips and Powis at Woodley Aerodrome, Reading. The Hawk sold well and Miles joined the company as technical director and chief designer. His brother followed him as a test pilot and manager of the engine section. Other successful designs followed including one special commissioned from Miles by Charles Lindbergh and known as the Miles Mohawk.
In 1935 the Phillips and Powis became a public company with Rolls-Royce Limited becoming a major shareholder. Miles became chairman and managing director and his brother Herbert became technical director and chief designer. With the expansion of the Royal Air Force the company won a contract worth £2 million pounds for the Miles Magister basic trainer.
Miles Aircraft Limited
Picture - Miles M52
Rolls-Royce lost interest in the company and in 1941 Miles bought financial control of the company which he renamed Miles Aircraft Limited in 1943. Miles and his wife also started the Miles Aeronautical School to train apprentice technicians and draughtsman.
In 1943 Miles was shown a prototype ballpoint pen made by Lx¡szlx³ Bx­rx³ and offered to produce them for the Royal Air Force. The ministry were concerned that it would distract from aircraft production but Miles eventually persuaded government officials to let him use 17 unskilled girls to produce the pen which was called the biro after the inventor. When the war finished the Reading biro factory which would employ 700 people became the Miles Martin Pen Company and the biro was sold to the general public.
With his brother now Chief Designer for the aircraft Miles concentrated on a design for a supersonic aircraft (the M.52) powered by the then secret Whittle jet engine. The government contract and the programme was cancelled in 1946 but not before all Miles's work was passed on to the United States government and the National Advisory Committee for Aeronautics (NACA - later to become NASA). Reminiscent of the M.52 the Bell X-1 was the first manned aircraft to break the sound barrier in 1947. Problems with the return to civil production led to the collapse of Miles Aircraft in 1948.
F.G. Miles Engineering Limited
Undeterred Miles started a new company F.G. Miles Engineering and moved back to Shoreham in 1949. In 1961 the company became part of the new Beagle Group and Miles became the deputy chairman and his brother was chief designer. The Beagle group collapsed in 1969 so Miles went on to form other engineering companies involved with flight simulators, aircraft structures and other aviation projects.
Miles died on 15 August 1976 in Worthing, Sussex.
Oxford Dictionary of National Biography
http://production.investis.com/heritage/nonflash/lineage/air/1926_the_gnat_aeroplane_company/
obituary in Flight

Frederick George Miles Pictures and Frederick George Miles for Sale.
Living Warbirds: The best warbirds DVD series.
Source: WikiPedia