Fuji FA200 Aero Subaru Video - Picture
Fuji FA200 Aero Subaru Aircraft Information
Fuji FA200 Aero Subaru
FA-200 Aero Subaru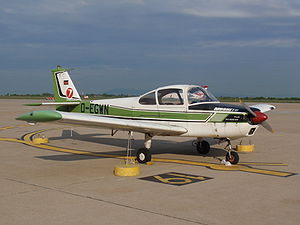 Picture - Fuji FA-200-160
Role: Civil light aircraft
Manufacturer: Fuji
First flight: 1965
Introduced: 1968
Produced: 1968 - 1986
Number built: 275

The Fuji FA-200 Aero Subaru is a single-engine piston-powered airplane built by Fuji Heavy Industries, Ltd. of Japan.
Design and development
Fuji Heavy Industries, Ltd. began development of a four-seat light aeroplane, the Fuji FA-200 Aero Subaru in 1964, the first prototype flying on 12 August 1965 . It is a low-wing all-metal aircraft, fitted with a fixed nosewheel undercarriage and a sliding canopy. It was first certified in Japan on 6 July 1966, with certification in the United States occurring on 26 September 1967 .
Production started in March 1968, continuing until 1986, with a total of 275 built .
Variants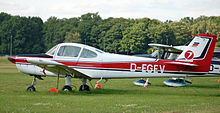 Picture - Fuji FA-200-180
FA-200-160
Initial version, powered by 160 hp Lycoming O-320 engine and fixed-pitch propeller.
FA-200-180
More powerful development - 180 hp Lycoming IO-360 engine and constant-speed propeller.
FA-200-180AO
Powered by 180 hp Lycoming IO-320 engine and fitted with fixed pitch propellor.
FA-203-S
Experimental short take off and landing (STOL) version, developed by Japan's National Aerospace Laboratory fitted with Boundary layer control system.
Specifications (FA-200-180)
Data from Jane's All the World's Aircraft, 1976-1977
General characteristics
Crew: One
Capacity: Three
Length: 8.17 m (26 ft 9½ in)
Wingspan: 9.42 m (30 ft 11 in)
Height: 2.59 m (8 ft 6 in)
Wing area: 14.0 m² (151 ft²)
Empty weight: 650 kg (1,433 lb)
Max takeoff weight: 1,150 kg (2,535 lb)
Powerplant: 1x— Avco Lycoming IO-360 four cylinder horizontally opposed piston engine, 134 kW (180 hp)

Performance
Maximum speed: 237 km/h (128 knots, 147 mph)
Cruise speed: 185 km/h (100 knots, 115 mph) (economy cruise - 55% power)
Stall speed: 87 km/h (47 knots, 54 mph) (flaps down)
Range: 1,400 km (755 nm, 870 mi)
Service ceiling: 5,790 m (19,000 ft)
Rate of climb: 5.7 m/s (1,129 ft/min)
Wing loading: 82.1 kg/m² (16.8 lb/ft²)
Power/mass: 0.12 kW/kg (0.071 hp/lb)

Fuji FA200 Aero Subaru Pictures
More aircraft.
Source: WikiPedia