Fuji LM-1 Nikko Video - Picture
Fuji LM-1 Nikko Aircraft Information
Fuji LM-1 Nikko
LM-1 Nikko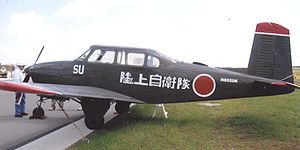 Picture - Airworthy Fuji LM-1 Nikko of 1955 in JASDF markings at Lakeland, Florida, in April 2009
Role: military communications aircraft
National origin: Japan
Manufacturer: Fuji Heavy Industries
First flight: 6 June 1955
Introduced: 1955
Status: several flown in the United States
Number built: 27
Developed from: Beech T-34 Mentor
Variants: Fuji KM-2

The Fuji LM-1 Nikko is a Japanese light communications aircraft of the 1950s.
Development
Fuji Heavy Industries built 176 Beech T-34 Mentor two-seat training aircraft under licence in the early 1950s. Fuji redesigned the basic Mentor as a four-seat communications aircraft under the designation LM-1. A new lengthened centre fuselage was added to the Mentor's wing, undercarriage and tail assembly. 27 LM-1s were produced during 1955/56.
Operational history
The LM-1s were delivered to the Japanese Air Self-Defense Force (JASDF) and were used for communications and general duties. After withdrawal from operation, several LM-1s were sold on the U.S. civil market and are flown by civil pilots as "warbirds".
Variants
LM-1: four-seat communications aircraft with 225 h.p. (168 kW) Continental engine (27 built)
LM-2: higher-powered version with 340 h.p. (254 kW) Lycoming engine (2 built)
Specifications (LM-1)
Data from Green, 1956, p. 86
General characteristics
Crew: 1
Capacity: 3 passengers
Length: 25 ft 11 in (7.90 m)
Wingspan: 32 ft 9 in (9.98 m)
Height: 9 ft 7 in (3.63 m)
Wing area: 177.6 ft² (16.50 m²)
Empty weight: 2,234 lb (1,013 kg)
Gross weight: 3,375 lb (1,531 kg)
Powerplant: 1 x— Continental O-470 6 cylinder horizontally opposed air-cooled, 225 hp (168 kW)

Performance
Maximum speed: 185 mph (298 km/h)
Cruise speed: 157 mph (253 km/h)
Service ceiling: 17,388 ft (5,300 m)

Bibliography
Green, William (1956). The Aircraft of the World. Macdonald & Coi (Publishers) Ltd. ISBN none.
Simpson, Rod (2001). Airlife's World Aircraft. Airlife Publishing Ltd. ISBN 1-84037-115-3.

Fuji LM-1 Nikko Pictures
More aircraft.
Source: WikiPedia