Fuji T-1 Aircraft Information
Fuji T-1
T-1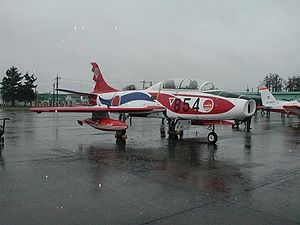 Picture - T-1B in special paint scheme
Role: Intermediate trainer aircraft
Manufacturer: Fuji Heavy Industries
Number built: 66

The Fuji T-1 was Japan's first jet-powered trainer aircraft. The first flight was in January 1958. A total of 66 T-1 planes were built. It was retired in March 2006.
Design and development
The T-1 was the first indigenously designed Japanese jet aircraft to be developed since World War II. Although a new-design aircraft, it was modeled on the F-86 Sabre airframe. The T-1A was powered by the British-designed Bristol Siddeley Orpheus turbojet, while the T-1B used the Ishikawajima-Harima J3 turbojet.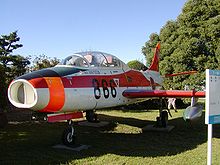 Picture - Fuji T-1
Fuji T-1s are on display outside the Subaru plant in ÅŒta, Gunma and at the Tokorozawa Aviation Museum in Tokorozawa, Saitama.
Variants
T1F1 : Prototype.
T-1A : The T-1A is powered by a 17.79 kN (4,000 lbf) Bristol Siddeley Orpheus Mk 805 turbojet engine. The original designation was T1F2.
T-1B : The T-1B is powered by a 11.77 kN (2,646 lbf) Ishikawajima-Harima J3-7B turbojet engine.

Operators
Japan
Japan Air Self Defense Force

Specifications (T-1A)
Data from Jane's All The World's Aircraft 1965-66
General characteristics
Crew: 2
Length: 12.12 m (39 ft 9 in)
Wingspan: 10.50 m (34 ft 5 in)
Height: 4.08 m (13 ft 5 in)
Wing area: 22.22 m (239.2 sq ft)
Aspect ratio: 4.96:1
Airfoil: K-561/K-569
Empty weight: 2,420 kg (5,335 lb)
Gross weight: 4,150 kg (9,149 lb) clean
Max takeoff weight: 5,000 kg (11,023 lb) (with external tanks)
Fuel capacity: 1,400 L (308 Imp Gallons)
Powerplant: 1 x— Bristol Siddeley Orpheus Mk 805 turbojet, 18 kN (4,000 lbf) thrust

Performance
Maximum speed: 925 km/h (575 mph; 499 kn) at 6,100 m (20,000 ft)
Cruising speed: 620 km/h (390 mph; 330 kn) at 9,150 m (30,000 ft)
Range: 1,300 km (808 mi; 702 nmi) (internal fuel)
Ferry range: 1,950 km (1,212 mi; 1,053 nmi)
Service ceiling: 14,400 m (47,244 ft)
Rate of climb: 33 m/s (6,500 ft/min)

Armament
Guns: Provision for 1 x— 12.7 mm Browning M53-2 machine gun in nose
Hardpoints: 2 with provisions to carry combinations of:
Missiles: 2 x— AIM-9 Sidewinder air-to-air missiles
Bombs: 2 x— 340 kg (750 lb) bombs
Other: 2 x— 455 L (100 Imp Gallon) drop tanks

Comparable aircraft
F-86 Sabre

Donald, David and Jon Lake. Encyclopedia of World Military Aircraft. London:Aerospace Publishing, 1996, Single Volume Edition. ISBN 1 874023 95 6.
Taylor, John W. R. Jane's All The World's Aircraft 1965-66. London:Sampson Low, Marston, 1965.

Fuji T-1 Pictures
More aircraft.
Source: WikiPedia