Fuji T-3 Aircraft Information
Fuji T-3
T-3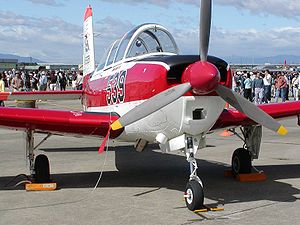 Role: Primary trainer
Manufacturer: Fuji Heavy Industries
First flight: 1974
Primary user: Japan Air Self Defense Force
Number built: 50
Developed from: Fuji KM-2

The Fuji T-3 is a primary military trainer aircraft used by the Japan Air Self Defense Force, manufactured by Fuji Heavy Industries. Its first flight was in 1974. In the course of its service life, 50 units were produced. It is being replaced by the Fuji T-7.
Development
The KM-2B was a further development of the Fuji KM-2 (itself a four seat development of the T-34 Mentor with a more powerful engine) for use as a primary trainer for the Japan Air Self-Defense Force (JASDF). It combined the structure and engine of the KM-2 with the tandem cockpit of the T-34 Mentor, first flying on 17 January 1978. Fifty were purchased by the JASDF as the Fuji T-3, production continuing until 1982 .
Operational history
The Fuji T-3 served with the 11 and 12 Hiko Kyoikudan (flying training wings) of the JASDF. It is currently being replaced with the Fuji T-7, a turboprop variant of the T-3 with a 400 shp (300 kW) Allison 250 engine.
Operators
Japan Japan Air Self-Defense Force
Specifications (T-3)
Data from Jane's Aircraft Recognition Guide, Jane's All the World's Aircraft, 1976-1977
General characteristics
Crew: 2: student, instructor
Length: 8.04 m (26 ft 4½ in)
Wingspan: 10.0 m (32 ft 9¾ in)
Height: 3.02 m (9 ft 11 in)
Wing area: 16.5 m² (178 ft²)
Empty weight: 1,120 kg (2,460 lb)
Max takeoff weight: 1,510 kg (3,329 lb)
Powerplant: 1x— Lycoming IGSO-480 6-cylinder, horizontally-opposed aircooled piston engine, 254 kW (340 hp)

Performance
Never exceed speed: 413 km/h (223 knots, 257 mph) EAS
Maximum speed: 377 km/h (203 knots, 234 mph) at 4,875 m (16,000 ft)
Cruise speed: 254 km/h (137 knots, 158 mph) Economy cruise at 2,440 m (8,000 ft)
Range: 1,038 km (560 nm, 645 mi)
Service ceiling: 8,170 m (26,800 ft)
Rate of climb: 7.7 m/s (1,520 ft/min)
Wing loading: 91.5 kg/m² (18.7 lb/ft²)

Related development
Fuji KM-2
Fuji T-5
Fuji T-7

Fuji T-3 Pictures
More aircraft.
Source: WikiPedia