Fuji T-7 Aircraft Information
Fuji T-7
T-7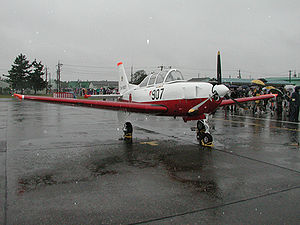 Picture - A T-7 on display at Hamamatu AB, Japan
Role: Trainer
National origin: Japan
Manufacturer: Fuji Heavy Industries
Primary user: Japan Air Self-Defense Force
Number built: 49
Developed from: Fuji T-3

The Fuji T-7 (previously T-3 Kai) is a Japanese primary trainer aircraft built by Fuji Heavy Industries for the Japan Air Self-Defense Force. A development of Fuji's earlier T-3 trainer, it is a single engined monoplane powered by a turboprop engine.
Development and design
The Fuji T-7 was developed to meet a requirement of Japan's Air Self Defence Force for a primary or basic trainer to replace the Fuji T-3. The resultant aircraft was a modified version of the T-3, (itself descended via the Fuji KM-2 from the Beech T-34) and shared the single engined low-winged monoplane layout of the T-3, but replaced the Lycoming piston engine with an Allison 250 turboprop engine.
The T-7 was selected in preference to the Pilatus PC-7 in 1998, but this decision was cancelled and the competition re-started after a corruption scandal arose, with several managers from Fuji being arrested for bribing an official in Japan's ruling Liberal Democratic Party.
Operational history
Fuji re-entered the T-7 (then known as the T-3 Kai) and again won the re-started competition in September 2000, the first production aircraft being handed over in September 2002.
Operators
Japan
Japan Air Self-Defense Force

Specifications (T-7)
Data from "Military Aircraft Directory", Flight International
General characteristics
Crew: 2
Length: 8.59 m (28 ft 2 in)
Wingspan: 10.04 m (32 ft 11 in)
Height: 2.96 m (9 ft 9 in)
Wing area: 16.50 m² (177.60 ft²)
Max takeoff weight: 1,585 kg (3,487 lb)
Powerplant: 1x— Rolls-Royce (Allison) 250-B17F turboprop, 336 kW (450 shp)

Performance
Maximum speed: 376 km/h (203 knots, 234 mph)
Cruise speed: 296 km/h (160 knots, 184 mph)
Stall speed: 103 km/h (56 knots, 64 mph)
Service ceiling: 7,620 m (25,000 ft)

Related development
T-34 Mentor
Fuji KM-2
Fuji T-3
Fuji T-5

Comparable aircraft
Aérospatiale/Socata TB-30 Epsilon
Socata TB-31 Omega
Pilatus PC-7
Pilatus PC-9
T-6 Texan II
KAI KT-1
PZL-130 Orlik
Embraer EMB 312 Tucano
T-34 Mentor
T-35 Pillx¡n
Utva Lasta

Bibliography
Jackson, Paul. Jane's All The World's Aircraft 2003-2004. Coulsdon, UK: Jane's Information Group, 2003. ISBN 0-7106-2537-5.
Jeziorski, Andrzej. "T-3 replacement battle re-opens". Flight International, 28 March - 3 April 2000, p.20.
Mollet, Andrew. "Japan's T-7 decision saves Fuji's day". Flight International, 9-15 September 1998, p. 31.
Ripley, Tim. "Military Aircraft Directory". Flight International, 25-31 May 2004, p. 38-73.
Sobie, Brendan. "Japan's pilots to start T-7 training early next year". Flight International, 12 August 2003.

Fuji T-7 Pictures
More aircraft.
Source: WikiPedia