Soko G-4 Super Galeb Video - Picture
Soko G-4 Super Galeb Aircraft Information
Soko G-4 Super Galeb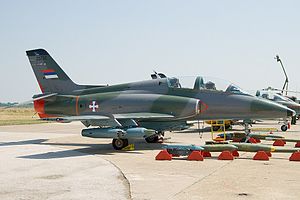 Picture - Serbian G-4 Super Galeb
Role: Military trainer aircraft
Manufacturer: SOKO
Designed by: VTI
First flight: 17 July 1978
Introduced: 1983
Status: Active
Primary users: Serbian Air Force Myanmar Air Force
Number built: 91
Unit cost: $4.25-$4.5 million in 2002 US dollars

The Soko G-4 Super Galeb is a single engine, advanced jet trainer and light ground-attack aircraft.
Design and development
First flown on 17 July 1978, with serial production beginning in 1982, the G-4 was designed to replace the G-2 Galeb in the Yugoslav Air Force.
Operational history
The G-4 saw some combat during the Yugoslav Wars. In total, three G-4s were shot down, all pilots ejecting safely.
During the Kosovo War, the G-4 was used in several combat sorties against KLA positions. Seven G-4s of the Leteće Zvezde aerobatics team were destroyed at Golubovci Airbase, as a result of a NATO airstrike.
Only two G-4s have been involved in fatal accidents in its 27 years of service; the latest involved a Serbian G-4 Super Galeb which crashed at Batajnica Air Base near Belgrade on 24 September 2008 while practicing for an upcoming air show.
Variants
G-4
Armed jet trainer and light ground-attack aircraft.
G-4Å 
Unarmed jet trainer.
G-4T
Target puller.
G-4M
Upgraded avionics and hardpoints, missile rail added to wingtips. Avionics include a Zrak ENP-MG4 HUD incorporating a Rudi Cajavec ENS-MG4 electronic sight, a gyro platform, multi function displays, and an optional chaff/flare dispensers. The inner hardpoints are rated at 500 kg, while the outer ones are rated at 350 kg, giving a maximum disposable load of 1,800 kg. Normal takeoff weight is 4,971 kg as a trainer, with a maximum takeoff weight of 6,400 kg in the attacker configuration, the maximum speed in "clean" configuration is 865 km/h at 10,000 m and 900 km/h at 4,000 m, with a ferry range of 2,900 km with drop tanks; range of 1,800 km with standard fuel, reduced to 1,200 km with cannon pack, four BL755 cluster bombs and two AAMs, maximum rate of climb at sea level of 1,800 m per minute, and a service ceiling of 12,500 m.
G-4MD
Further development of G-4M upgrade including: LCD flight screens, HOTAS, HUD, integrated mission computers, distance measuring equipment, GPS-based navigation systems, identification friend or foe, navcomm units, mission records, and VHF omni-range and instrument landing systems. Integration of guided weapons, countermeasures and targeting systems is also scheduled as part of the upgrade.
Operators
Current operators
Serbia
Serbian Air Force - Operates 23 G-4s, upgrading 15 to G-4MD.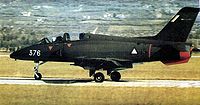 Picture - Myanmar Air Force G-4 Super Galeb.
Burma
Myanmar Air Force - 6 delivered, 4 currently operational.

Montenegro
4 G-4s located at Podgorica Airbase.

Former operators
Yugoslavia
Yugoslav Air Force

Republika Srpska
Republika Srpska Air Force - Operated 1 G-4.

Specifications (G-4M Super Galeb)
Data from Jane's All The World's Aircraft 1993-94
General characteristics
Crew: 2
Length: 12.25 m (40 ft 2 in)
Wingspan: 9.88 m (32 ft 5 in)
Height: 4.30 m (14 ft 1 in)
Wing area: 19.5 m (210 sq ft)
Aspect ratio: 5.01
Empty weight: 3,250 kg (7,165 lb)
Gross weight: 4,760 kg (10,494 lb)
Max takeoff weight: 6,330 kg (13,955 lb)
Fuel capacity: 1,882 kg (maximum internal and external fuel)
Powerplant: 1 x— Rolls-Royce Viper 632-46 , 17.8 kN (4,000 lbf) thrust

Performance
Maximum speed: 920 km/h (570 mph; 500 kn) clean @ 6,000 m (13,000 ft)
Cruising speed: 550 km/h (340 mph; 300 kn) @ 6,000m
Stall speed: 180 km/h (110 mph; 97 kn) dirty
Never exceed speed: 921 km/h (572 mph; 497 kn) 0.9M @ 11,000m
Range: 1,900 km (1,181 mi; 1,026 nmi) Internal fuel
Combat range: 1,300 km (808 mi; 702 nmi) with cannon pack and four BL755 cluster bombs (combat radius 485 km)
Ferry range: 2,500 km (1,553 mi; 1,350 nmi) maximum internal and external fuel
Service ceiling: 12,850 m (42,159 ft) Service ceiling (Altitude at which maximum climb rate reduces to 100 ft/min)
G limits: -4.2 to +8
Rate of climb: 31 m/s (6,100 ft/min)
Time to altitude: 6 minutes to 8,000m

Armament
1x GSh-23L 23 mm cannon in ventral gun pod.
2x Inner pylons 350 kg (770 lb)capacity.
2x Outer pylons 250 kg (550 lb) capacity.
1x Centreline pylon 400 kg (880 lb) capacity (G-4M).
2x Wingtip missile rails (G-4M).

Avionics Standard communication and navigation equipment, plus (fire control and weapons management) Ferranti ISIS D-282 gyro sight, and (defensive sensors and systems) Iskra SD-1 RWR; there is also provision for a reconnaissance pod with cameras and an IR line scanner.
Leteće Zvezde (flying stars - aerobatics team)

Related development
Soko G-2 Galeb

Comparable aircraft
AIDC AT-3
Aero L-39 Albatros
Aermacchi MB-339
BAE Hawk
CASA C-101
Dassault/Dornier Alpha Jet
FMA IA 63 Pampa
IAR 99
PZL I-22 Iryda

Bibliography
Gunston, Bill. The Encyclopedia of Modern Warplanes: The Development and Specifications of All Active Military Aircraft. New York: MetroBooks, 1995. ISBN 1-58663-207-8.
Gunston, Bill. Encyclopedia Of World Air Power. London: Crescent, 1987. ISBN 0-51749-969-X.
Lambert, Mark, ed. Jane's All The World's Aircraft 1993-94. Coulsdon, UK: Jane's Data Division, 1993. ISBN 0-7106-1066-1.

Soko G-4 Super Galeb Pictures
More airplane videos.
Source: WikiPedia