General Aviation PJ Video - Picture
General Aviation PJ Aircraft Information
General Aviation PJ
PJ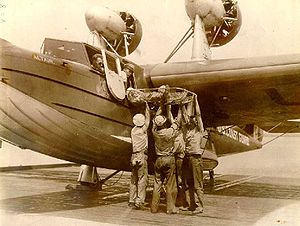 Picture - PJ-1 Altair unloading a patient in a stretcher
Role: Air-sea rescue aircraft
National origin: United States of America
Manufacturer: General Aviation
First flight: 1933
Primary user: United States Coast Guard
Number built: 5

The General Aviation PJ was a flying boat produced in the United States in the 1930s as a search-and-rescue aircraft for the Coast Guard. Originally designated FLB (for "Flying Life Boat"), it was a conventional high-wing cantilever monoplane with a flying boat hull and outrigger pontoons mounted on the wings slightly outboard of mid-span. The twin pusher engines were carried in separate nacelles on pylons above the wings. The hull was a monocogue metal structure, and the wing was a wooden structure skinned with plywood. The basic design was based on that of the Fokker F.11, but substantially enlarged (Fokker's American operation was renamed General Aviation after purchase by General Motors in 1930). While not a true amphibian and able to land on dry land, the PJ was equipped with retractable undercarriage that functioned as its own, self-carried beaching trolley.
Five examples were operated by the US Coast Guard during the 1930s, named Antares, Altair, Acrux, Acamar, and Arcturus (hull numbers FLB-51 through FLB-55). In 1934, Arcturus underwent a major refit that included a redesign of her engine nacelles, converting these to tractor configuration.
Variants
PJ-1 - original version with pusher engines (5 built)
PJ-2 - version with tractor engines (1 converted)

Specifications (PJ-1)
General characteristics
Crew: Four - two pilots, navigator, and radio operator
Length: 53 ft 9 in (16.39 m)
Wingspan: 74 ft 2 in (22.61 m)
Height: 15 ft 6 in (4.73 m)
Wing area: 754 ft² (70.0 m²)
Empty weight: 7,000 lb (3,180 kg)
Gross weight: 11,200 lb (5,090 kg)
Powerplant: 2 x— Pratt & Whitney Wasp, 420 hp (310 kW) each

Performance
Maximum speed: 130 mph (208 km/h)
Range: 1,100 miles (1,770 km)
Service ceiling: 9,000 ft (2,745 m)

Taylor, Michael J. H. (1989). Jane's Encyclopedia of Aviation. London: Studio Editions. pp. 417.
"For Coast Guard Service". Flight: 844-45. 24 August 1933. http://www.flightglobal.com/pdfarchive/view/1933/1933%20-%200396.html. Retrieved 2008-04-02.

Living Warbirds: The best warbirds DVD series.
Source: WikiPedia