Giacomo D'Angelis Video - Picture
Giacomo D'Angelis Information
Giacomo D'Angelis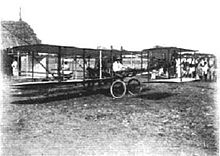 Picture - Giacomo D'Angelis and his biplane
Giacomo D'Angelis was a Corsic-Indian aviation pioneer who became famous for probably the first flight of an own-built aircraft in 1910.
His great grandson claims that the first flight ever in India took place, started in Madras (Chennai) on March 10, 1910, nine months ahead of the one in Allahabad. Giacomo D'Angelis, a confectioner from Corsica, arrived in Madras in 1880 and opened his "Maison Francaise" as chief of cuisine, and his excellent service soon enabled him to open a small hotel in 1906, the latter Hotel d'Angeli. The biplane has been built by D'Angelis entirely from his own designs, experimenting with a small horse-power engine.
D'Angelis seems to been inspired by Louis Blériot who was the first to fly across the English Channel in July 1909. D'Angelis tested his aeroplane in Pallavaram, Tamil Nadu, and then arranged a public viewing in March 1910 reported by the local newspapers.
== Sources ==archivosdangelis.blogspot.com
The Hindu (August 22, 2010): The centenary of a Madras airplane
kbhargava.com: Aviation in India

More airplanes.
Source: WikiPedia