History of Gloster Aircraft Company
Gloster Aircraft Company Information
Gloster Aircraft Company
Fate: Merged with Armstrong Whitworth (1961) and Avro (1963)
Successor: Hawker Siddeley Aviation
Founded: 1917 (as Gloucestershire Aircraft Company)
Defunct: 1963
Headquarters: Hucclecote
Parent: Hawker Aircraft (1934)

The Gloucester (pronounced Gloster) Aircraft Company, Limited, known locally as GAC, was a British aircraft manufacturer. The company produced a famous lineage of fighters for the Royal Air Force (RAF): the Grebe, Gladiator, Meteor and Javelin. It also produced the Hawker Hurricane and Hawker Typhoon for the parent company Hawker Siddeley. Gloster produced the first British jet aircraft, the E.28/39, and the first British production jet fighter, the Meteor, the only Allied jet aircraft to see service in World War II.
History
The Gloster Aircraft Company was formed in 1917 as the Gloucestershire Aircraft Company. The company acquired the aircraft business previously carried out by H H Martyn with a 50% share, and the Aircraft Manufacturing Company the other 50%. The company rented what was the Sunningend works of H H Martyn in Cheltenham, Gloucestershire. As orders for aircraft increased, other companies in the Gloucester and Cheltenham district were contracted with work. Where any flying was involved the aircraft were moved to an Air Board aircraft acceptance park at Hucclecote seven miles (11 km) away by motor transport. Although Hucclecote aerodrome was used by the company it had no hangars until 1921 when it rented part of a hangar from the Air Board.
When the British aircraft manufacturer Nieuport & General closed down in 1920, the services of its chief designer, Henry Folland were hired by Gloster, who also acquired the rights for the Nieuport Nighthawk fighter and unbuilt aircraft components.
In 1926, the name of the company was abbreviated to the Gloster Aircraft Company because customers outside of the United Kingdom found the original name too difficult to pronounce.
With the move to metal construction the Sunningend factory was no longer suitable and in 1928 the company bought the aerodrome at Hucclecote with all the hangars and office accommodation.
1934 - amalgamation
In 1934 the company was taken over by Hawker Aircraft, though it continued to produce aircraft under its own name. In that same year the company produced the famous Gladiator biplane. The 1935 merger of Hawker Aircraft and the interests of J. D. Siddeley (Armstrong Siddeley and Armstrong Whitworth Aircraft) saw Gloster become a part of Hawker Siddeley Aircraft, Ltd.
The Gladiator was a biplane fighter, used by the RAF and the Royal Navy's Fleet Air Arm (FAA) as the carrier-capable Sea Gladiator, as well as a number of other air forces, during World War II. The aircraft had a top speed of around 414 km/h. The Gladiator had an enclosed, single-seat cockpit, cantilever landing gear and a two-blade, fixed-pitch propeller driven by a Bristol Mercury air-cooled engine. A total of 756 airframes were built: 480 RAF, 60 FAA, 216 exported to 13 countries. Gladiators were sold to Belgium, China, Egypt, Finland, Free French, Greece, Iraq, Ireland, Latvia, Lithuania, Norway, Portugal, South Africa and Sweden.
Although serving valiantly in the first years of the Second World War, the Gloster Gladiator was sorely outclassed by contemporary monoplane fighters such as the Messerschmitt Bf-109, and destined to be the RAF's last biplane fighter.
1939 - World War II
Having no modern designs of its own in production, Gloster undertook manufacture for the parent company Hawker. In 1939, the company built 1,000 Hawker Hurricanes in the first 12 months of World War II and delivered the last of its 2,750 Hurricanes in 1942. Production was then switched to the Hawker Typhoons for the Royal Air Force, 3,300 being built in total.
1941 - turbojet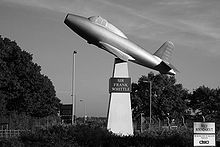 Picture - Frank Whittle's memorial showing a full-scale model of the Gloster E28/39
On 15 May 1941, the first test flight of the Gloster E.28/39 with a turbo-jet engine, invented by Sir Frank Whittle took off from RAF Cranwell (earlier taxying trials, in which the E.28/39 briefly became airborne, were carried out at the company's airfield at Brockworth). This was followed by the Gloster Meteor, the only jet to be used by the Allied Forces during World War II.
The Meteor was the first operational Allied jet fighter aircraft of World War II. First flying with the British Royal Air Force (RAF) in 1943, the Meteor commenced operations in mid-1944, only some weeks later than the world's first operational jet, the German Messerschmitt Me 262.
1945 - world record
In 1945 a Meteor F Mk.4 prototype, stripped of armament, gained a World Airspeed Record of 606 mph (975 km/h) with Group Captain H. Wilson at the controls. In early 1946, another F Mk.4 prototype was used to set a world air speed record of 616 mph (991 km/h) true airspeed with Group Captain "Teddy" Donaldson flying the highly modified Meteor, nicknamed "Yellow Peril." During the record attempt Donaldson became the first man to break the 1,000 km/h barrier, winning the Britannia Trophy and a Bar to his AFC. Meteors remained in service with several air forces for many years and saw action in the Korean War with the Royal Australian Air Force (RAAF). Eventually, Gloster Meteors in fighter, trainer and night fighter versions were in operational use by 12 nations.
1947 - Gloster's heyday
During Gloster's "heyday," in 1947, S/L Janusz Zurakowski was employed as an experimental pilot. In the following years, he became one of the world's most famous experimental and aerobatics pilots. He developed a new aerobatic manoeuvre, the "Zurabatic Cartwheel", which held the audience captivated as he suspended the Gloster Meteor G-7-1 prototype he was flying, in a vertical cartwheel at the 1951 Farnborough Air Show), a manoeuvre the announcer declared to be "Impossible!" Serving for a brief period as the chief test pilot, he tested the many experimental versions of the Gloster Meteor, Javelin and E.1/44 fighters. During the Gloster years, "Zura" as he came to be known, set an international speed record: London-Copenhagen-London, 4-5 April, 1950.
In 1952, the two seat, delta winged Gloster Javelin was developed as an all weather fighter that could fly above 50,000 feet (15,000 m) at almost the speed of sound. This modern aircraft proved to be too heavy to take off from the short airfield in Brockworth, and was instead fitted out to the bare minimum and given a very small fuel load. It was then flown in a short hop to RAF Moreton Valence three miles (5 km) to the south, where the aircraft would be completed. It was this shortcoming of facilities, along with the rationalisation of the British aircraft industry, that would lead to the demise of Gloster.
1960s - demise
In 1961, the company was merged with Sir W G Armstrong Whitworth Aircraft Limited to form Whitworth Gloster Aircraft Limited. Following another re-organisation, the firm became part of the Avro Whitworth Division of Hawker Siddeley Aviation in 1963, and the name Gloster disappeared as Hawker Siddeley rebranded its product line under its own name.
The site at Brockworth was sold in 1964. In recent years the runway and old buildings have been demolished and replaced by standard modern estate and office buildings.
Products
1921 Gloster Mars - single-seat racing biplane later modified as the Gloster I
1921 Gloster Sparrowhawk
1922 Gloster Mars VI Nighthawk
1922 Gloster Mars X Nightjar
1923 Gloster Gannet - single-seat ultra light biplane
1923 Gloster Grebe - single-seat day fighter biplane
1923 Gloster Grouse
1924 Gloster Gorcock - expermental single seat fighter biplane
1924 Gloster II - single-seat racing biplane
1925 Gloster III - single-seat racing float biplane
1925 Gloster Gamecock - single-seat day and night interceptor biplane
1925 Gloster Guan - experimental single-seat high altitude fighter biplane
1926 Gloster Goral - two-seat general purpose biplane
1926 Gloster Goring - two-seat day bomber/torpedo biplane
1927 Gloster IV - single-seat racing float biplane
1927 Gloster Goldfinch - single-seat high-altitude day and night fighter biplane
1927 Gloster Gambet - single-seat deck landing fighter biplane
1928 Gloster Gnatsnapper - single-seat deck landing fighter biplane
1929 Gloster VI - single-seat racing monoplane (world absolute speed record holder for a few hours in 1929)
1934 Gloster Gauntlet - single-seat day and night fighter biplane
1929 Gloster AS.31 - two-seat photographic survey biplane
1932 Gloster TC.33 - four-engined bomber/transport biplane
1932 Gloster TSR.38 - three-seat torpedo/spotter/reconnaissance biplane
1934 Gloster Gladiator - single-seat day fighter biplane
1937 Gloster F.5/34 single-seat day fighter monoplane prototype
1939 Gloster F.9/37 twin engined heavy fighter prototype
1941 Gloster E.28/39 first British jet engined aircraft
1944 Gloster Meteor single-seat day fighter - only allied jet aircraft to see action during WW II
1948 Gloster E.1/44 single-seat jet day fighter prototype
1954 Gloster Javelin two-seat all-weather jet fighter
1954 Gloster Meteor F8 "Prone Pilot" experimental conversion of Meteor

Aerospace industry in the United Kingdom

James, Derek N. Gloster Aircraft since 1917. London: Putnam, First edition, 1971. ISBN 0 370 00084 6.
James, Derek N. Gloster Aircraft since 1917. London: Putnam, 1987. ISBN 0-85177-807-0.
Thomas, Nick. RAF Top Gun: Teddy Donaldson CB, DSO, AFC and Bar Battle of Britain Ace and World Air speed Record Holder, Pen & Sword, 2008. ISBN 1844156850
Zuk, Bill. Janusz Zurakowski: Legends in the Sky, St. Catharine's, Ontario: Vanwell, 2004, ISBN 1-55125-083-7.

Gloster Aircraft Company Pictures and Gloster Aircraft Company for Sale.
Living Warbirds: The best warbirds DVD series.
Source: WikiPedia