Gloster F.5/34 Video - History of Gloster Aircraft Company
Gloster F.5/34 Aircraft Information
Gloster F.5/34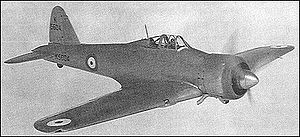 Role:
Manufacturer: Gloster Aircraft
Designed by: Henry Folland and H.E. Preston
First flight: December 1937
Retired: 1941
Status: Abandoned project
Number built: 2

The Gloster F.5/34 was a British fighter of the 1930s. It was a single-seat, single-engine monoplane of all-metal cantilever construction; the undercarriage was of the tailwheel type with retractable main units.
Design and development
The F.5/34 was the first monoplane fighter built by Gloster and the last design penned by H.P. Folland for the company. It was developed in response to Air Ministry Specification F.5/34, for a fighter using an air-cooled engine armed with eight machine guns suitable for hot climate use. Powered by an 840 hp Bristol Mercury IX nine-cylinder radial engine, the F.5/34, unofficially dubbed the "Unnamed Fighter", was the company's first monoplane design and featured many of the trademark Gloster design elements including the tail and close-fitting cowling that resembled the earlier Gauntlet and Gladiator biplane fighters. The low wing cantilever mainplane was built in one piece with light-alloy spars running through from tip to tip and ribs made from channelling with steel and light-alloy tube struts. Duralumin stressed-skin was used on the mainplane and tail unit with fabric-covered Frise ailerons. The fuselage was a monocoque structure built up from light, fabricated oval-section rings with duralumin skinning.
Development was delayed somewhat by the demands of the Gladiator production programme so that flight trials of the first prototype did not commence until December 1937 while the second prototype was not completed until May 1938.
Testing
By the time the F.5/34 began its flight tests, the 8-gun Hawker Hurricane was in service and the Supermarine Spitfire in production so that further development of the Gloster fighter was abandoned. However, compared to its contemporaries, test pilots found the F.5/34 prototypes had a shorter takeoff, better initial climb, were more responsive and manoeuvrable due to ailerons that did not become excessively heavy at high speed. Handling was considered very good and the all-round cockpit visibility was far better than the other designs. The Gloster F.5/34 debuted at the 1938 Hendon Air Show, but soon after, both prototypes (K5604 and K8089) were relegated to experimental flying and finally as instructional airframes until May 1941.
A legend exists that the F.5/34 was the inspiration for the Japanese Zero, probably stemming from a superficial similarity between the two machines and Gloster's past links with the Japanese such as the Nakajima A2N.
Specifications (F.5/34)
Data from The Complete Book of Fighters
General characteristics
Crew: 1
Length: 32 ft (9.76 m)
Wingspan: 38 ft 2 in (11.63 m)
Height: 10 ft 2 in (3.09 m)
Wing area: 230 ft² (21.4 m²)
Empty weight: 4,190 lb (1,900 kg)
Loaded weight: 5,400 lb (2,449 kg)
Powerplant: 1x— Bristol Mercury IX nine-cylinder radial engine, 840 hp (627 kW)

Performance
Maximum speed: 275 knots (316 mph, 509 km/h at) at 16,000 ft (4,875 m)
Service ceiling: 32,500 ft (9,910 m)
Wing loading: 23.5 lb/ft² (88.8 kg/m²)
Power/mass: 0.156 hp/lb (0.256 kW/kg)
Time to 20,000 ft (6,100 m): 11 min

Armament
Guns: Eight 0.303-in (7.7-mm) Browning machine guns

Comparable aircraft
Vickers Venom
Bristol Type 146
PZL P.50 JastrzÄ…b

Bibliography
Bowyer, Michael J.F. Interceptor Fighters for the Royal Air Force, 1935-45. Wellingborough, UK: Patrick Stephens Ltd., 1984. ISBN 0-85059-726-9.
Green, William and Gordon Swanborough. The Complete Book of Fighters. New York: Smithmark, 1994. ISBN 0-8317-3939-8.
James, Derek N. Gloster Aircraft Company (Images of Aviation). Stroud, Gloucestershire, UK: Tempus Publishing Limited, 2000. ISBN 0-7524-0038-X.
James, Derek N. Gloster Aircraft since 1917. London: Putnam and Company Ltd., 1987. ISBN 0-85177-807-0.
Mason, Francis K. The British Fighter Since 1912. Annapolis, Maryland: Naval Institute Press, 1992. ISBN 1-55750-082-7.

Living Warbirds: The best warbirds DVD series.
Source: WikiPedia