Gloster F.9/37 Video - Rolls Royce Merlin Engines used in F.9/37
Gloster F.9/37 Video - History of Gloster Aircraft Company
Gloster F.9/37 Aircraft Information
Gloster F.9/37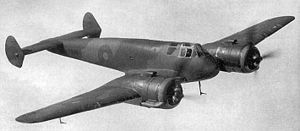 Picture - Gloster F.9/37
Role: Fighter
Manufacturer: Gloster Aircraft Company
Designed by: George Carter
First flight: 3 April 1939
Primary user: Royal Air Force (intended)
Number built: 2

The Gloster F.9/37 was a British twin-engined design for a cannon-armed fighter to serve with the Royal Air Force planned before the Second World War. Although it was initially favoured, the Gloster F.9/37 was not able to compete with other, more advanced designs.
Design and development
It was designed under the direction of W. G. Carter to Specification F.9/37 (hence the name) as a single seat fighter carrying an armament of four 0.303 in (7.7 mm) Browning machine guns and two 20 mm Hispano cannon in the nose.
A prototype (military serial number L7999) with 1,060 hp Taurus T-S(a) radials flew on 3 April 1939, and demonstrated excellent performance, its maximum speed of 360 mph being the best recorded by a British fighter at the time. Test flights revealed that the prototype was very manoeuvrable and "a delight to fly." However, after being badly damaged in a landing accident in July 1939, it was re-engined with 900 hp Taurus T-S(a)-IIIs in 1940, which resulted in a reduced performance. A second prototype (L8002) with 880 hp Rolls-Royce Peregrine I liquid-cooled in-line engines flew on 22 February 1940, albeit with no overall improvement in top speed.
A second specification for a dedicated night fighter with both nose and turret mounted guns led to Gloster submitting a design which was chiefly the F.9/37 fitted with a dorsal mounted four-gun turret (similar to that used on the Boulton Paul Defiant) and Airborne Interception (AI) radar. This received support from the Air Staff who saw it as superior to the Bristol Beaufighter and the Air Ministry ordered one of the F.9/37 to be converted to the new specification.
Unofficially known as the "Gloster Reaper", the project was terminated in the mock-up stage when concentration on other production including Gloster's work on jet aircraft meant that the foreseeable service date for the aircraft would be 1942 or later by which point the design would be outdated. Accordingly, the Reaper and F.9/37 were dropped and the de Havilland Mosquito was introduced as a night fighter.
Specifications (L7999 with Taurus engine)
Data from The British Figher since 1912
General characteristics
Crew: 1
Length: 37 ft ½ in (11.29 m)
Wingspan: 50 ft ½ in (15.26 m)
Height: 11 ft 7 in (3.53 m)
Wing area: 386 ft² (35.9 m²)
Empty weight: 8,828 lb (4,013 kg)
Loaded weight: 11,615 lb (5,280 kg)
Powerplant: 2x— Bristol Taurus T-S(a) 14 cylinder radial engine, 1,000 hp (746 kW) each

Performance
Maximum speed: 313 knots (360 mph, 580 km/h) at 15,000 ft (4,570 m)
Service ceiling: 30,000 ft (9,150 m)
Rate of climb: 2,460 ft/min (12.5 m/s) at 15,000 ft
Wing loading: 30.1 lb/ft² (147 kg/m²)
Power/mass: 0.172 lb/hp (0.283 kW/kg)
Climb to 28,000 feet (8,500 m): 19 min 36 sec

Armament
Four 0.303 in (7.7 mm) Browning machine guns
Two 20 mm Hispano cannon

List of aircraft of the RAF

Comparable aircraft
de Havilland Mosquito
Focke-Wulf Fw 187
Grumman XF5F/Grumman XP-50
Westland Whirlwind (fighter)

Bibliography
Bowyer, Michael J.F. Interceptor Fighters for the Royal Air Force 1935-45. Wellingborough, UK: Patrick Stephens Ltd., 1984. ISBN 0-85059-726-9.
Buttler, Tony. Secret Projects: British Fighters and Bombers 1935 -1950 (British Secret Projects 3). Leicester, UK: Midland Publishing, 2004. ISBN 1-85780-179-2.
Green, William. War Planes of the Second World War, Volume Two: Fighters. London: MacDonald & Co. (Publishers), 1961.
Green, William and Gordon Swanborough. The Complete Book of Fighters. New York: Smithmark, 1994. ISBN 0-8317-3939-8.
James, Derek N. Gloster Aircraft since 1917. London: Putnam, 1987. ISBN 0-85177-807-0.
Mason, Francis K. The British Fighter Since 1912. Annapolis, Maryland: Naval Institute Press, 1992. ISBN 1-55750-082-7.
Mondey, David. The Hamlyn Concise Guide to British Aircraft of World War II. London: Chancellor Press, 1994. ISBN 1-85152-668-4.
Morgan, Eric B. "The Gloster F.9/37" Twentyfirst Profile Volume 1, No.12, March 1992. New Milton, Hampshire, UK: 21st Profile Ltd., 1992. ISBN 0961-8120-04.

Living Warbirds: The best warbirds DVD series.
Source: WikiPedia