Gloster Gamecock Video - Gloster Gamecock in Finnish Air Force service
Gloster Gamecock Video - History of Gloster Aircraft Company
Gloster Gamecock Aircraft Information
Gloster Gamecock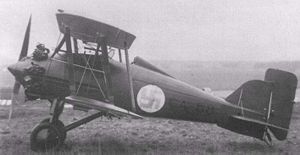 Picture - Gloster Gamecock operated by the Finnish Air Force
Role: Fighter aircraft
Manufacturer: Gloster
First flight: February 1925
Status: Retired from service
Primary users: Royal Air Force Finnish Air Force
Number built: 108
Developed from: Gloster Grebe

The Gloster Gamecock was a biplane fighter of the Royal Air Force, a development of the Mk III Grebe, that first flew in February 1925. It differed from the Grebe primarily by way of its Bristol Jupiter engine, which replaced the unreliable Armstrong Siddeley Jaguar. Other changes included improved ailerons, refined fuselage contours, and internally mounted machine guns.
The Gamecock had a fairly short RAF service life, partly because of its high accident rate - of the 90 operated by the RAF, 22 were lost in landing or spin accidents. These faults were remedied in the Mk. II version, by means of a longer upper wing and a modified tail unit.
Variants
Gamecock Mk I : Single-seat fighter aircraft for the RAF. 90 built.
Gamecock Mk II : Single-seat fighter aircraft with revised wing and tail. One new built for RAF with another Mk I converted to Mk II standard. Three were three exported to Finland in 1928, with a further 15 built under licence in Finland from 1929-1930 as the Kukko.
Gamecock Mk III : One RAF Gamecock Mk II modified with lengthened fuselage for spin trials.

Operators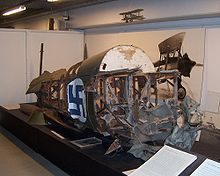 Picture - Fuselage wreck at Finnish Aviation Museum
Finland
Finnish Air Force

United Kingdom
Royal Air Force
No. 3 Squadron RAF
No. 17 Squadron RAF
No. 19 Squadron RAF
No. 23 Squadron RAF
No. 32 Squadron RAF
No. 43 Squadron RAF
No. 2 Flying Training School
No. 3 Flying Training School
Central Flying School RAF
RAF College, Cranwell
Home Communications Flight

Specifications (Mk. I)
Data from The Era-Ending Gamecock
General characteristics
Crew: one, pilot
Length: 19 ft 8 in (5.99 m)
Wingspan: 29 ft 9½ in (9.07 m)
Height: 9 ft 8 in (2.94 m)
Wing area: 264 ft² (24.52 m²)
Empty weight: 1,930 lb (875 kg)
Loaded weight: 2,860 lb (1,297 kg)
Powerplant: 1x— Bristol Jupiter VI 9-cylinder radial, 425 hp (317 kW)

Performance
Maximum speed: 155 mph (135 knots, 250 km/h) at 5,000 ft (1520 m), 145 mph (126 knots, 233 km/h) at 10,000 ft (3,050 m)
Range: 365 mi (316 NM, 587 km)
Service ceiling: 22,100 ft (6,735 m)
Rate of climb: 7,066 ft/min (36 m/s) at 1,000 ft (305 m)
Wing loading: 10.8 lb/ft² (52.9 kg/m²)
Power/mass: 0.15 hp/lb (0.24 kW/kg)
Climb to 10,000 ft (3050 m): 7.6 min
Endurance: 2.5 hours

Armament
Guns: 2x—0.303 inch (7.7mm) Vickers machine guns

Related development
Gloster Grebe

Bibliography
Green, William and Swanborough, Gordon. "The Era-Ending Gamecock". Air Enthusiast, Number 21, April-July 1983.Bromley, Kent:Pilot Press. p. 1-8, 58-62. ISSN 0143-5450.
James, Derek N. Gloster Aircraft since 1917. London: Putnam, 1971. ISBN 0 370 00084 6.
James, Derek N. Gloster Aircraft since 1917. London: Putnam and Company Ltd., 1987. ISBN 0-85177-807-0.
Taylor, M.J.H. (editor) Jane's Encyclopedia of Aviation. London:Bracken, 1989. ISBN 1 85170 324 1.
Thetford, Owen. Aircraft of the Royal Air Force 1918-57. London:Putnam, First edition 1957.
British Aircraft Directory accessed 21 February 2008

Living Warbirds: The best warbirds DVD series.
Source: WikiPedia