Gloster Gauntlet Video - Gloster Gauntlet flying in Karhula (EFKY) 7 July 2009
Gloster Gauntlet Video - Gloster Gauntlet Warm Up @ Tampere International Air Show 2010
Gloster Gauntlet Aircraft Information
Gloster Gauntlet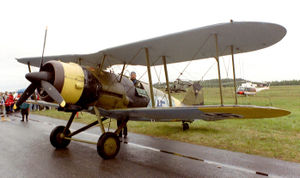 Picture - An ex-Finnish Air Force Gloster Gauntlet Mk II, GT-400, at Kymi Airfield Aviation Museum. At some stage, this aircraft has been fitted with a new engine in a longer cowling, and a three bladed variable pitch propeller.
Role: Fighter
Manufacturer: Gloster Aircraft
First flight: 1933
Introduction: 1935
Retired: 1943
Primary users: Royal Air Force Finland Denmark
Produced: 1933-1936
Number built: 246
Developed from: Gloster S.S.19B
Variants: Gloster Gladiator

The British Gloster Gauntlet was a single-seat, biplane fighter of the RAF designed and built by Gloster Aircraft in the 1930s. It was the last RAF fighter to have an open cockpit and the penultimate biplane fighter in service.
Design and development
The Gloster SS.18 first flew in January 1929. The Gauntlet was a development of the Gloster S.S.19B design, the S.S.19 prototype being re-engined with a Bristol Mercury VIS engine, first flying in this form in 1933 . On testing the S.S.19, the Air Ministry placed an order for 24 aircraft in September 1933, to be named the "Gauntlet".
This initial order was followed up with orders for the revised Gauntlet Mk. II. This new model used a revised construction method based on that used by Hawker following Hawker's takeover of Gloster, as this was much easer to build and repair than Gloster's welded structure . A total of 204 Mk IIs were produced in the UK.
Operational history
The Gauntlet Mk. I first entered service with No 19 Squadron at RAF Duxford in May 1935. The Gauntlet proved successful and popular in operational service, having a large margin of performance over the aircraft it replaced (i.e. the Bristol Bulldog, over which the Gauntlet had a 56 mph (90 km/h) advantage in speed ) to form the main part of the RAF's fighter strength. The Gauntlet was the fastest aircraft in the RAF from 1935 to 1937 .
The Gauntlet Mk II entered service with 56 Squadron and 111 Squadron in May 1936, a further six squadrons being re-equipped with the Gauntlet by the end of the year. At the height of its career, the Gauntlet equipped a total of 14 Squadrons of RAF Fighter Command . No. 32 (The Royal) Squadron RAF Gauntlets were used in early trials of ground direction of fighters by radar.
As more advanced fighters, such as the Gloster Gladiator, Hawker Hurricane and Supermarine Spitfire started to re-equip the Gauntlet squadrons in 1936 and 1937, the surplus Gauntlets were passed on to freshly formed units as their first equipment to allow then to gain training before receiving more modern fighters. Gauntlets were also shipped to the Middle East, equipping three RAF squadrons.
All home based Gauntlet squadrons had re-equipped with more modern fighters by the start of the Second World War, but remained in service in the Middle East for longer, with a flight of Gauntlets remaining in service with No.3 Sqn RAAF in the Middle East when Italy declared war in 1940. These were briefly used for ground attack operations against the Italians before being retired from operations owing to maintenance problems. Gauntlets continued in use for meteorological flights until 1943 .
Seventeen Gauntlets IIs were licence produced in Denmark, while 25 ex-RAF machines were supplied by South Africa as support to Finland in 1940 as a result of the Winter War. Already obsolete, they were used as advanced trainers by the Finns. The Finnish nickname for the Gauntlet was Kotletti (literally "cutlet").
Variants
SS.18 : Single-seat prototype. The aircraft was fitted with a 450-hp (336-kW) Bristol Mercury IIA radial piston engine.
SS.18A : The SS.18 was fitted with a 480 hp (358 kW) Bristol Jupiter VIIF radial piston engine.
SS.18B : The SS.18 was later fitted with a 560 hp (418 kW) Armstrong Siddeley Panther III radial piston engine.
SS.19 : Single-seat prototype; fitted with a Bristol Jupiter radial piston engine.
SS.19A : The SS.19 was later fitted with two wheel spats, and a single spatted tailwheel.
SS.19B : Single-seat prototype; fitted with a 536 hp (400 kW) Bristol Jupiter VIS radial piston engine.
Gauntlet Mk I : Single-seat fighter aircraft for the RAF; 24 built.
Gauntlet Mk II : Single-seat fighter aircraft; modified version of the Gauntlet Mk I. 221 built.

Operators
Australia
Royal Australian Air Force
No.3 Sqn

Denmark
Royal Danish Air Force
No. 1 Squadron Royal Danish Air Force

Finland
Finnish Air Force
No. 30 Squadron
No. 34 Squadron
No. 25 Squadron
No. 17 Squadron
No. 35 Squadron

Southern Rhodesia
Southern Rhodesian Air Force
No. 1 Squadron SRAF

South Africa
South African Air Force
No. 1 Squadron SAAF
No. 2 Squadron SAAF

United Kingdom
Royal Air Force
No. 6 Squadron RAF
No. 17 Squadron RAF
No. 19 Squadron RAF
No. 32 Squadron RAF
No. 33 Squadron RAF
No. 46 Squadron RAF
No. 47 Squadron RAF
No. 54 Squadron RAF
No. 56 Squadron RAF
No. 65 Squadron RAF
No. 66 Squadron RAF
No. 73 Squadron RAF


No. 74 Squadron RAF
No. 79 Squadron RAF
No. 80 Squadron RAF
No. 111 Squadron RAF
No. 112 Squadron RAF
No. 151 Squadron RAF
No. 213 Squadron RAF
No. 234 Squadron RAF
No. 237 Squadron RAF
No. 504 Squadron RAF
No. 601 Squadron RAF
No. 602 Squadron RAF
No. 615 Squadron RAF
No. 616 Squadron RAF

Survivors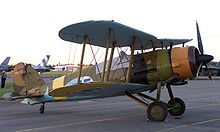 Picture - Gloster Gauntlet in Kauhava, Finland at Midnight Sun Airshow 2006
As of 2008, the only airworthy Mk II in the world, GT-400, is registered in Finland where it spends its summers in Kymi Airfield Aviation Museum near Kotka.
Specifications (Gauntlet Mk II)
Data from
General characteristics
Crew: 1
Length: 26 ft 5 in (8.05 m)
Wingspan: 32 ft 9½ in (10.0 m)
Height: 10 ft 3 in (3.13 m)
Wing area: 315 ft² (29.3 m²)
Empty weight: 2,770 lb (1,259 kg)
Loaded weight: 3,970 lb (1,805 kg)
Powerplant: 1x— Bristol Mercury VI S2 9-cylinder radial engine, 645 hp (481 kW)

Performance
Maximum speed: 200 knots (230 mph, 370 km/h) at 15,800 ft (4,820 m)
Range: 400 nm (460 mi, 740 km)
Service ceiling: 33,500 ft (10,210 m)
Rate of climb: 2,300 ft/min (11.7 m/s)
Wing loading: 12.6 lb/ft² (61.6 kg/m²)
Power/mass: 0.162 hp/lb (266 W/kg)
Climb to 20,000 ft (6,100 m): 9 min

Armament
Guns: Two x 0.303 in Vickers machine guns

Related development
Gloster Gladiator

Comparable aircraft
Avia B-534
Blériot-SPAD S.510
Bristol Bulldog
Hawker Fury
Kawasaki Ki-10

Bibliography
Crawford, Alex. Bristol Bulldog, Gloster Gauntlet. Redbourn, UK: Mushroom Model Publications, 2005. ISBN 83-89450-04-6.
Goulding, James and Robert Jones. "Gladiator, Gauntlet, Fury, Demon".Camouflage & Markings: RAF Fighter Command Northern Europe, 1936 to 1945. London: Ducimus Books Ltd., 1971.
James, Derek N. Gloster Aircraft since 1917. London: Putnam and Company Ltd., 1987. ISBN 0-85177-807-0.
Lumsden, Alec and Owen Thetford. On Silver Wings: RAF Biplane Fighters between the Wars. London: Osprey Publishing Company, 1993. ISBN 1-85532-374-5.
Mason, Francis K. The British Fighter Since 1912. Annapolis, Maryland: Naval Institute Press, 1992. ISBN 1-55750-082-7.
Mason, Francis K. The Gloster Gauntlet (Aircraft in Profile 10). Leatherhead, Surrey, UK: Profile Publications Ltd., 1965.
Mondey, David. The Hamlyn Concise Guide to British Aircraft of World War II. London: Aerospace Publishing, 1994. ISBN 1-85152-668-4.
Thetford, Owen. Aircraft of the Royal Air Force 1918-57, 1st edition. London: Putnam, 1957.

Living Warbirds: The best warbirds DVD series.
Source: WikiPedia