Gloster Grebe Video - History of Gloster Aircraft Company
Gloster Grebe Aircraft Information
Gloster Grebe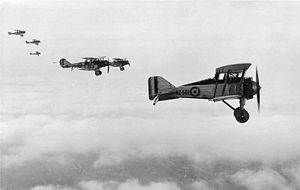 Picture - Gloster Grebe of the NZPAF leads Bristol Fighters, late 1920s.
Role: Fighter
Manufacturer: Gloster Aircraft Company
Designed by: Henry Folland
First flight: 1923
Introduced: 1923
Retired: RAF 1928, RNZAF 1938
Primary users: Royal Air Force Royal New Zealand Air Force
Number built: 133
Developed from: Gloster Grouse
Variants: Gloster Gamecock

The Gloster Grebe was developed from the Gloster Grouse (an experimental aircraft later developed as a trainer), and was the Royal Air Force's first post First World War fighter aircraft, entering service in 1923.
Design
In 1923 Gloster produced two Gloster Grouse research aircraft / advanced trainer. Air Ministry officials ordered three prototypes of a Jaguar III engined fighter derivative, which entered production with the Jaguar IV engine as the Grebe IV.
The Grebe retained the same single seat biplane layout, fabric-covered wooden structure and twin Vickers machine gun armament as the Sopwith Snipes it replaced, the only real advance - a 162 mph (261 km/h) top speed - coming from the extra power of the 400 hp Armstrong Siddeley Jaguar, (a prepared Grebe claimed a British record with a speed of 212.2 miles per hour).
Service history
Grebes entered service with No. 111 Squadron RAF during October 1923. The service found the Grebe to be very agile, but it suffered from wing flutter, which led to all RAF aircraft being modified with additional wing struts.
A total of 133 Grebes were produced, including dual-control trainers. All but 4 were Mark IIs. Grebes were retired from the RAF in 1929, replaced in part by the Gloster Gamecock which was in essence a developed Grebe, (Gloster fighter design, from Nighthawk to Gloster Gladiator was essentially evolutionary).
Two Grebes were modified for suspension beneath the R33 Airship on a 'trapeze' for "parasite" trials.
The Grebe was developed into the Gloster Gamecock fighter, which also entered production for the RAF.
A single Grebe was gifted to New Zealand by Sir Henry Wigram, and subsequently another two Grebes were acquired by the New Zealand Permanent Air Force, fore-runner of the Royal New Zealand Air Force, entering service in March 1928 and serving more than 10 years until the mid-1938. The two survivors were used as instructional airframes until destroyed in 1943/44.
Variants
Gloster Grouse : Experimental aircraft.
Grebe Mk I : Single-seat fighter prototype.
Grebe Mk II : Single-seat fighter aircraft for the RAF.
Grebe (Dual) : Two-seat training aircraft.

Operators
New Zealand
New Zealand Permanent Air Force
Pilot Training School

United Kingdom
Royal Air Force
No. 19 Squadron RAF
No. 25 Squadron RAF
No. 29 Squadron RAF
No. 32 Squadron RAF
No. 56 Squadron RAF
No. 111 Squadron RAF

Specifications (Grebe Mk.II)
Data from Aircraft of the Royal Air Force 1918-57
General characteristics
Crew: one, pilot
Length: 20 ft 3 in (6.17 m)
Wingspan: 29 ft 4 in (8.94 m)
Height: 9 ft 3 in (2.82 m)
Wing area: 254.0 ft² (23.60 m²)
Empty weight: 1,720 lb (780 kg)
Loaded weight: 2,614 lb (1,189 kg)
Powerplant: 1x— Armstrong Siddeley Jaguar IV 14-cylinder air-cooled two-row radial engine, 400 hp (298 kW)

Performance
Maximum speed: 132 knots (152 mph, 245 km/h)
Service ceiling: 23,000 ft (7,000 m)
Wing loading: 10.3 lb/ft² (50.4 kg/m²)
Power/mass: 0.15 hp/lb (0.25 kW/kg)
Climb to 20,000 ft (6,100 m): 23 minutes
Endurance: 2 h 45 min

Armament
Guns: 2x—0.303 inch (7.7 mm) Vickers machine guns

Parasite aircraft

Related development
Gloster Grouse
Gloster Gamecock

Bibliography
James, Derek N. Gloster Aircraft since 1917. London: Putnam and Company Ltd., 1987. ISBN 0-85177-807-0.
Thetford, Owen. Aircraft of the Royal Air Force 1918-57. London:Putnam, First edition 1957.

Living Warbirds: The best warbirds DVD series.
Source: WikiPedia