Grumman C-1 Trader Video - Flight in a C-1 Trader
Grumman C-1 Trader Aircraft Information
Grumman C-1 Trader
C-1 Trader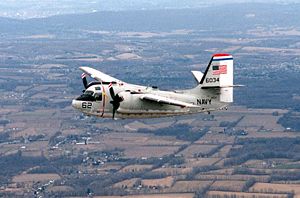 Picture - A C-1A Trader from Naval Air Station, Willow Grove, Pennsylvania in 1987
Role: Transport
Manufacturer: Grumman
First flight: 4 December 1952
Introduced: 1952
Retired: 1988
Primary user: United States Navy
Number built: 83
Developed from: Grumman S-2 Tracker
Developed into: Grumman E-1 Tracer

The Grumman C-1 Trader is a carrier onboard delivery (COD) variant of the Grumman S-2 Tracker. It was replaced by a similar version of the Northrop Grumman E-2 Hawkeye, the Grumman C-2 Greyhound.
Design and development
The C-1 Trader grew out of a need by the United States Navy (USN) for a new anti submarine airplane. In response to this Grumman began development on a prototype twin-engine, high-wing aircraft which it designated the G-89. In 1952 the USN designated this aircraft the XS2F-1 and flew it for the first time on December 4 that year. During the rest of the 1950s three major variants emerged, the C-1 Trader being one of them. The C-1 (originally the TF-1) was outfitted to carry nine passengers or 3,500 pounds (1,600 kg) of cargo and first flew in January 1955.
Operational history
Throughout the 1960s and 1970s the C-1 Trader carried mail and supplies to aircraft carriers on station in the Pacific Ocean during the Vietnam War and also served as a trainer for all-weather carrier operations. Over its production life 83 C-1 Traders were built, of which four were converted into EC-1A Tracer electronic countermeasures aircraft. The last C-1 was retired from USN service in 1988; approximately ten are still airworthy in civil hands, operated as warbirds.
In August 2010, Brazilian Naval Aviation announced that it will buy and modernized eight C-1 to served in the carrier onboard delivery (COD) and aerial refueling roles for use on its aircraft carrier Sx£o Paulo.
Variants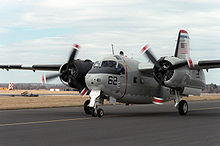 Picture - Grumman C-1 at Willow Grove
TF-1
Carrier Onboard Delivery version of the S-2 Tracker with enlarged fuselage for 9 passengers, redesignated C-1A in 1962, 87 built.
TF-1Q
Electronic Countermeasures conversion of the TF-1, redesignated EC-1A in 1962, four conversions.
TF-1W
Airborne Early Warning project that was developed in the WF-2 Tracer.
C-1A
TF-1 redesignated in 1962.
EC-1A
TF-1Q redesignated in 1962.
Operators
United States
United States Navy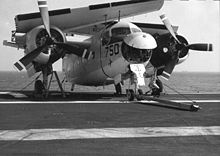 Picture - C-1A onboard USS Coral Sea
Brazil
Brazilian Navy

Preserved Aircraft
BuNo 136754 on static display at the National Museum of Naval Aviation, NAS Pensacola, Florida
BuNo 136790 on static display at the Grissom Air Museum, Grissom ARB (former Grissom AFB), Indiana

Specifications
General characteristics
Crew: 2
Length: 42.2 ft (12.9 m)
Wingspan: 69.6 ft (21.2 m)
Height: 16.3 ft (4.9 m)
Empty weight: 18,750 lbs (8,504 kg)
Max takeoff weight: 29,150 lbs (13,222 kg)
Powerplant: 2x— Wright R-1820-82WA Cyclone 9-cylinder radial piston engine, 1,525 hp (1,137 kW) each

Performance
Maximum speed: 287 mph (462 km/h)
Range: 1,300 miles (2,092 km)

Carrier onboard delivery

Related development
Grumman S-2 Tracker
Grumman E-1 Tracer

Comparable aircraft
Grumman C-2 Greyhound

Grumman C-1 Trader Pictures and Grumman C-1 Trader for Sale.
Living Warbirds: The best warbirds DVD series.
Source: WikiPedia