Grumman E-1 Tracer Video - Picture
Grumman E-1 Tracer Aircraft Information
Grumman E-1 Tracer
E-1 Tracer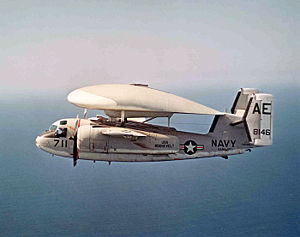 Picture - E-1B Tracer
Role: Carrier AEW
Manufacturer: Grumman
First flight: 17 December 1956
Introduced: 1958
Retired: 1977
Status: Retired
Primary user: United States Navy
Number built: 88
Developed from: Grumman C-1 Trader

The E-1 Tracer was the first purpose built airborne early warning aircraft used by the United States Navy. It was a derivative of the Grumman C-1 Trader and first entered service in 1958. It was replaced by the more modern E-2 Hawkeye in the early 1970s.
Design and development
The E-1 was designated WF under the old US Navy system; the designation earned it the nickname "Willy Fudd". Since the S-2 Tracker was known as S2F under the old system, that airplane was nicknamed "Stoof"; the WF/E-1 with its distinctive radome gained the nickname "Stoof with a Roof." The E-1 featured folding wings for compact storage aboard aircraft carriers. Unlike the S-2 and C-1 in which the wings folded upwards, the radome atop the fuselage necessitated the E-1 to fold its wings along the sides of the fuselage.
Radar
The Tracer was fitted with the Hazeltine AN/APS-82 in its radome. The radar featured an Airborne Moving Target Indicator (AMTI), which analyzes the Doppler shift in reflected radar energy to distinguish a flying aircraft against the clutter produced by wave action at the ocean's surface. Separating a moving object from stationary background is accomplished by suitable hardware.
Variants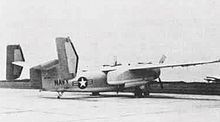 Picture - The XTF-1W prototype.
XTF-1W/XWF-1 aerodynamic prototype (BuNo 136792) without electronics, later rebuilt as a standard C-1A, retaining the twin tail. WF-2 Airborne Early Warning version of the TF-1 Trader, redesignated E-1B in 1962, 88 built. E-1B WF-2 redesignated in 1962.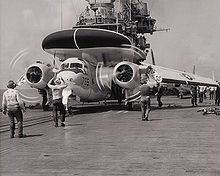 Picture - WF-2 of VAW-11 on the catapult of the USS Hancock in 1962.
Operators
United States
United States Navy

Specifications
Data from Standard Aircraft Characteristics
General characteristics
Crew: 4, two pilots, two RADAR/Intercept Controllers
Length: 45 ft 4 in (13.82 m)
Wingspan: 72 ft 4 in (22.05 m)
Height: 16 ft 10 in (5.13 m)
Wing area: 506 sq ft (47.0 m²)
Empty weight: 20,638 lb (9,381 kg)
Loaded weight: 24,800 lb (11,273 kg)
Max takeoff weight: 26,600 lb (12,091 kg)
Powerplant: 2x— Wright R-1820-82A Cyclone 9-cylinder radial piston engine, 1,525 hp (1,137 kW) (take-off power) each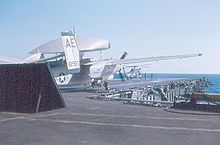 Picture - E-1B of VAW-121 Det. 42 on the USS Franklin D. Roosevelt in 1970
Performance
Maximum speed: 207 knots (238 mph, 383 km/h) at 4,000 ft (1,220 ft)
Cruise speed: 142 knots (163 mph, 263 km/h)
Range: 900 nmi (1,035 mi, 1,666 km)
Endurance: 6.83 hrs (4.63 hrs on station at 150 nmi (278 km) at 5,000 ft (1,500 m)
Service ceiling: 15,800 ft (4,800 m)
Rate of climb: 1,120 ft/min (5.7 m/s) at sea level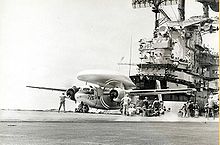 Picture - VAW-111 Tracer on the USS Bon Homme Richard
Armament
none
Aircraft on Display
There is an E-1B Tracer on the flight deck of the USS Yorktown (CV-10) at Patriot's Point Naval and Maritime Museum in Mount Pleasant, SC. There is another at the Intrepid Sea-Air-Space Museum in New York City.
Related development
Grumman S-2 Tracker
Grumman C-1 Trader

Comparable aircraft
Northrop Grumman E-2 Hawkeye
Fairey Gannet

Bibliography
Winchester, Jim (ed.). "Grumman S-2E/F/G/UP Tracker." Modern Military Aircraft (Aviation Factfile). Rochester, Kent, UK: Grange Books plc, 2004. ISBN 1-84013-640-5.

Grumman E-1 Tracer Pictures and Grumman E-1 Tracer for Sale.
Living Warbirds: The best warbirds DVD series.
Source: WikiPedia